Culture
Listen to the music: Welsh language album of the year shortlist announced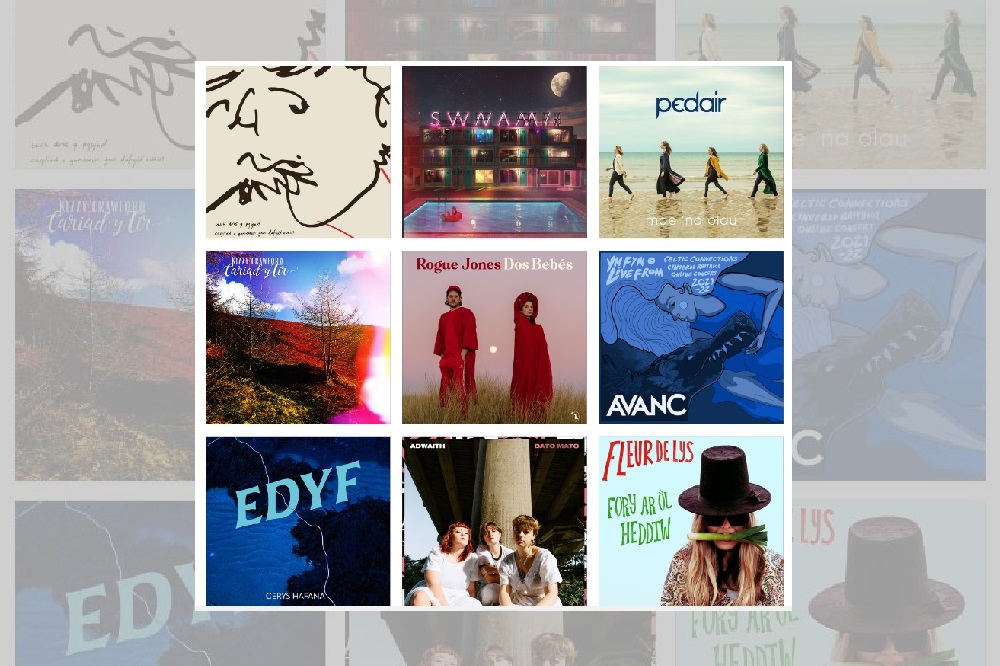 The shortlist for the 2023 Gwobr Albwm Cymraeg y Flwyddyn / Welsh Language Album of the Year has been published by the National Eisteddfod and BBC Radio Cymru.
The award celebrates the eclectic mix of Welsh language music recorded and released during the year.
A panel of judges, including Iwan Teifion Davies, Marged Siôn, Gwenno Roberts, Mirain Iwerydd, Dom James, Dafydd Hughes and Aneirin Jones, all sat-down to listen to the albums before voting for their favourite.
PYST would like to congratulate all nine artists shortlisted for the award this year, and especially to the eight acts who distribute through PYST. The shortlist includes:
Adwaith – Bato Mato (Libertino Records)
Following Adwaith's success after receiving the 2022 Welsh Music Prize for their second album, Bato Mato, the album has now reached the shortlist for Welsh Language Album of the Year.
With the Caerfyrddin trio busy touring Wales, the United Kingdom and beyond, there was  considerable anticipation to hear how they would follow up their award-winning debut.
'Eto' became one of the biggest anthems of 2022, before Bato Mato astonished listeners with a healthy mix of catchy melodies, heavy riffs and a punk attitude.
Avanc – YN FYW (Live) (Avanc)
This is Avanc, a powerful ensemble of talented musicians who strive to echo old Welsh customs with a modern, strong and enthusiastic sound.
The album, recorded live from Celtic Connections, transports us to an eerie performance which is a testament to their ability to weave the old and the new.
In the flow of their melodies and the mystery of their words, Avanc – YN FYW (Live) is not only a taste of the powerful voice of Wales' youth scene, but also a glimpse into the prosperous future of the folk tradition.
Cerys Hafana – Edyf
Over the past few years Cerys Hafana has reintroduced the triple harp to a new generation, with an experimental perspective and approach to playing this traditional instrument.
With her second album, Edyf, Cerys Hafana expanded her instrumental scope including string and brass sections together with rhythmic beats to create an innovative sonic collaboration.
It is impossible to separate the charming voice of the singer from Machynlleth from her lyrical lines on the triple harp – they feed off each other on this record to create an impressive and unique soundscape.
Dafydd Owain – Uwch Dros y Pysgod (Recordiau I KA CHING)
Known to audiences across Wales as a member of Eitha Tal Ffranco, Jen Jeniro, Palenco and Omaloma, Uwch Dros y Pysgod is Dafydd Owain's debut solo album.
In this record of acoustic songs the versatile musician takes listeners on a journey to the fictional village of Uwch Dros y Pysgod to meet its inhabitants.
Dafydd Owain mastered the art of storytelling on this album with his playful lyrics and delicate textures.
With influences ranging from americana to psychedelia, a trip to the imaginary village is sure to be one to remember.
Fleur De Lys – Fory Ar Ôl Heddiw (Recordiau Côsh)
Without a doubt one of north Wales' busiest bands, there was much anticipation to hear how Fleur De Lys would follow-up their award-winning debut album.
The rockers from Anglesey and Morfa Nefyn returned with an album full of successful singles and new anthems, with the group producing the record themselves this time.
From the protest song 'Archfarchnad' to the dramatic 'Hwyl Ti, Gymru', Fory Ar Ôl Heddiw is a record with maturer themes that's seamlessly intertwined with the band's characteristic rock sound.
Kizzy Crawford – Cariad y Tir (Sain)
Cariad y Tir, the latest album by the versatile singer Kizzy Crawford, is a collection of reinterpreted Welsh folk and traditional tunes.
With an acoustic feel to these new arrangements, there are now also several melodies to the accompaniment of Latin-American and South-American beats.
It's a record with global appeal, with the multi-cultural influences of the singer's upbringing being the connecting thread between the songs.
Above all, Cariad y Tir is a celebration of the Welsh heritage that was so central to Kizzy Crawford's childhood, and succeeds on giving a contemporary spin on traditional works.
Pedair – Mae 'Na Olau (Sain)
Pedair is the latest project by a group of the most prominent voices in Welsh folk singing – Siân James, Gwyneth Glyn, Gwenan Gibbard and Meinir Gwilym.
Weaving characteristic aspects of their individual styles, they've already proven themselves as one of Wales' most popular groups.
On their first album, Mae 'Na Olau, tender harmonies intertwine with subtle instrumentation as the folk quartet present traditional and original tunes.
Hope is undoubtedly one of the main themes of this record, with Pedair reminding us through their nuanced songs that beauty can be found in every corner of our world.
Rogue Jones – Dos Bebes (Libertino Records)
Following a long hiatus, Rogue Jones, the experimental husband and wife duo from west Wales, returned with an album of vast and alternative sounds.
Clarinet, strings, synth, electric and acoustic guitars – Dos Bebés combines unexpected instruments, styles and themes in a record full of wit and surreal lyrics.
The relationship between the voices of Bethan Mai and Ynyr Morgan Ifan is central to the record, together with their cinematic and rich arrangements.
With the band describing the record as "intergalactic pop", Dos Bebés transport listeners to another world.
Sŵnami – Sŵnamii (Recordiau Côsh)
Sŵnami returned to the air-waves in 2022 with the long-awaited follow up to the 2016 Welsh Language Album of the Year – Sŵnamii.
With singles like 'Theatr', 'Be Bynnag Fydd' and 'Uno, Cydio, Tanio' promising a new sound by the group from Meirionnydd, this album shows that Sŵnami's songs are as catchy as ever.
Returning to work with their long-time producer, Rich Roberts, Sŵnami's message is maturer with themes of identity and self-acceptance central to the record.
The winner will be announced at the Eisteddfod on Friday 11 August.
To stay up to date with all tracks distributed by PYST, follow our weekly updated playlist PYST YN DY GLUST.
---
Support our Nation today
For the price of a cup of coffee a month you can help us create an independent, not-for-profit, national news service for the people of Wales, by the people of Wales.