Culture
Literacy and me
Ant Evans offers a personal reading of the role of books in his life.
What follows is something I've written almost by accident, at the suggestion of Nation.Cymru's very own Del Hughes (many thanks, Del). The suggestion itself came about in response to a thread I'd written on Twitter (just as with Opal Fruits, I'm afraid you won't catch me using the new moniker any time soon) on International Literacy Day (the 8th of September).
Importance
The realisation that it was International Literacy Day got me thinking about my relationship with literacy and its importance to me throughout my life. As with everything else of course, my relationship with the written word began courtesy of my late mother.
As a "medical expert" had warned her that I was highly unlikely to learn to speak one language, let alone two, as I've mentioned before, that of course included an inference that I would also in all likelihood be illiterate.
As well as teaching me to speak, my mum was just as determined that she would also teach me to read and write. No prizes for guessing where I got my stubborn streak from!
Whilst I don't remember being taught to read or write, some of my earliest memories involve a wide selection of story books (in English, recalling that mum had been told not to use any Welsh with me, at all). Mum reckoned that she'd taught me to read independently by the age of three. A very early favourite I can remember was The Very Hungry Caterpillar.There were also quite a few books by Beatrix Potter at home.
Frustrating
As far as writing was concerned, mum once told me that I'd found learning to write quite frustrating. This was apparently due to the fact that I'd stubbornly continue to try (and fail) to pick up crayons with my right hand. Presumably the failure was due to my right-hand sided weakness, which has been a fact of life since human error during my first shunt operation aged five weeks to treat Hydrocephalus, resulted in my having what mum described to me as "something like a stroke".
I suppose had that not happened, I'd naturally be right handed. Eventually (I'm not sure about how long it took) mum told me that I'd began picking up crayons successfully with my left hand, and she began teaching me to write from there.
To this day, my handwriting is very untidy (sgwennu traed brain, crows' feet writing, as we'd say in Welsh) and after a certain amount of time even I can find it difficult to decipher something I've written by hand. I suppose this is due to me writing with the "wrong" hand?
Although I have more use in my right hand today compared to when mum was first teaching me to write, having tried again to write with my right hand recently, it's even more illegible than anything I write with my left hand. At least I've given it a go.

Escape
Over the course of my childhood, especially going through school, books became an increasingly important escape from the constant bullying I faced from both pupils and teachers alike, due to my disabilities.
Three books from my time in primary and secondary school stand out (indeed, I still own all three). From my primary school years, Tan ar y Comin by T. Llew Jones stands out, mainly because, aged about eight or nine, it was the first Welsh language book I owned. It's looking as though it's been read quite a few times. Goes to show perhaps how much of a novelty having a Welsh book, in a house where there had only been English books previously, actually was.
In my secondary school years (when I was aged about thirteen) mum gave me copies of Tolkien's The Hobbit and The Lord of the Rings. Whilst I remember very much enjoying both books, I think I just about preferred LOTR over The Hobbit at the time. Would be interesting to go back to them now and see whether I feel the same.
That is one of the big things I miss and look back on fondly since losing mum, our discussions about what I enjoyed about books (and what I was less keen on, though I've never read a book I out and out disliked).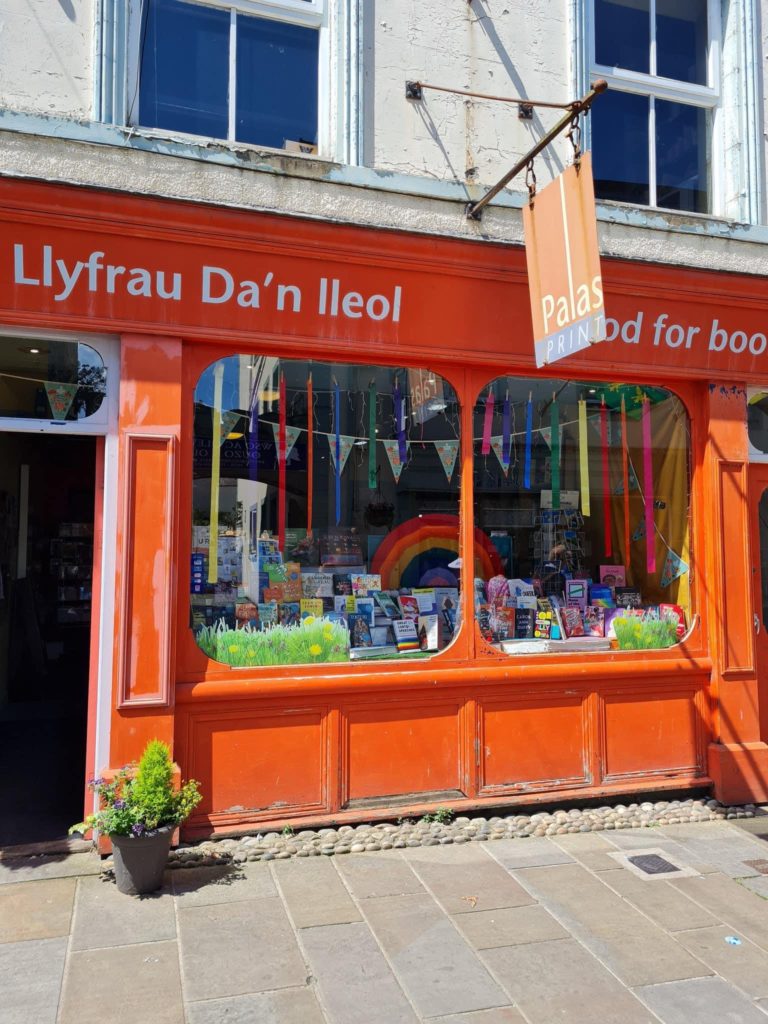 Bookshops
Another thing I miss, but look back on equally as fondly, is going somewhere with mum and popping into bookshops we'd not visited before. I could quite easily spend upwards of an hour browsing shelves, which mum encouraged. Although I miss the two of us visiting bookshops together, it is of course something I still do (albeit solo).
Indeed, I've been lucky to visit so many bookshops over the years, you'd be forgiven for thinking I couldn't possibly choose a favourite. In fact I can. It'd have to be Palas Print, here in Caernarfon. It's a truly wonderful bookshop and if you're ever in this part of the world, do pop in. Lest anyone think I'm being parochial here, perish the thought. I may live in Caernarfon, but I am from Harlech originally.
In addition to bookshops, libraries have also been places which I've gravitated towards whenever I visit somewhere. As well as browsing shelves and sitting down for a quick read, I also find them to be handy places to meet up with people, to wait for a bus or train (as I've done in Llandudno library more than once), or to wait around before a job interview (as was the case when I was hanging around Cardiff Central Library the last time I had an interview in the capital back in 2019.)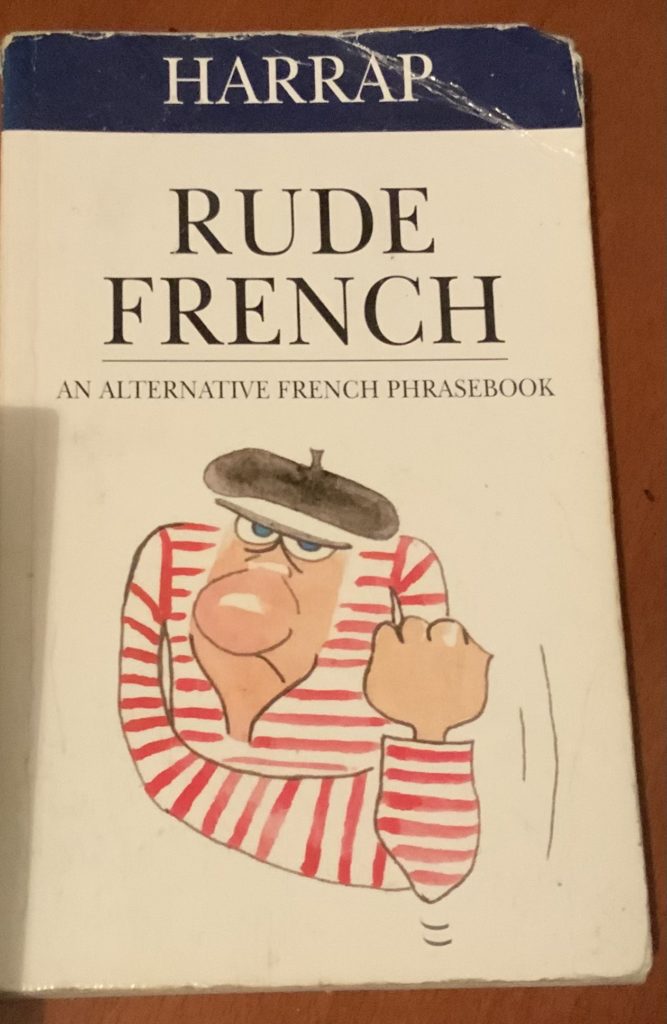 French
I've just remembered a fourth book from my childhood, which would prove to be quite significant. Again, whilst I was in primary school, mum gave me an illustrated French dictionary. She was quite keen that I learn a third language. So it was only natural that I'd stick with French up until graduating from university.
I no longer have that illustrated dictionary by now, though I do still have a rude French phrasebook mum gave me when I was a teenager. Imagine encouraging me to be impolite!
On the subject of mum gifting me books, I was extremely lucky in that this wasn't something reserved for birthdays and Christmases. Much as with the books mentioned above, sometimes I'd come home from school and mum would present me with a new book.
Each of those would have a handwritten message on the inside from her. Needless to say, I've kept hold of each of them. And where Christmas and birthdays were concerned, books tended to be ones guarantee to raise a smile (joke books and the like). Especially growing up, laughter was definitely the best medicine.
Language use
Where fiction's concerned, I'll happily read anything which catches my eye today. Though I've read more crime fiction than at any time previously since about 2015-ish.
Beyond fiction, growing up I always had an interest in history and the natural world which remains very much the case today. In addition, I've increasingly read quite a few books on language use (looking at Welsh and other languages) variation within languages and placenames.
This all began whilst studying linguistics, and later language policy and planning at university and has kind of stuck with me since.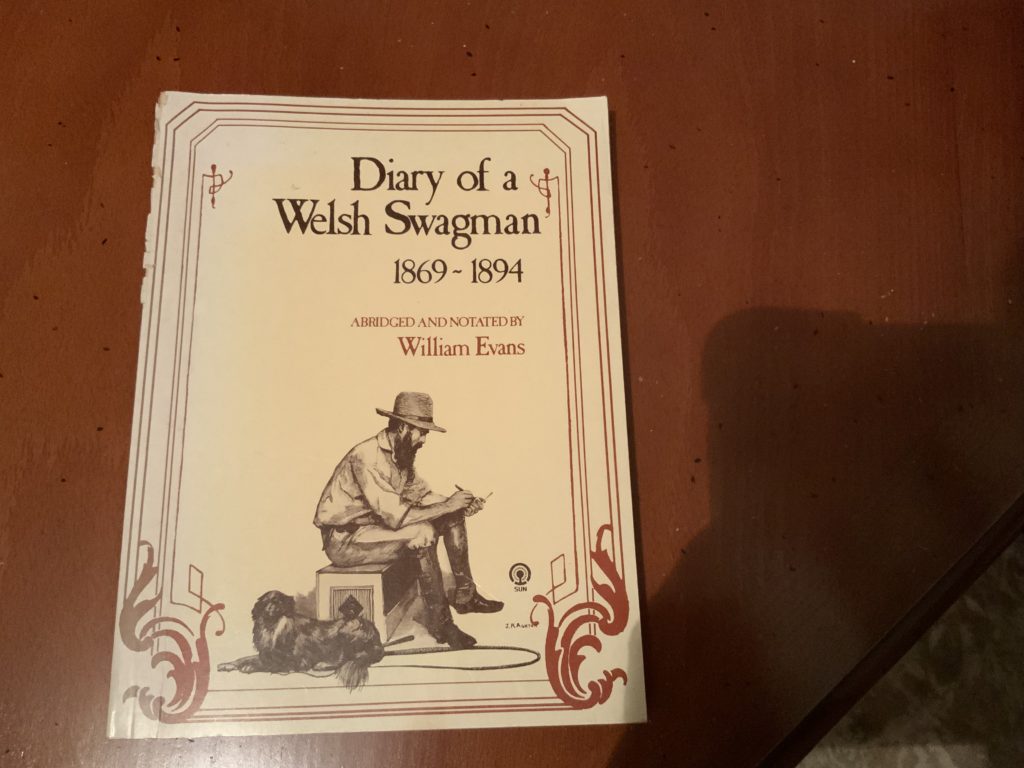 Diaries
One aspect about reading I genuinely gain pleasure from, is helping people find a book that they're either struggling to find, or struggling to find at a reasonable price. I remember a friend of mine mentioning eight years ago that he was struggling to find a copy of Welsh Patagonians – The Australian Connection, which documents the migration of 151 Welsh Patagonians who migrated to Australia between 1910 and 1916, for less than $100 AUD (Australian Dollars), so about £50-ish.
My first reaction, eager to help, was to think "I'm sure I'll be able to find one." And sure enough I did. Just in case Alan ever reads this, I shan't mention how much I paid, though it was for a reasonable price. I took it to Australia with me the following year and it was very much appreciated.
Alan in turn suggested I read Diary of a Welsh Swagman, the abridged and notated diaries of Joseph Jenkins, who left rural Ceredigion for Australia in 1869 aged fifty one, to escape apparently quite the unhappy marriage, though he does set sail for home eventually in November 1894.
As I've always been fond of reading autobiographies and the like (mum always said I was nosey, I prefer the term inquisitive) I found this to be a very interesting read indeed.
Friends
Thanks to my love of reading, I've also been lucky enough to meet some brilliant friends, both online and face to face, far too many to mention in fact. Though I will mention a couple of the brilliant opportunities I've received as a result of my love of reading.
Having been so incredibly kind as to send me the first two instalments of his Welsh language detective trilogy in 2020 (which naturally I'd enjoyed immensely), Jon Gower contacted me at the dawn of 2021 to ask whether I'd be interested in reading the odd draft chapter of the third instalment and suggest what could possibly happen in the following chapter. Needless to say, I didn't need asking twice.
It was a very valuable experience indeed. In addition, Jon would then go on to invite me in 2022 to write the occasional book review for Nation Cymru, which has done wonders for my confidence and is truly an opportunity I'm very grateful for.
Truly, my mum's determination that I learn to read and write, as well as speak and indeed everything else I'm able to do thanks to her encouragement and support during the first twenty four years of my life, has opened plenty of doors.
Wonder what she'd have to say if she were still here? She'd have a few choice words for the "medical expert" who painted quite a grim picture of my future prospects, I'm sure, if she ever tracked him down.
---
Support our Nation today
For the price of a cup of coffee a month you can help us create an independent, not-for-profit, national news service for the people of Wales, by the people of Wales.