Culture
Merthyr goes Full Spectrum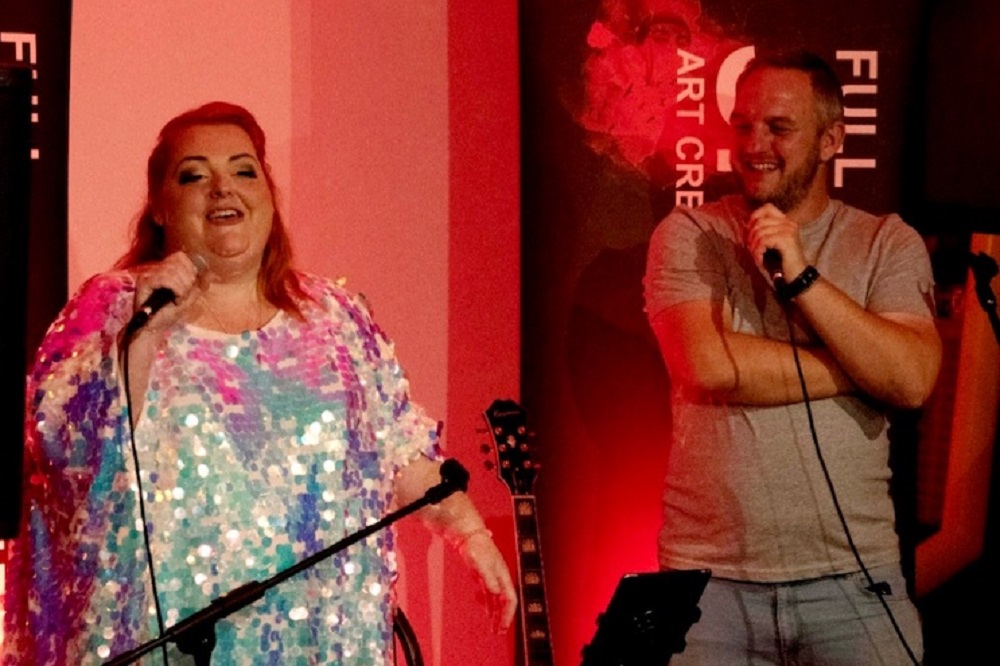 Laura Mochan
Merthyr-loving Faith M W Buckley and Gareth Smiles are a sedulous duo that sought to bring a scene to the town; one that would showcase the talent that Merthyr has to offer, and to provide a platform for others from outside of it who want to perform here. And that is exactly what they have achieved.
The Full Spectrum Project was born as just a Facebook page during lockdown that aimed to be a space for people who were gigging out of their front rooms, writing their poetry behind closed doors and creating art that could only be shared online.
One hundred regular visitors to the page spread the word and it quickly grew. There are now over 1000 members and the passion-driven longtime friends have 9 fantastic 'Spectrum Live' shows under their belts.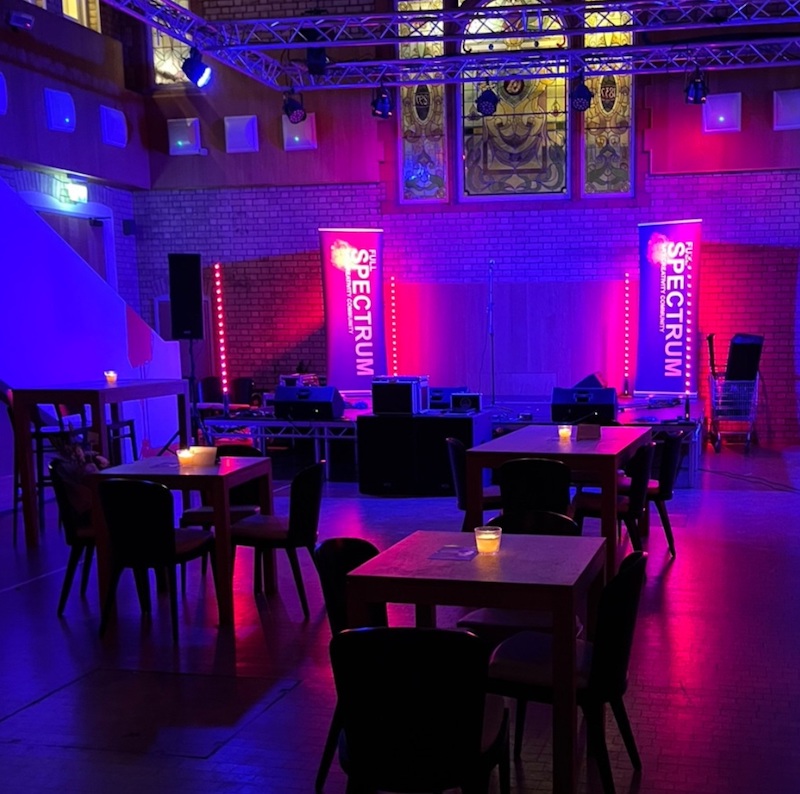 I've had the pleasure of attending a number of them and they really are like nothing the town has seen before, and there isn't anything like it elsewhere in Wales.
Singers, poets, musicians, playwrights, comedians, spoken word artists and bands take to the Full Spectrum stage at every show, which they hold around every month to six weeks.
The first gig saw a devout audience of 25; they are now attracting well over a hundred people to the Redhouse and that number will most certainly grow as more people get to hear about it.
The live shows also raise money for charity, the most recent being Andy's Man Club.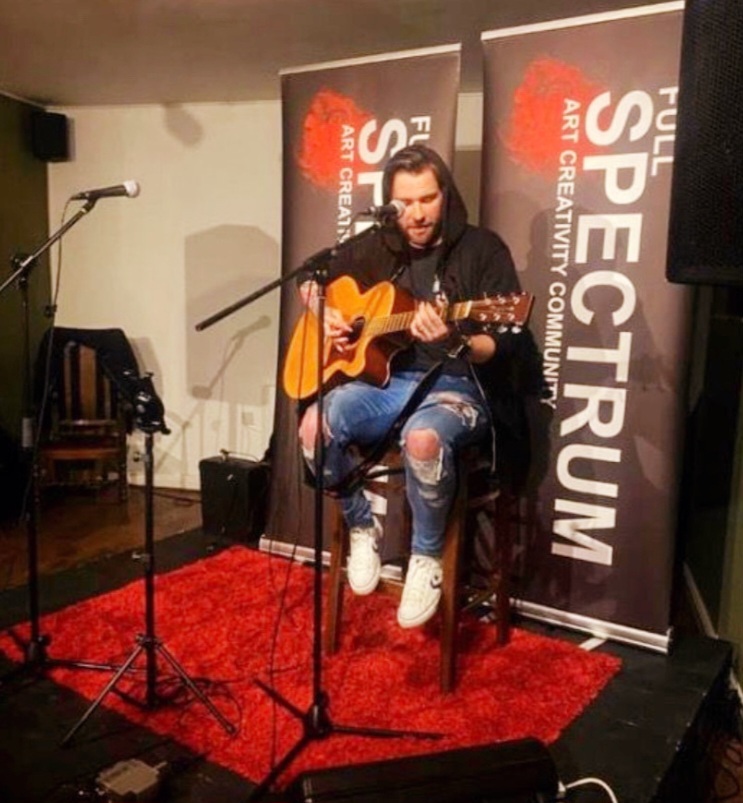 I attended the last one, and I really don't have enough space here to do each amazing artist justice. The act that stood out for me was Jesse Dipper: her voice, her music, her style – and her band during the second performance, was phenomenal.
We also had Jack Pascoe, Trudi Peterson, Hannah E Phillips, Dai Woolridge, Rightkeysonly, Kyle Parsons, Brass Bambees and Mark Collins (with the infamous Paul Black in accompaniment), all of which are well worthy of mentioning, too.
There was something for everyone and the atmosphere was not only warm and welcoming, but exciting, fresh and fun.

Rise and fall
I caught up with Faith who by day is the Assistant Head of a trauma informed school for young people in the care system, and Gareth who is a civil servant. I asked them what prompted the inception of the project, why it is so important for a town like ours.
'Merthyr talent is a hidden gem in Wales. There is so much of it here and all we are doing is giving it a stage and the support needed for people to explore it. Let's put our history in the past; let's never forget Merthyr was the richest town in the UK – the world, at one time, but let's move on and progress.
'We're focusing on the now – the people that are here, now – who were born from the rise and fall of that history, and are still something special. Art doesn't come from good times, and Merthyr doesn't come from good times.
'We see kids like The Bambees for example, and we see people playing football up The Park and it makes us realise that this isn't just an historical town… this is a town in its moment. If only people could realise. That's why we're doing this.'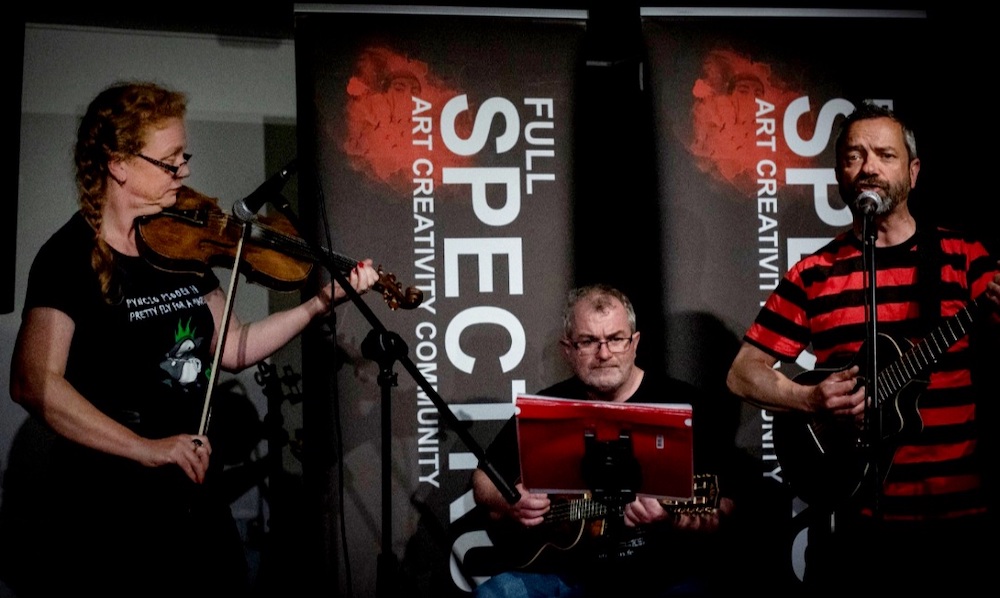 Opportunity
'We're doing it so that there is a future for all the creative people, young and old, and those who have had to look to Cardiff or to Swansea or beyond for their creative outlet. From the performers to those who are as much a part of the project as us: Phyl Griffiths, Scott from Elite Sounds, Gritty Images and Rosalys Anthony.
'We want as many people as possible to gain from the opportunity and experience. We do this for all the people who have said to us, 'I've finally found where I belong in this town'. That is what we bring. This place matters.
'It's hard work; we're both working parents, but it's worth it. We wake regularly to messages from one another through the night asking how can we do this better? Where can we book the next bands?
'What's next? We realise we have no money, and that we never did in the first place, but we do it anyway. We made our first 2 stages in Gareth's back yard out of palettes and borrowed screwdrivers. We've never asked for anything from anyone. We just want to show what Merthyr can really do.'

Superstar
'It's incredibly difficult to choose our favourite performances because they all continue to bring something different and amazing. Dai Woolridge, Karl Beer, Dennis Moriarty – I think he's genuinely a superstar in the spoken word world.
'Brass Bambees, Rachel Stephens – that voice is incredible, what a woman! There have been so many. We've been genuinely blessed with the pool of talent so far, and we know it will long continue as we excitedly look ahead to Spectrum Live 10 and beyond.'
'Our friendship is long,' Gareth told me, 'and Faith is the passion of this project and the very reason why it exists. She spent 17 years on the spoken word circuit at Leeds, Manchester and Sheffield, but her heart stayed right here in Merthyr' She came back to get this off the ground and to make it the best it can be.'
Faith tells me, 'Gareth is the backbone of the whole project. He is the driving force behind Full Spectrum; the one behind the scenes organising, sorting the ticket sales and coming up with new ideas – like the pop-up stalls we had at the last Live which were a great success for all of the artists, jewellery makers and designers involved.
'Our belief in this project is as strong as our friendship, and we hope to continue it for a long time to come'.
You can find 'The Full Spectrum Project' on Facebook and on Twitter @fullspeccymru
---
Support our Nation today
For the price of a cup of coffee a month you can help us create an independent, not-for-profit, national news service for the people of Wales, by the people of Wales.