Culture
Minas equals success for genre-busting artist making global connections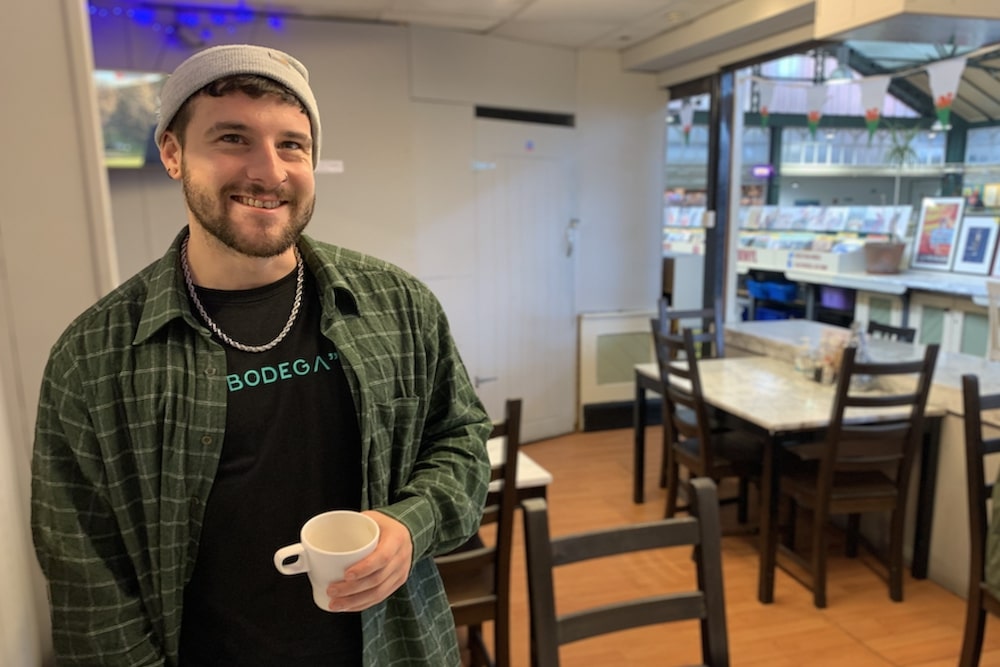 Gavin Allen
"I don't think I'm the only one who feels kind of hopeless at the moment," says Minas, cupping his hands around a latte.
Genre-busting James Minas, 29, is currently feeling anything but hopeless though. He's fidgeting with ambition.
The response to the release in November of his debut solo album 'All My Love Has Failed Me' has surprised him. It has opened doors at the end of M4 corridors.
A new manager in London and a TV advert tie-up that he's disarmingly coy about sharing are the sorts of things pointing his wagon east, but London doesn't hold the allure for him that it holds for others. Until now he's been happier at home.
"People tell me I need to be there for music but I just I know that if I moved there… it's the financial aspect of it," he says. "I'm skint enough in Cardiff. I can't imagine going there and spending loads of time doing something I don't want to do just to afford living there."
Money looms large in Minas' music, and not just in the industrial electropunk of his recent single 'Payday', with its insatiable narco-Klarna chorus. There are other themes that run through the album too; mental health, addiction, anger and politics.
His song 'Protests' is based on the demonstration against South Wales Police in the wake of the death of Mohamud Hassan.
"As a working class person you get sick of it eventually, and tired of feeling powerless and hopeless to these institutions," he says.
He's keen to avoid the 'political' label though.
"I don't know how effective it is to constantly shout about politics," he says.
"Kind of like with Sleaford Mods – I love Sleaford Mods! They are political but it's not saying 'I'm annoyed because this bill has passed' or "Westminster have done this."
It's more like, 'This is my life – because of this, this and this. And a lot of it happens to be due to shit government'."
That sort of cultural politics permeates not just Minas' music but also his video work where, as with his latest single 'Fight One', the backdrop is industrial decay; splintered wood and torn metal. Minas (pronounced mean-ass, as per his Twitter handle) is not one for the forests and shorelines of Wales.
"I just don't find that inspiring," he says. "I know that's probably a bit mad to some people but it's the run-down factories, derelict buildings,
all that stuff, there's something about that which is what inspires me."
He works out of Sustainable Studios just off Dumballs Road – the industrial artery running from the city centre to the old docks.
He makes his daily bread as a producer, cooking up beats and baking noises for musicians on Cardiff's grime, hip-hop, electro-pop and alt-rock scenes.
Maybe it's his ADHD, maybe it his submergence in so many of Cardiff's alternative music scenes, but Minas is in a genre of his own. The traditional labels don't quite fit.
His parents skirted the edges of the London punk scene in the '80s and he was raised with that childhood soundtrack, but he's also a trained pianist and is equally at home looping laptop bleeps.
In the live arena he comes on more alt-rock than rap. He's straight into the crowd; a furious contortionist, bending, leaping, crouching and daring the circle pit to join him. It has taken him a long time to create that kind of 'natural' performance.

Prodigy
"It's weird because reviews have come out and said that I'm a rapper and I don't feel like a rapper at all," he says
"The heavy punky side is more recent, because when I started it out, it was that kind of like piano-y electronic stuff and I just hated performing, because I didn't get anything out of it really.
"It was laptop and keyboard – and really trying to sing more – and it just never felt right. And I was, like, 'This doesn't feel like me'. And then I kind of had to sit down with myself and was, like, 'Who are the performers I look up to?' And it was Keith from Prodigy, Chino from Deftones. Jonathan Davis from Korn, Black Flag and all of that. And I was, like, 'Okay, I'm not going to randomly make a punk song for the sake of it' but then it just happened.
"It was actually our bassist and drummer started jamming the Payday riff. I was always writing lyrics on the train, like paragraphs of just rants more than lyrics and it literally happened like that. And then "I get paid on Friday" started happening. We were all like, 'Oh, fuck!'."
The band are a three-piece with the Davies brothers – Alex on bass and the older Greg on drums. Minas and Greg attended Lewis Boys School in Pengam together and made dubstep beats in their downtime. They lost touch for a while but reconnected when Minas was living at his mum's house in
Machen.
"We had converted the garage into a jam room studio and Greg randomly calls me one day was like, 'What's happening bro, we haven't hung out in ages. Shall I pop over?'. Then he brought his drums and that was it. We just started jamming every single day. Getting proper stoned and just jamming
nonstop."
Between that point and where he now finds himself musically it feels like Minas has come a long way. His raw lyrics and primary colour sounds indicate a turbulent past but now, aged 29, he feels more settled and focused.
"Mental health will always be at the forefront of what I do," he says. "But I didn't expect how personally it (the album) has connected with people. I've had messages, you know, quite open messages from people saying, 'Look, this is what's been going on in my life and this has helped me through it' which, as cliched as it sounds, really has been my goal. It hasn't done super-incredible streams but that means so little to me in comparison to the kind of response I've had.
"Without trying to sound lame, a lot of music nowadays is formulaic. Almost like a computer's told you do this. But you can't formulate that response. For someone to take the time and reach out like that – I don't think that's an easy thing to come by. And so having that has just been a real reaffirming; "Okay, I'm doing it how I want to do it."
There are many metrics of success for emerging artists and it's often opportunities that come before downloads. He has been supported as an artist by regional development supporters Gorwelion/Horizons and Forte and won a Triskel Award at the Welsh Music Prize in 2022. He was signed by Welsh record label Libertino – home of Adwaith – and now has people from outside Wales knocking at his door.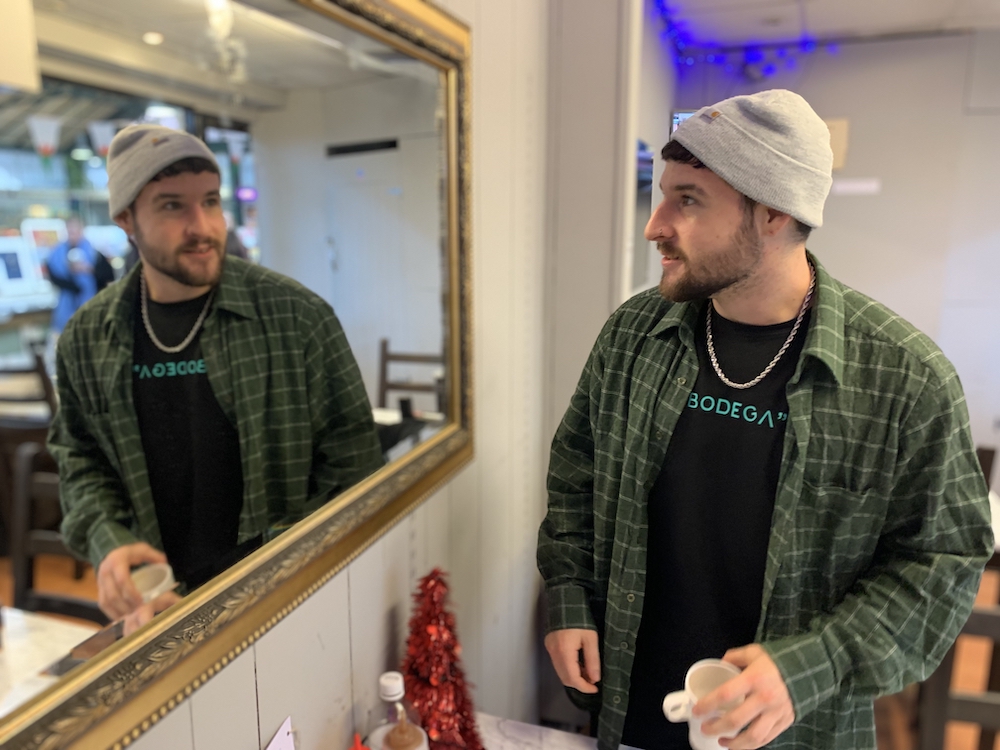 But the Athens-born musician has two specific ambitions.
"The dream has always been Glastonbury, the John Peel Stage," he says. "I've been to Glastonbury probably 10 times. I grew up with that Festival. John Peel is a discovery stage. If we could play John Peel, that'll be sick. That's the goal, to have a Glastonbury band. My mum would freak out."
The second ambition is across the Ionian Sea rather than up the M4.
"Playing in Athens is a big deal for me – I fucking love Athens as a city," he says. "I was four (when I moved to Wales) and we went back and forth loads growing up. We still have family out there.
"I was there a few months ago. It was my first time going and really exploring with my girlfriend and we went to areas that I haven't been to before. There's this place called Exarcheia, which is literally the anti-capitalist anarchist district of Athens and it's sick. It was the coolest place. The creative scene is really small but the venues they've got are sick.
"When I was over there I was like, 'I desperately need to get there'. You look around and the city is so fucking confused. You've got super tourist-heavy areas and then there's graffiti that's like "Fuck off tourists". There's real anger there. They're pissed off. They'll love it, I just know they will."
The mixture of societal anger and huge hooks that Minas' music delivers will resonate in cities across the world, not just Cardiff or Athens.
Is he ready to step away from home comforts and see where his talent can take him?
"This album has connected with the people I have hoped it would," he says. "It's not like I'm done with Wales, but I think I've proven my point. I want to break out."
Check out Minas HERE
---
Support our Nation today
For the price of a cup of coffee a month you can help us create an independent, not-for-profit, national news service for the people of Wales, by the people of Wales.