Culture
Music helps heal the wounds of war for Ukrainian mum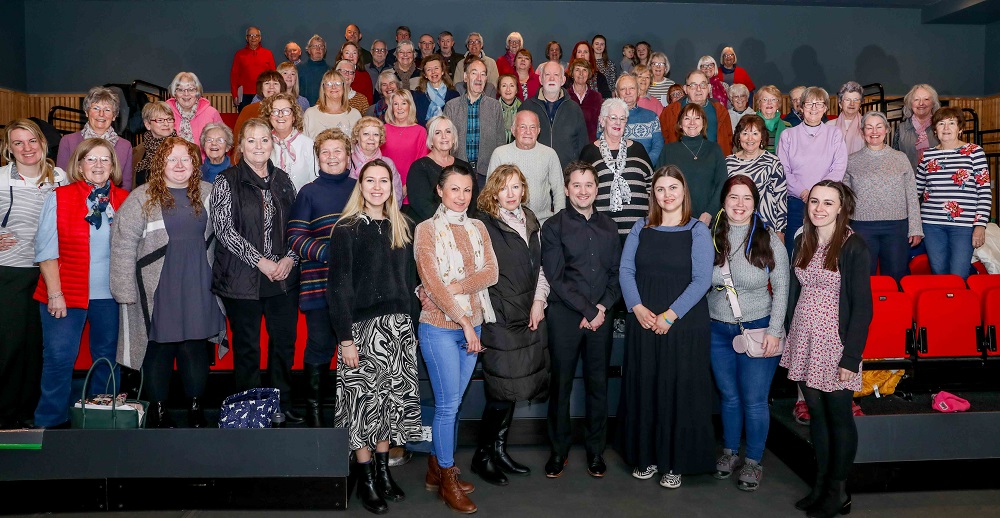 A Ukrainian mum of four who courageously escaped Russia's invasion of her homeland will play a key role in a concert celebrating cultural diversity.
Polina Horelova, 34, will conduct two Ukrainian songs performed by NEW Sinfonia orchestra's community vocal ensemble NEW Voices at St Giles' Church, Wrexham on Saturday, April 1.
At least 20 Ukrainian refugees have found solace singing with the NEW Voices which has one hub in Wrexham and another in St Asaph.
While the concert itself has received funding, a Just Giving page has been set up to raise money for the wider NEW Voices programme and anybody wishing to make a donation can do so here…..
Polina's  passion for music was rekindled on joining the ensemble which meets on Saturday mornings at Tŷ Pawb in the town.
It provided an emotional diversion after the nightmare of seeing her home city of Mariupol pulverised by Russian dictator Vladimir Putin's forces.
She still has family and friends in Ukraine including her brother, Daniel, who was injured when a Russian missile fragment pierced his leg.

Mariupol Conservatoire
Polina, who's living with her family near Wrexham, studied at Mariupol Conservatoire, qualifying in conducting but until she joined the choir she had not sung or made music since escaping to the UK.
Now she is looking forward to conducting in public for the first time in many years after her musical talents were discovered by New Sinfonia co-founder and fellow conductor Rob Guy.
Rob, who has been mentoring Polina as she brushes up on her skills, was delighted to find she came from a family of musicians.
Her father, Vicktor, is a professional conductor, her sister plays cello and her four brothers all play guitar.
Rob believes the community work NEW Sinfonia is currently doing is among the most important it has undertaken since he and his brother, composer Jonathan Guy, founded the orchestra a decade ago.
He said: "NEW Sinfonia are ambassadors for Wrexham's City of Culture bid in 2029. As part of this, we were awarded a Cultural Commission grant at the end of 2022 to support our upcoming concert on Saturday, April 1, at St Giles Church, Wrexham. Our theme is 'We Rise Together' celebrating the cultural diversity in Wrexham."
They chose the theme following the outstanding success of a New Year Gala Concert in January which welcomed 30 Ukrainian families.
Rob said: "We worked with UareUK (United to Assist Refugees UK) which has a hub in Wrexham. They support refugees from Ukraine, Iraq, Syria, Russia and other countries.
"In our New Year concert, I invited young people to perform with the orchestra and four Ukrainian children stood up and conducted. The audience was deeply moved by this. Since then, we have deepened our relationship with this community and things have moved quickly as we have got to know them."
Joy
Polina added: "Music has always been at the heart of my family but even before the war I had stopped working professionally after having children. It was difficult to raise a family and continue a career conducting. But after I was introduced to the community choir here it reignited my passion for music. It became a source of joy at a heartbreaking time for us."
Polina and her husband, Volodymyr, have four children, Anhelina (correct), 12, Oryna, 11, Liubomyr, seven, and Volodymyr, three. They found a safe haven in Wales thanks to their sponsors Edgar and Elizabeth Coward, of Overton, to whom Polina says they will always be grateful.
Polina's husband still returns regularly to Ukraine transporting and distributing vital aid packages to families who have lost their homes and livelihoods.
His farm, including land and livestock, was destroyed in the Russian advance on Mariupol and the family's city apartment was annihalated by relentless bombing.
Now he and Polina do all they can to support aid missions and UareUK charity work in Wrexham.
A UareUK Wrexham hub leader, Jane Townend, also sings with NEW Voices.
She said it offers a much needed distraction for refugees across Wrexham who benefit from the chance to take their minds off terrible ordeals they have faced.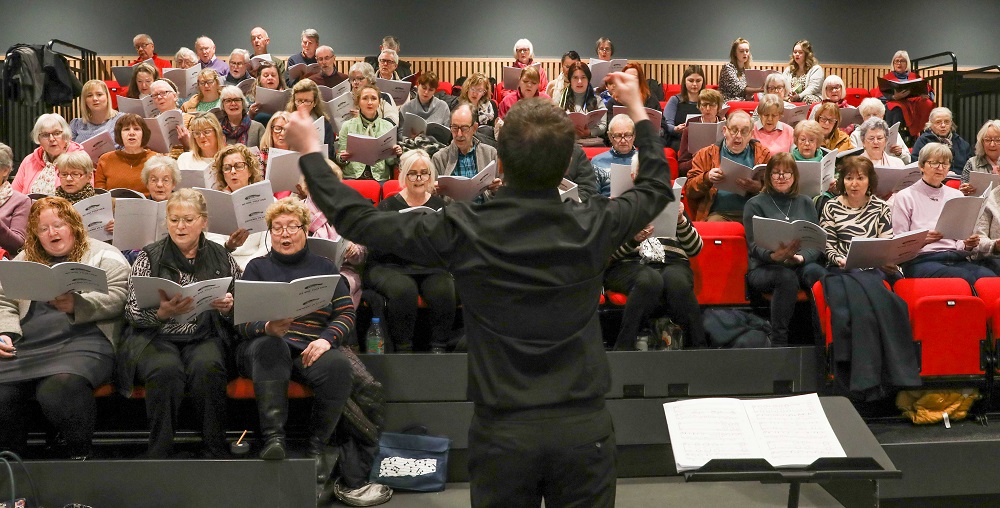 Jane said: "Making contact with Rob, Jon and the rest of the choir is one of the best things we've done. We can see the visible difference that singing and forging friendships makes to people who've lost everything.  What these families have been through doesn't bear thinking about and it's our mission to do everything we can do to make their lives better."
UareUK has been established in Wrexham for many years, helping refugees during a number of worldwide crises. It was perfectly placed to assist when Ukraine was invaded.
Safe space
Jane said: "Our hub in Wrexham is a safe space to meet socially and get advice about making a new life while they are here in North Wales."
Yevhenila Naidon, of Zaporizhzhia, who's, nicknamed NJ, said they are trying to get to grips with learning a new language and singing helps them do that.
She added: "We're looking forward to singing songs in our own language at the concert on April 1 and introducing our folk music to concert-goers in Wales."
Polina will conduct the choir for two songs well known in Ukraine, one a traditional prayer and the other is a dance tune hailing from the Carpathian mountains.
She said: "The prayer is solemn, while the dance song is full of fun, uplifting. I think the audience will really like them."
Rob Guy said they also hope to have one or two musicians from Ukraine in the orchestra for the concert.
He said: "Since we were awarded the initial grant, the demand for our NEW Voices project and our work has grown massively.
"We really want to find a way to deliver on these new discoveries. While the funding we have currently covers the concert day itself, we're also seeking support for our wider NEW Voices programme this term to enable our valuable work to continue. We'd be delighted to hear from anyone interested in offering support or sponsorships."
The We Rise Together concert will premiere a new composition featuring the poetry of Evrah Rose set to music by Jonathan Guy.
Rob added: "We are incredibly proud to be contributing once again to Wrexham's bid to be UK City of Culture and we can't wait to bring everyone together to celebrate our city's diversity."
We Rise Together concert will be staged at St Giles Church, Wrexham on April 1 at 7.30pm. Tickets are priced from £1 to £15. For more information and to book tickets visit here…..
---
Support our Nation today
For the price of a cup of coffee a month you can help us create an independent, not-for-profit, national news service for the people of Wales, by the people of Wales.