Culture
New podcast explores literature of old language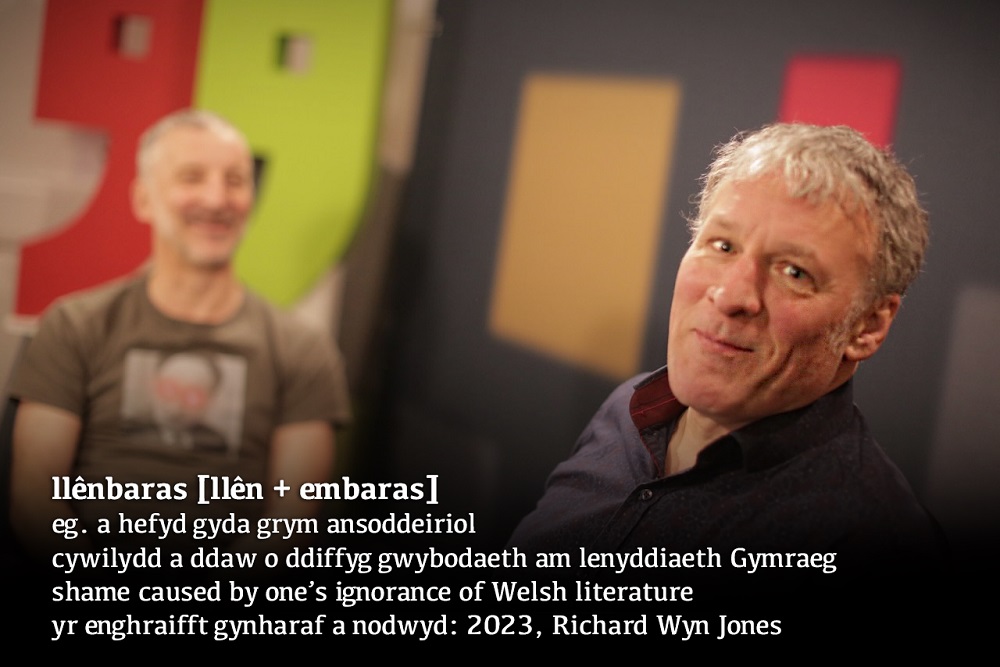 (Scroll down for Welsh)
A new podcast launches next week exploring the history of Welsh literature.
The first episode of Yr Hen Iaith' will be available to watch and listen to on the AM website and app from 9 March.
The podcast, which runs across nine episodes, is described as an entertaining journey through the history of Welsh literature, and features Jerry Hunter, a boy from the Midwest of America, teaching Richard Wyn Jones, a boy from the middle of Anglesey, about the treasures of his own language.
The series is produced by Richard Martin.
The first episode 'Yn y dechreuad yr oedd….Y Gododdin' will be available Thursday March 9th with a new episode available each following week.
Discussing the series, Professor Jerry Hunter said "I'm extremely proud that Richard Wyn Jones has decided to learn about the history of Welsh language literature. This podcast derives from our long friendship. I'm not exaggerating; I've been reproaching his lack of understanding of this important field for decades – literally, decades! – and here he is, deciding to do something about it. I will have to receive lessons from him about Welsh politics sometime so he can repay the favour!"

History
Professor Richard Wyn Jones added "Like many, my understanding of the literature of my own language is full of gaps, and to be completely honest, so lacking it has been the topic of great embarrassment. But, fortunately, one of my closest friends, Jerry Hunter, has spent decades submerged in it all – from the Gododdin to Gerallt, from Llyfr Coch Hergest to Llyfr Glas Nebo. And he's agreed to guide me and anyone else who's interested on a journey through the history of the old language. A warm welcome to you all!
Ar Fawrth 9fed bydd pennod gyntaf cyfres podlediad 'Yr Hen Iaith' i'w gweld a'i chlywed ar wefan ac ap AM.
Cyfres hwyliog
Mae'r podlediad, fydd yn cynnwys 9 pennod, yn disgrifio ei hun fel cyfres hwyliog am hanes llenyddiaeth Gymraeg gyda Jerry Hunter, hogyn o'r midwest yn America, yn dysgu Richard Wyn Jones, hogyn o ganolbarth Sir Fôn, am drysorau ei iaith ei hun. Mae'r gyfres wedi ei chynhyrchu gan Richard Martin.
Bydd y bennod gyntaf 'Yn y dechreuad yr oedd….Y Gododdin' ar gael ar ddydd Iau Mawrth 9fed gyda phennod newydd ar gael yn wythnosol yn dilyn hynny. Mae rhagflas o'r gyfres wedi ei ryddhau heddiw a gellir ei weld ar sianel 'Yr Hen Iaith' neu ar dudalen flaen AM!
Cyfeillgarwch
Yn trafod y gyfres dywedodd Yr Athro Jerry Hunter "Dwi'n hynod falch bod Richard Wyn Jones wedi ymroi i ddysgu am hanes llenyddiaeth yr iaith Gymraeg. Mae'r podlediad hwn yn deillio o'n cyfeillgarwch hir ni. O ddifri calon – dwi ddim yn gorddweud! Dwi wedi bod yn edliw ei ddiffyg gwybodaeth am y maes pwysig hwn iddo ers degawdau – yn llythrennol, ers degawdau! – a dyma fo wedi penderfynu gwneud rhywbeth amdano o'r diwedd. Bydd rhaid i mi dderbyn gwersi ganddo am wleidyddiaeth Cymru ryw ddydd er mwyn iddo gael talu'r pwyth yn ôl!'
Embaras
Ychwanegodd Yr Athro Richard Wyn Jones "Fel llawer, mae fy nghwybodaeth am lenyddiaeth fy iaith fy hun yn llawn bylchau ac, ac bod yn gwbl onest, mor annigonol nes ei fod yn destun cryn embaras. Ond yn ffodus, mae un o'm cyfeillion agosaf, Jerry Hunter, wedi treulio degawdau yn trwytho ei hun yn y cyfan – o'r Gododdin i Gerallt, ac o Lyfr Coch Hergest i Lyfr Glas Nebo. A mae o wedi cytuno i'm tywys i ac unrhyw un arall sydd â diddordeb ar daith trwy hanes Yr Hen Iaith. Croeso mawr i chi gyd!"
---
Support our Nation today
For the price of a cup of coffee a month you can help us create an independent, not-for-profit, national news service for the people of Wales, by the people of Wales.