Culture
Novel extract: Angel Avenger by Tim Wickenden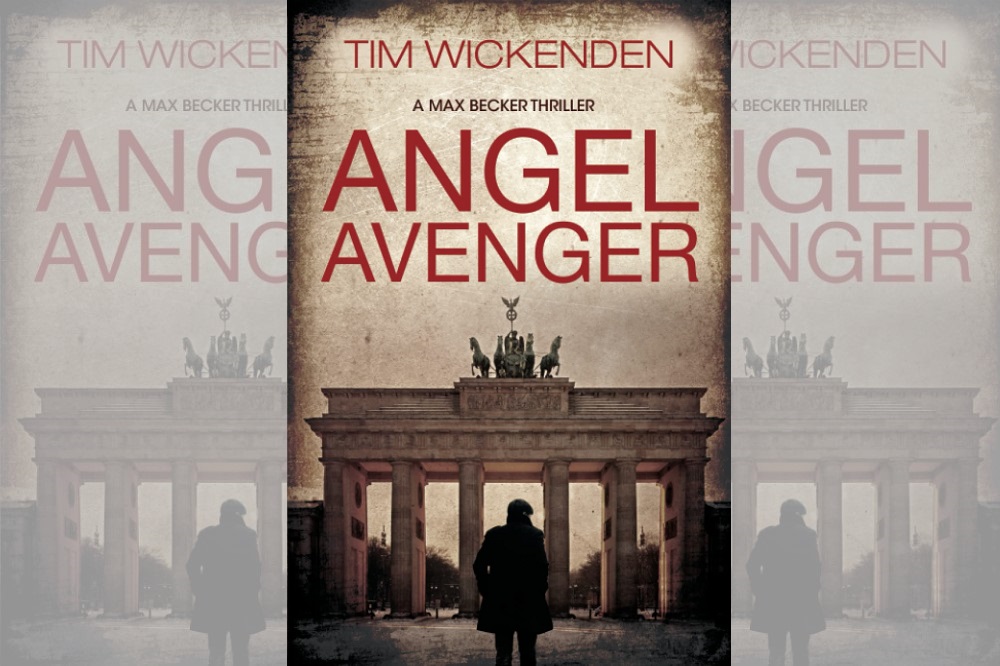 Angel Avenger is the dark first book in the Max Becker historical crime thriller series written by Fishguard-based author Tim Wickenden. We are pleased to publish an extract of it.
"Germany, 1960. Max Becker is haunted by his past. Once a Nazi soldier, the Berlin investigator works himself to the bone to make amends and bring his country some redemption. So when tortured and naked male bodies show up along with cryptic messages, he's determined to hunt down a cold-blooded criminal as the body count rises.
Driven to expose the truth when he discovers links to Russian soldiers responsible for unspeakable war crimes, Max fights a growing sympathy for the disturbed murderer. And now close to making an arrest, he's at risk of his emotions rejecting duty in favour of a dangerous choice."
Otti drains her glass. 'I'm whacked. Let's go, shall we?'
They get up, climb into the white Ponton, and head back. They're less than three kilometres from the hotel when the call comes in.
'Car KD1-417, are you receiving, over?'
Frowning, Bastian looks across at Otti, who picks up the handset. 'Car 417 responding, go ahead.'
'Report from KOM Jürgen, found suspects, Hotel Burgermeister, Böttgerstraße, Wedding, KOM Popp also in attendance. Can you respond, over?'
Otti mouths, what the hell! 'That's affirmative control, Jäger and Döhl responding, ETA three minutes. Put out a call for Becker. Jäger out.'
As she speaks, Bastian turns the car, dropping a gear and flooring it. Otti switches on the siren. 'What the hell?'
***
Jürgen returns to the hotel, but Udo isn't there. Desperately, Jürgen looks round. Grinning, the receptionist points up the stairs. 'He's just gone up.'
'Dammit!' Jürgen pulls his Walther and goes after him.
As he gets to the top of the stairs, he sees Udo, weapon drawn, by the door and about to knock. It's too late to stop him. Just as Udo's knuckles rap on the green-painted timber, Jürgen cocks his Walther. Udo glances over at him, nods, then shouts, 'Armed Polizei, open up, now!'
From the other side of the door, they can hear noises and a muffled voice. Udo takes a step back and taking the key, offers it up to the lock, but before he can turn it, someone yanks the door open and Christian fills the space, taking Udo off guard.
Fatefully, he hesitates, and Christian lunges forward, thumping Udo in the chest. There is a crack of splintering wood as he reels backwards scrabbling hopelessly at the air as the force from Christian's blow sends him through the banister and over the edge.
Horrorstruck, Jürgen watches as his colleague sails through the narrow gap and down three floors, with a final dull thud as he hits the ground.
By the time Jürgen has recovered himself, Christian, who has watched Udo's fall, swings round, and as Jürgen brings his pistol to bear, like a man possessed Christian is upon him and smacking his hand away, grabs him by the throat and pushes him violently to the ground.
Christian overcomes Jürgen, who hears a woman's voice scream, 'Chris! No!' Then his head meets the ground, and the world goes black.

Otti points. 'There, over there, that's their car. Where are they? Have they gone in already?'
The car screeches to a stop by the hotel, and the pair run in and spot Udo lying on the ground.
'Schiße!' Bastian yells.
Otti is already running up the stairs; he follows.
As she gets to the top, on the landing in front of the broken railings, she sees Christian atop Jürgen, hands around his neck and shouts, 'Armed Polizei, stop or I'll fire!'
Christian does not respond. She shouts again, to no effect. Taking careful aim, she squeezes the trigger and fires. The bullet hits his shoulder but seems to have little effect, and Christian continues his murderous attack. She fires again, this time hitting his thigh.
Grunting, Christian releases Jürgen and, looking around, spots Jürgen's pistol. At that moment, he is eleven years old, those men are attacking and he must save his mother and sister, so he reaches out and grabs the pistol to return fire.
Arriving on the floor below, Bastian halts, evaluates the situation, takes aim and fires twice. The rounds thud into Christian's chest.
Almost simultaneously, Otti fires a single shot, which strikes Christian low in the right cheek. For a moment, everything stops, the shots filling the air with the tart smell of cordite. His eyes wide and brow furrowed, Christian looks at Otti, whispers, 'Sorry.' And slumps down, dead.
A stunned Otti regards the carnage. Bastian trots up the last flight of steps. 'Come on, help me get him off Jürgen.' They check his pulse. 'He's still with us. Go down and call for help.'
Bastian enters the room, noting the open window and looking out, sees the empty fire escape. He goes back, kneeling by Jürgen. 'Wake up, buddy, come on.'
He places his ear by Jürgen's mouth and listens. His breathing is shallow. He checks to see if he has been shot, but can't detect any wounds. Checking the eyes, he notes that when he pulls the lids back, one pupil is open wide.
'That's not good,' he mutters. He checks Christian's pulse. Taking a duvet from the room, he drapes it over Jürgen, then runs down the stairs to see to Udo.
Kneeling beside him, he touches two fingers to Udo's neck. At first, he's not sure. There's a weak pulse. He rips open Udo's shirt and listens for a heartbeat; it's there, and his chest is moving.
Otti returns with the first aid kit. 'They're en route. I asked for two ambulances, won't be long. Is he still with us?'
'Just.'
'Jürgen?'
'Yes, but one of his pupils is blown. We need to get them both to the hospital quickly.'
Otto passes the first aid kit to Bastian. 'What were they thinking? I'll go check the other rooms and find out who's in.'
The receptionist is standing, mouth open, staring. Bastian shouts, 'Hey! Hey! You all right, buddy?'
The man nods.
'Okay, go wait out in the road for the ambulances. Also, make sure that no one other than Polizei or medical staff enters. No one! Got it?'
'What about guests?'
'No one!'
'Okay, I hear you,' he says, shaking his head and hurrying off.
Bastian goes through to the office behind the counter and finding a duvet, brings it back and lays it on Udo, then sits next to him, leaning against the wall. He takes a cigarette, his hand shaking as he lights it.
'Come on, Bas, get a grip,' he says to himself, and taking a deep drag, closes his eyes.
The full novel is available in eBook and Paperback here
For information about the author, got to his website 
---
Support our Nation today
For the price of a cup of coffee a month you can help us create an independent, not-for-profit, national news service for the people of Wales, by the people of Wales.