Culture
Novel extract: M is for Mummy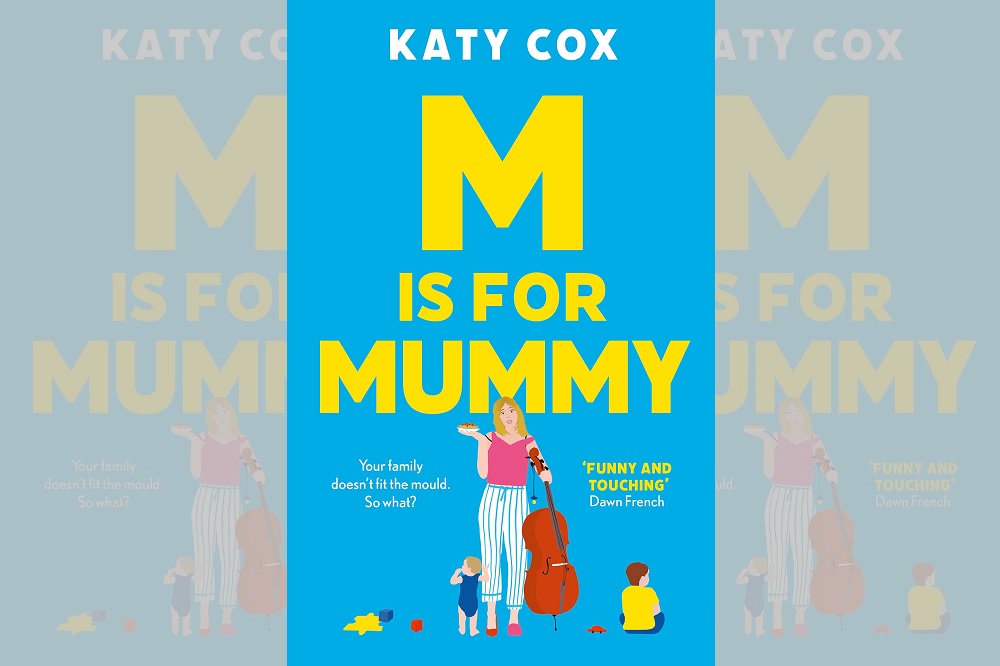 We are delighted to publish an extract from Bridgend-based Katy Cox's debut novel, based on her own experiences of motherhood.
Katy Cox
It started with a fart. Not any ordinary fart, but a fart with purpose. A fart that was to change our lives forever.
It was 6.30 a.m. and Ed had already left for work, as he had to be there early for hair and make-up. He was going to be playing live on Good Morning Britain, strumming his guitar behind Josh Groban, whilst I was stuck at home, cutting a banana into identical semicircles, hoping that they'd pass Stanley's thorough inspection.
But then came the fart, and with it came a gush of fluid which exploded all over the floor with the force of a burst water main.
There was no time to process what had just happened because Stanley had already appeared in the doorway.
'Excuse me, but where is W?' he said as he walked in clutching a letter V in one hand and a Y in the other. 'I need it. I need it. Need it. Need it,' he chanted four times because he was four years old and, in his mind, every demand had to be made exactly four times.
'Stan, Mummy is having a bit of a problem here. Can you wait a second?'
But of course, he couldn't.
'Need! Need!' he continued, the hysteria in his voice rapidly escalating. 'Need! NEED!'
There was little choice but to ransack the flat looking for the letter W to complete his treasured alphabet puzzle. So, whilst the floor became saturated with the birth waters of his unborn brother, I tore the living room apart and, eventually, I found it wedged between the sofa cushions. A crisis was thankfully averted.
With Stanley entertained lining up his letters in the lounge, I threw a towel down on the wet kitchen floor, stuffed a pad in my pants and grabbed my phone to call Ed. As usual, he didn't answer, so next on the 'in case of emergency' list was my best friend, Charlie.
'Charls. It's me. My waters have gone. Ed is at ITV and I'm alone here. Can you come?'
A simple but shrill 'Fuck' flew out of her mouth and, after pausing briefly to collect herself, she said, 'Okay. Let me just stick on a bra, cancel my gig and call in the cavalry. I'll be over in ten.'
'Haul ass!' I said. 'Promise you won't faff about?'
'I won't! I won't.'
But she would, and she did.

Colourful expletives
After checking that Stanley was still happily engrossed in his puzzle, I hurried to the bathroom to remove nine months' worth of body hair in preparation for my impending showcase of nakedness.
I hadn't actually seen my fanny since conception and I was determined that, this time, she was going to look her best (unlike when I gave birth to Stanley and wound up in hospital with a seventies Disco Bush-ferno grooving out of my pants).
Climbing carefully into the bath tub, I set to work with Ed's razor in one hand and a magnifying mirror in the other, but it very quickly became too much. My back was on the verge of spasm, I had pins and needles in the most delicate of places and my contorted wrist felt like it was about to snap. So, after two minutes, I gave up. Au naturel would have to do.
I heard the key in the lock at around 7 a.m. Charlie had arrived and was dashing down the hall calling out my name along with a mixture of colourful expletives. She threw open the bathroom door and found me totally naked, one leg up on the toilet seat, frantically spritzing every inch of my body with Marc Jacobs's Daisy.
'Luce!' she gasped. 'You okay? Sorry I took so lo—' She paused abruptly and the panic in her tone instantly dispersed when she clocked the bottle in my hand. 'Ooh, Marc Jacobs?'
'It sure is, my friend.' I winked. 'It may not look that pretty down there, but at least it smells divine.'
'Good call.' She nodded in approval. 'Hand it over, will you?' She snatched the bottle out of my hand and gave her cleavage a healthy spritz whilst I reached for a towel to cover myself up.
'Right, so, I've nailed it,' she said. 'Jen and Will are on their way. She'll stay here with Stan, and Will and I are driving you to hospital. And don't panic, I've already left several strongly worded messages on Ed's voicemail telling him to meet us there.'
'God, I love you, Charls,' I gushed and threw my arms around her.
'I know. I'm, like, fucking incredible.' She patted me gently on the back of my head, then withdrew from my arms. 'So, what now? Want me to rub your back or get you a shot of vodka or something?'
'Zero rubbing required, pal. Or vodka for that matter.'
She looked disappointed. 'But doesn't it hurt?'
'Hardly at all – I'd say it's only a two right now. But when it hits a ten and I'm begging to be put down, you've got to promise me that you'll do whatever it takes to get me all of the drugs.'
She flexed her muscles and planted both hands firmly on her hips. 'That I can do, my friend.'
Urgency
I sent her in to the lounge to hang out with Stanley, then threw on some comfy clothes and called the hospital. I was expecting to be told to take a paracetamol and wait at home for two days to writhe around in agony on a yoga ball. But no.
'Mrs Wright, if you're thirty-six weeks then you're not quite full term and must come in immediately to be examined,' said the midwife with a tone of urgency.
Anxiety levels were suddenly cranked up a few extra gears, but when I turned around and caught a glimpse of my hideous reflection in the bedroom mirror, all I could hear were my mother's words: 'You need a wee bit of lipstick there, love.'
Since my early teens, I'd been trained to apply a 'wee bit of lipstick' at all times – family parties, weddings, trips to the dentist and for routine smear tests – and in my mum's mind, giving birth would certainly be an occasion that warranted a splash of colour across my lips. So, I dug out my make-up bag and got stuck in just to make her proud.
As I was smearing an extra thick layer of foundation across my cheeks, Stan wandered into the room wearing nothing but his Thomas the Tank Engine slippers.
'Excuse me. Excuse me.'
'Stan, where are your pyjamas?'
'But I want my shapes puzzle.'
'It's on the big table in the living room. Go and ask Auntie Charlie to find your pyjamas, please.'
He stood totally still, staring at the floor, so I tried again in a way that I knew he would comprehend. 'Stan. I need you to do four things. Number one, go to the living room; number two, ask Auntie Charlie to put on your pyjamas; number three, get your shapes puzzle off the big table; number four, play. Okay?'
He nodded stiffly then left the room in silence.
The buzzer sounded, marking the arrival of Jen and Will; the rest of the cavalry had arrived.
'Whatever you do, Luce, do not give birth all over Will's new car,' Charlie called out from the other end of the flat.
'He's only had it a few days and Jen said he's really precious about it.'
Before I could respond, Jen came bounding up the stairs and into the bedroom with her arms fixed wide open and tears streaming down her cheeks. She pounced on me, nearly knocking me clean off my feet.
'I can't believe it, Lucy!' she sobbed into my earlobe. 'We're going to have another baby!'
'M is for Mummy' is published by Atlantic and is available from all good bookshops. The sequel, 'The Motherload' will be released on June 1st.
---
Support our Nation today
For the price of a cup of coffee a month you can help us create an independent, not-for-profit, national news service for the people of Wales, by the people of Wales.