Culture
On Being a Welsh Writer in Venice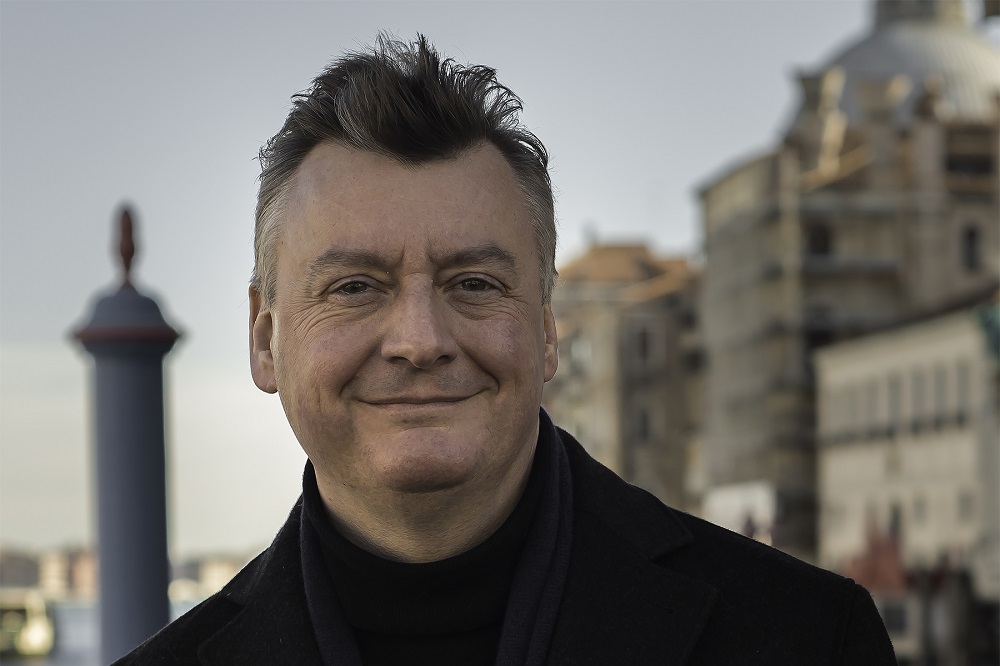 The Anonymous Welshman
Philip Gwyn Jones
It's July 7th 2016. I'm not quite fifty years old, and I'm still almost a year away from my debut novel, The Venetian Game, being published. I'm untying the Welsh flag from our balcony in Venice, where it's been flying for the past few days. I fold it away, and wonder when I'll next have occasion to take it out. Last night Portugal beat Wales two-nil, and the great adventure of Euro 2016 is over.
I pass one of our neighbours on the stairs. He smiles and gives me a pat on the back. 'Shame about yesterday,' he says. And it is, but at the same time there's no sadness in my heart. After so many almosts and not quites and glorious defeats and not a few humiliations I had given up on Wales qualifying for anything, ever. Except then we did and, if we fell a little short at the end, well, we still damn near won the whole thing.
Italy had a decent enough tournament, but were knocked out on penalties by Germany in the quarter finals and so – in my apartment block at least – there was only one team left to support, and that was us. Because now they know who we are. They know our flag , they know that our language is ancient and beautiful, and they know that we have an absolute belter of a national anthem.
The school year has finished now, but I still have some teaching work to do, at a summer camp on the mainland. I get the boat to the bus station, suffering just the mildest of hangovers. The sun is shining, the city looks as glorious as ever, and I reflect – as I do every day – on how lucky I am to live here.
The kids at camp all want to talk about the game because, again, they know a little bit more about Wales now. 'Sorry Prof,' 'We thought you'd win it Prof,' 'Ronaldo is rubbish Prof, Bale is much better' but, again, I don't have any sadness in my heart. I look at them and smile and – in my Welshest of Welsh accents, doing my best to give it the full Richard Burton – I just tell them 'Well I tell you what – if Ramsey had been playing, we'd have won the whole bloody tournament.' And then it's laughs and smiles, and on with the lesson.
Flash forward to July 2023. My seventh novel, The Venetian Candidate, has just been published. This is the first year that I've stepped back from teaching in order to concentrate on writing. That makes me a little sad, but as much as I loved being a teacher, I love not being one even more.
I've accidentally become a writer. Accidentally, because that was never the plan. When Caroline and I moved here eleven years ago, we came to teach English. The thought of writing a novel, let alone a series, never entered my head.

So I'm a writer, now, but am I a Welsh writer? After all, my novels are set far, far away from my homeland and – with the exception of a few one-off characters that I introduced when the story demanded it – I've never dealt particularly with Welsh characters or themes.
I had to reflect on this recently when I was greatly honoured by being asked to chair next year's Gwyl Crime Cymru Festival. Those of you who followed this year's fantastic event in Aberystwyth, where crime writers from around Wales, Europe and beyond assembled for three days of events, talks, nonsense and perhaps even some strong drink might recall photos of me in a red duffel coat with a dragon hat on my head. Well, as my Italian friends would say, it's always good to cut a bella figura.
But would it be right, I thought, for me to chair next year's event? Quite simply, was I enough of a Welsh writer? Italy is my home now, Brains Dark and Felinfoel have been replaced with Negronis and Spritzes and, to my shame, my Italian is far, far better than my Cymraeg.
And yet, the more I thought about it, the more I realised that not that much has changed. Not really. I still give a little cheer whenever I drive over the Severn Bridge (and it will always be the Severn Bridge to me, away with that Prince of Wales nonsense).
I inevitably take a selfie on the platform at Swansea railway station when on the way to see my mum and dad in Pembroke. Swansea City is still the first football score I look for.
I sob uncontrollably throughout Yma o Hyd, and I approach international days with that peculiarly Welsh mixture of optimism and dread. And I'm proud of the fact that there are kids in Venice who might just know a little bit more about us than they did before. There might even be a few who still remember how to say "Good Morning" in Cymraeg, or even have a go at  Llanfairpwllgwyngyllgogerychwyrndrobwllllantysiliogogogoch.
Yes, I decided, I was enough of a Welsh writer. Maybe one day I'll write a whole novel set in Wales. I hope so. I really do. But, ultimately, I'm a Welsh writer because I identify as one. And that thought makes me very happy, and not a little proud.
And I tell you what. If Ramsey had played, I'm damn sure we'd have won that tournament…
Philip Gwynne Jones' latest book is The Venetian Candidate. It is published by Little, Brown and is available from all good bookshops.
---
Support our Nation today
For the price of a cup of coffee a month you can help us create an independent, not-for-profit, national news service for the people of Wales, by the people of Wales.