Culture
On Being a Writer in Wales: Carole Burns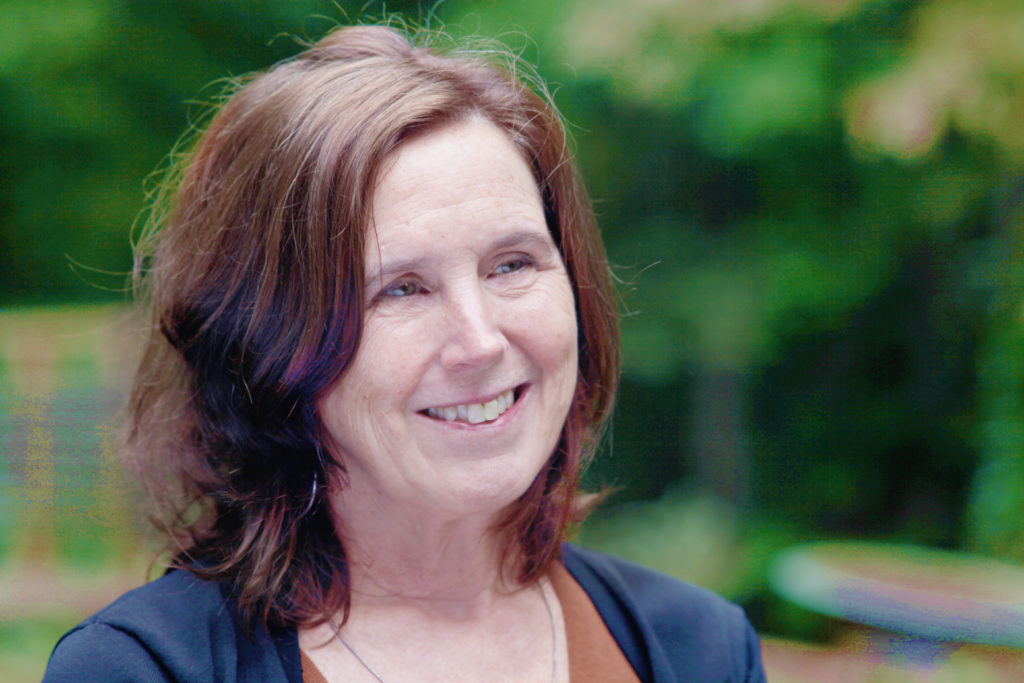 Carole Burns
As teenagers, we inhabit our friends' houses as if we live there. We sleep over, share weekday meals, learn that the father brings the mother pizza in bed on Friday nights. Parents forget we're downstairs; we overhear an argument. What if a girl saw something at her friend's house that she didn't understand as a teenager?  What if, years later, she begins to figure out their dark secret?
Some experiences, I find, cross the ocean I now call a pond. I was in Cardiff when this idea came to me, listening to a friend and her adult daughter here debate how a childhood friend's mother treated her child.
"She spoiled her!" my friend said.  "No, she was mean to her," her daughter insisted.
And I was transported back to my hometown in Connecticut and the house of my best friend, the first whisper of a story filtering into my fiction brain, filed for future use.
And then, something like this will happen, and the pond becomes an ocean again:
Half-awake, cwtching a cup of coffee in my kitchen in Grangetown, I switch on the Today show to hear the same news yet again. A shooting – oh God, another one; by a white cop, of course; and again, it's a black man who's dead. I don't need to hear the BBC broadcaster intone the town or city in their proper English accent to know this has happened in my home country of the United States.
Violence
At some point in the day, a friend or colleague or even my partner will ask me to explain my country. I won't be able to. All I've begun to understand is that this particular mix of violence and racism and ignoring of the obvious is somehow, inherently, American.
I also knew that, as a novelist, I had to write about it.
These two disparate ideas joined together and became The Same Country.  Or maybe they're not so disparate, because what else is the secret of the aggregate American family, if not the persistent problem of racism?

Racism
Writing about political issues in fiction is fraught with danger, or at least an artist's version of danger. The last thing a fiction writer wants to do is push opinions down her readers' throats. And then, a number of writers and agents and editors had warned me of the risks of writing about racism as a white writer.
But I found myself forging ahead anyway. Living in Wales – where not even police officers, I like to tell my American friends, carry guns – had enabled me to see more clearly the inadequacy under the "reasons" (excuses?) for the stasis over U.S. gun laws: the power of the gun lobby, the need for Democrats not to risk losing their seats in this changing political landscape.
I'd been working on The Same Country for about a year and a half when Trump was elected. But wasn't that more reason to tackle the subject? Or maybe, living in the UK had just made me more bloody-minded.
How could I not write about this?
Faults
Paradoxically, living abroad had also made me love the United States all the more. Maybe I understand its faults differently now, but they were the same faults that had frustrated me when living in America.
What I also saw afresh, though, were the traits I was now missing on a daily basis: the positive attitude ("Yes, We Can!"); the inherent American helpfulness; and the friendly, open demeanor (which is, by the way, one reason I moved to Wales, where the warmth of the Welsh personality thaws that British reserve).
And so, I crafted The Same Country carefully.  I had to come up with a story, not a rant (though I do allow a rant by a minor character – so if you're British and enjoy rants, it's in Chapter Fourteen). I had in mind that classic American novel The Great Gatsby, except looking at race as well as class.
My narrator, Cassie, who is white, is a step away from the main action, but unlike Gatsby's friend Nick Carraway, she is implicated – in the same way that I want the reader to be implicated. As Cassie considers her complicity in the shooting of her Black friend, maybe people will think about the choices all of us make, even when we may not be aware of making choices.
Last week, Tyler, my favorite barista at Ffloc, across the street from my new writing studio in Canton, said my name had flashed up on his phone as a Welsh writer. "How do you feel about that?" he asked.
Home
I was thrilled. A subtle, yet important, influence that living in Wales has had on my work has been the community of writers I have found in Cardiff.  My first book of fiction, The Missing Woman and Other Stories, was published here, by Parthian.
At open mics and readings and writing festivals, I have been able to forge a network of fellow writers whom I can turn to for advice, for a crit, or just for a listen about how I've been stuck on the same damn scene for days and days.
As I write this, I also realize that it's not just a writing community that I have in Cardiff, but a sense of community, one that goes beyond writers.
From the farmers' market, to The Grange pub, to Chapter, to the shopkeepers in the Central market, to the friendly pharmacist at Boots, and yes, to Ffloc, Cardiff has become my home away from home, and my home.
So being called a Welsh writer feels right, too.
Carole Burns' The Same Country is published by Legend Press. It is available from all good bookshops.
---
Support our Nation today
For the price of a cup of coffee a month you can help us create an independent, not-for-profit, national news service for the people of Wales, by the people of Wales.