Culture
On Being a Writer in Wales: Morgan Davies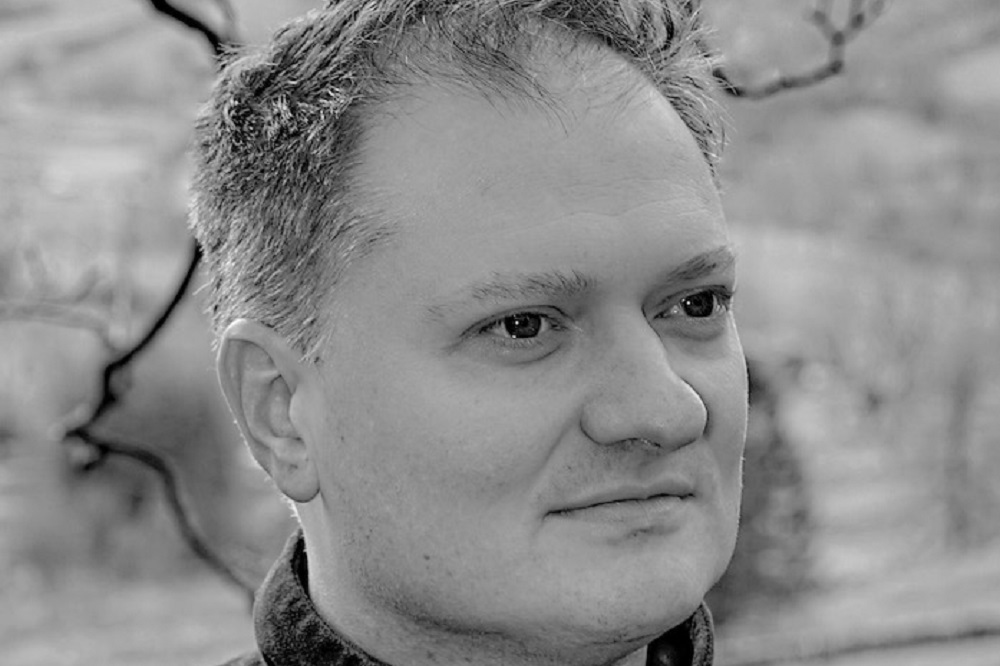 Morgan Davies
I watch him lay the lifeless body on the upturned barrel. The lamb's head is turned towards me. It droops over the side, showing the nothingness of its eyes.
The old barn is weakly lit. It is quiet here, away from the others, and the man works wordlessly, stooping over in concentration as he scores around a narrow leg with his knife.
His raincoat rustles as the knife draws back and forth. The air is damp and ripe with the acrid smell of silage.
His granddaughter wanders into the barn. She stands close to him and watches. She is barely higher than the barrel, wearing waterproof overalls and brightly coloured wellies. Her grandfather keeps on working.
I watch as she reaches out to the lamb and touches its nose with her finger. She presses one of the nostrils until it closes. She takes her finger away and the nostril opens again. She does this again and again as her grandfather cuts, then she stops and skips away, out of the barn and into the daylight.
Nature
What is it that fascinates me about this life lived close to death? I am here as a writer, and this means weeks, months, years of research and planning.
A great deal of this study involves consideration of the philosophical, political, and emotional implications of my work.
Despite the many hours spent in front of a keyboard, much of the business of writing takes place day to day when the creative mind is engaged, when the writer should probably be thinking of something else.
I am not a farmer, far from it. I take my inspiration from nature writing, from those men and women who describe the wonder of their time spent within a landscape.
Depleted
I love the beauty of nature, whether experienced directly or vicariously through poetry and prose. I love wildlife and am sickened by what we have done to it.
This is now one of the most nature-depleted countries on earth. I want more, more nature. I long for the wild, for a landscape brimming with flora and fauna. When I set out into the countryside, I am a tourist, hungry to consume its nature.
For me, writing, like nature, should be beautiful. We cannot live without beauty, and storytelling is the soul's bread. Yet any good writer understands the importance of suffering, that this world is both a place of magnificent beauty and of tremendous suffering.

Bonds to the land
I came to this farm for practical experience, as research for what was to become my first novel: The Burning Bracken.
I saw farming as a way of life embodied within the landscape, a livelihood intimately bonded with the land, continuing generation after generation. This was a working landscape, yet still I romanticised about it, still acted like a tourist, like a consumer.
Though I grew up in this same countryside, I lacked anything like these bonds tying me to the land. I was drawn away, to university at first, returning only after a long pilgrimage. Such is the power of the country and the city in directing our lives.
Generations
When writing my novel, I came across detailed and persuasive arguments that opposed this sort of farming and instead advocated for a return to wild landscapes.
The list of supposed benefits was long, with at least a partial reversal of the catastrophic collapse in our wildlife, improvements to wellbeing, economic opportunities and so on.
We are exhorted to transform our landscape, but for whom? The landscape cares nothing for us. We cannot escape the trap of anthropocentrism; anything we do, we do for ourselves. What does this mean for the people who have worked the land for us across the generations?
Those who do this work, often having known no other way, these have been our producers. Should they not be angry at these proposals? Are there not threats enough to their way of life?
Most of us stand outside this work, but this is more than a livelihood, it is your identity, your community, your landscape, your home, all things that would once have seemed irrevocably your own.
We can transform this countryside, but we cannot eradicate human endeavour from all landscapes; we can only push production elsewhere.
Our landscape will be whatever we want it to be, so what do we want? I want it all. If only it were that simple.
The fundamental tension in the future of the Welsh landscape will be between production and consumption. If we are to write authentically about our landscape, then this will be the fundamental tension for the writer in Wales.
'The Burning Bracken', published by Victorina Press, is available from all good bookshops or direct from the press.
---
Support our Nation today
For the price of a cup of coffee a month you can help us create an independent, not-for-profit, national news service for the people of Wales, by the people of Wales.