Culture
On Being a Writer in Wales: Tom Bullough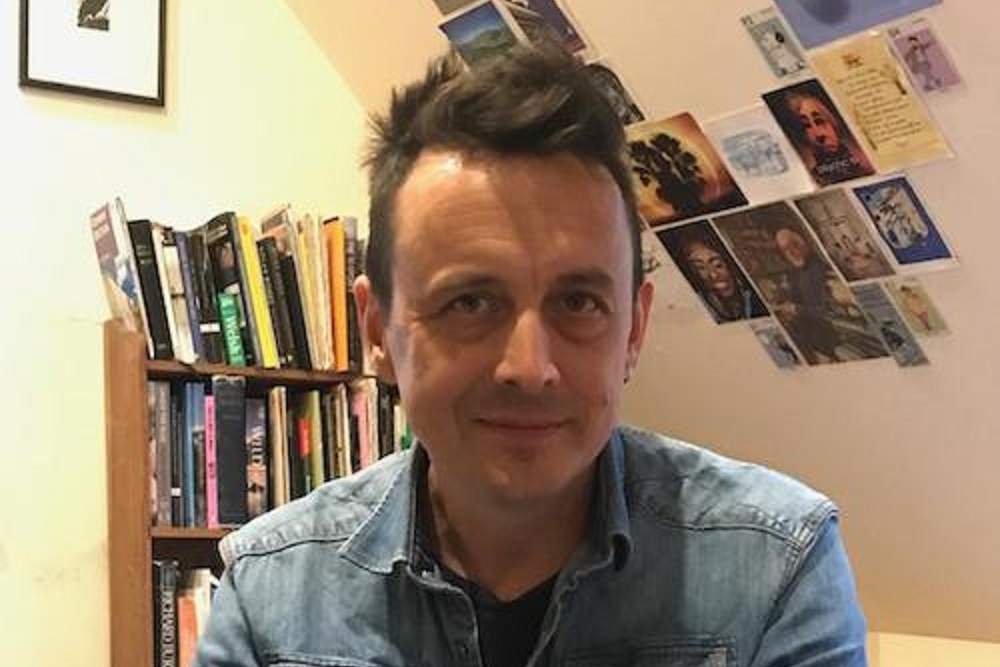 Tom Bullough
It would have been 2008, I suppose, when I decided I had to walk Sarn Helen: the Roman road that once ran from Neath all the way to the Conwy Valley – almost the nation's length. At the time we had just moved from the Cambrian Mountains to the Brecon Beacons.
Here was the road, cutting over our bank: arguably, Wales's first great piece of infrastructure – if reduced almost to an arbitrary line, a cross-section of farms and hillsides, obscure villages and post-industrial towns. Everything about it appealed to me.
You don't get to choose to be a certain type of writer. All you can do, in my experience at least, is make the most of the writer you are. When, in 1999, I was working on my first book A, I had dreams of becoming a fashionable London novelist, complete with all of the money and acclaim.
It came as a shock, as I sat at that table in a cottage named Ty Allt near Hay-on-Wye, to find myself describing a group of students arriving at Llanthony in the Black Mountains, and to find, for the first time, that my work came to life – that somehow, suddenly, I had become aware of the precise music of every word.
Cutting loose
That was my first real attempt to set fiction in Wales, and the first time I ever actually wrote. As an experience it was like nothing I have known, though its lesson took me some years to accept. I had not, after all, cut loose from my background: a hill farm in Radnorshire. I was a novelist of rural Wales. More, despite intensive efforts, I could not work in Lewisham or Tooting, Wandsworth or South Wimbledon. I could only ever write when I was here.
The question then remains the question now: what are you to do with that? The only difference being my gathering awareness of the crisis of our times.
If it was possible to dodge in 1999, it is no longer possible today: we live in the Anthropocene. We live in a rapidly changing climate, in the midst of the sixth mass extinction. As threats, these exceed all historical precedent and are, at root, symptoms of our dysfunctional relationship with the natural world. They are the ultimate gauge of who we are and, since writers write about the human experience, it follows that they have to be at the very heart of our work.

Books emerge in their own time, and by their own rules. When, in July 2020, I finally set out to walk Sarn Helen – delayed, among other things, by the birth of two children – I had no intentions of writing a book; I just wanted a bit of space, after all those months of lockdown. But as I struck out north from Neath, towards Banwen and the Brecon Beacons, I was crossing a landscape at once magnificent and reduced to a virtual wasteland. (Out of 240 countries, Wales has been ranked 16th worst in terms of biodiversity.) I was framed by communities fighting to recover from the flooding caused by Storms Ciara, Dennis and Jorge, and, of course, from Covid-19 – as a zoonosis, yet another aspect of the climate and ecological emergency. At the same time, everywhere, I was confronted by vestiges of the Age of Saints: the 5th and 6th-century roots of Wales, when the natural world was held in divine reverence.
It was impossible not to be struck by that disjuncture between who we are and who we have become. And that, in the end, became the basic tension out of which Sarn Helen grew.
No secret
Find yourself in the right frame of mind and there is no secret to being a writer. In some ways, you just have to observe. In stretches over the next few months, as life and the various lockdowns allowed, I continued to walk along Sarn Helen. One day took me from Brecon to Llandovery. Three days took me past Dolaucothi Gold Mine, north with the line of the Cambrian Mountains to Pennal, just to the west of Machynlleth. Then came Cadair Idris and Dolgellau. Then came four days winding through Gwynedd until, in May 2021, I found myself on the Great Orme, looking over Llandudno and the Irish Sea.
I slept in woods, on mountainsides and, in Blaenau Ffestiniog, a derelict quarry. I spoke to farmers, fellow walkers and scientists from Cardiff, Swansea and Aberystwyth: specialists in every field from extreme rainfall to sea level rise. And, at every turn, there were the saints – in the name of every other town and village, in tales and wells, in remote churches and half-forgotten stones.
Transformation
All of these fed into a picture of the past, present and future of Wales: a future which will see a transformation of our culture, landscape and economy, but one which, if we engage now, may yet be true to the best of our past.
However that future may turn out, walking Sarn Helen was a matchless chance simply to look and learn. It made at least one thing plain to me – although I must have known it for a good two decades. I would not now wish to be a writer anywhere but in this small, quarrelsome, beautiful country.
Tom Bullough's latest book is Sarn Helen, published by Granta Books. It is available from all good bookshops or you can buy a copy here.
Tom will be talking about it on:
Tuesday February 7th at Bookish, Crickhowell (SOLD OUT)
Wednesday February 8th, The Bookshop, Mold
Thursday February 9th, Booka, Oswestry.
You can discover other installments of 'On Being a Writer in Wales' on Nation.Cymru by following the links on this map
---
Support our Nation today
For the price of a cup of coffee a month you can help us create an independent, not-for-profit, national news service for the people of Wales, by the people of Wales.