Culture
Poetry round-up: A trio of new poetry collections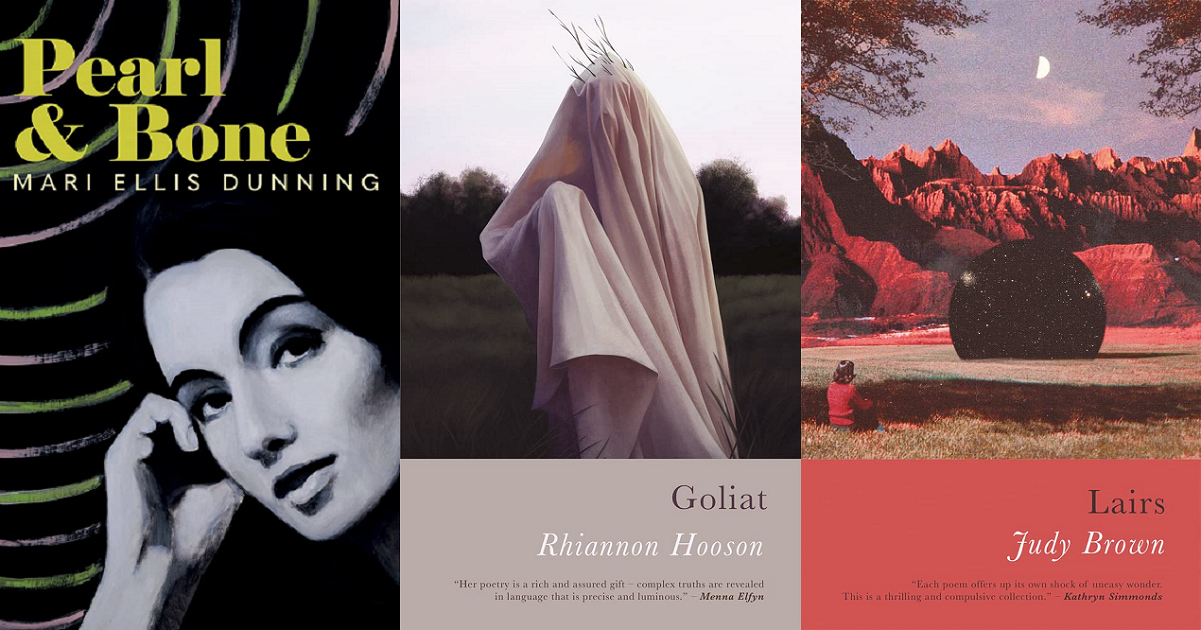 Caroline Bracken finds killer lines, companionable words and big subjects in three new volumes of poetry
Pearl and Bone
Leaving room for the reader in a poem is something Mari Ellis Dunning does exceptionally well in her second collection 'Pearl and Bone' published by Parthian. Some poets tend to over-explain or summarise to make sure we get the message but this poet does not make that mistake. An example of this is the poem 'On Walking in the Rain' which opens:
'When you came, I stopped
minding the rain, learned to enjoy
its cool touch like freshly
laundered sheets on my cheek.'
The speaker is talking about the arrival of a new baby but the construction of the poem invites the reader in, to read whatever they want to into the opening lines.
There are descriptions of the early days of caring for a new-born that every parent will recognise:
'Each morning, scrape
the pepper corns of sleep
from your eyes. Forget
to butter your toast. Slink
from room to room, shuffling
between kitchen cabinet
and coffee table, your dead
weight making a bog
of the carpet.' (Spell for a Mother)
and in 'Sometimes we sit in the car' : 'Mid-afternoon and you have finally slackened,/ folded into your carseat like a dormouse, a tightly/ strapped parcel going nowhere.'
The collection expands to include other women, Christine Keeler, Bertha Mason, Sarah Everard, Marshae Jones, Zelda Fitzgerald, Mary Magdalene. Their voices insistent, their stories needing to be told, injustices done to them needing to be known:
'In the docks I stood flushed, the truth
stripped from my back
like a torn dress, fragments caught
in the mouths of strangers.' (Poem for Christine Keeler)
This collection is one to be savoured, perhaps in the dead of night when sleep is impossible and words come to be our companions, to say what we cannot:
'I have
become a lighthouse watching
the tide, a heron circling the water's
edge, a red dwarf, unseen.' (This Thing with Teeth)

Lairs
The first line of a poem carries a lot of weight, it must get to the point, invite the reader in to the poem and want to continue reading, use language in a way that is unique but not so obscure as to be off-putting, it must avoid cliché and hold the poem's rhythm and tone. It's a lot to ask of a line but Judy Brown is an expert at them. There are so many examples of killer opening lines in her third collection 'Lairs' (Seren) that it should be required reading for anyone contemplating writing poetry. For instance:
'The number for Reception is always the easiest to dial.' (Room Service Menu)
'That was the day I discovered the tick' (Settings)
'Bring it on, I said, fizzy with rhetoric.' (My Latest Era)
The poet uses simple, straightforward words to lead us in to poems that are anything but simple and straightforward. Her opening lines are a gateway into complex, layered poems, each one its own world of wonder. Once the reader knows they can trust the poet, that she knows what she's doing, we are willing to follow her anywhere.
'There is no menu so I order a steep glass wall full of eroded sky
fusing subtly along a horizontal axis
with a sea of a dull, base-metal sort, grey as lead
and, with white caps at its tips, like lead exposed to vinegar.' (Sea-Want)
This sure-footedness in poetry allows Brown to venture into places a lesser poet might fear to tread, like the surrealism of 'Waiting for the Pomegranate Boat'
'I strung my noticing eyes on a rosary,
and clicked and confided.'
On the island I stuck to the facts;
they were slippery and touchable as blood.'
I also appreciated the poems that raised a smile of recognition like 'Some Security Questions'
'Q: What were the stupid questions? A: There are none
the statisticians said, but this was maths, so they could
be out there, capable of being asked. You might find one
holed up in some hard-to-fathom 5-D keysafe
downwind of the site manager's office. Q: Are any cats kind?'
You will have to buy the book to find out the answer to that question and others.
Goliat
At the heart of Rhiannon Hooson's second collection 'Goliat' published by Seren, is a sequence of poems called 'Full Moon on Fish Street'. The poet used Virginia Woolf's The Lighthouse and The Waves as source material for the poems. The final poem in the sequence 'What Matters' gets to the source of what matters in the whole collection, quoted in full:
'What matters is the moonlight
on the moor. The way it snags
thistledown on the teeth of a tide
that brushes the year down flat
as cat's fur. What matters
are the skylarks whittling complexity
from a single note that rises
into the dusk. These things
and the journey each spring
that Aubrey makes to the shore.'
Survival of living things and our relationships with each other are big subjects but ones this poet is well able for:
'In hidden valleys oaks grew
with their backs to the sun. The earth
was an indrawn breath, the ice
three thousand metres deep.
And at the foot of this great
wall of ice, a girl:' (How the Oak Tree Survived the Ice Age)
The poems never sound preachy but rather, draw you into their orbit so you listen, willingly:
'They say an egg laid
on ascension day protects from lightening,
but it was winter, and the storm was a thing
of stranger gifts. It swelled the river, left him
silhouetted by the ash stump, axe above his head.'
Many of the poems are inspired by paintings, including 'Wheatfield with Crows', after Van Gogh where the speaker tells of a journey home from hospital. It is a fine poem from an extremely talented poet who has something to say to us all:
'we stopped in a valley corked
with apples and silence, and the light
was apricot warm. I stood
at the edge of the field
watched its little tides
thought of all the golden-haired
women in pre-raphaelite paintings
thought, god, I'm free, thought
how all this would carry on
a little longer'
Pearl and Bone by Mari Ellis Dunning is published by Parthian while Lairs by Judy Brown and Goliat by Rhiannon Hooson are both published by Seren. You can buy copies from all good bookshops.
You can find more poetry round-ups by Caroline but following her link on this map
---
Support our Nation today
For the price of a cup of coffee a month you can help us create an independent, not-for-profit, national news service for the people of Wales, by the people of Wales.