Culture
Poll result: Chippy Lane, Chip Alley or Caroline Street? What do you call it?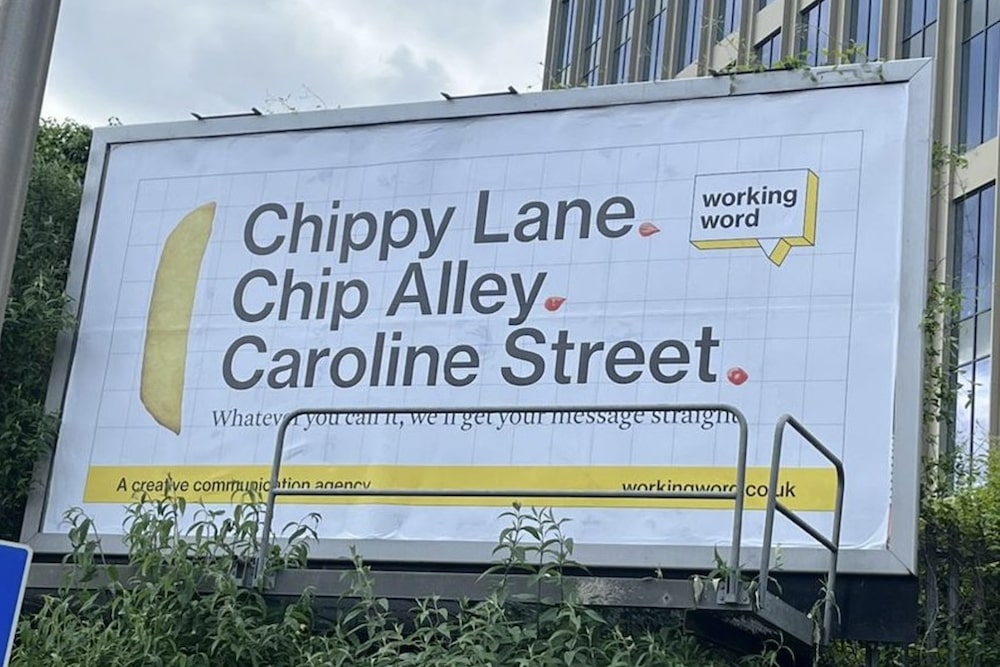 It appears the debate over what is the rightful name for Cardiff's legendary chippy thoroughfare is set to continue for years to come.
A leading Welsh communications agency this week sparked debate over this long-running poser.
Working Word, based in the Welsh capital, reopened one of the longest running debates in the history of the city with their provocative billboard ad.
As synonymous with the Welsh capital as Cardiff Castle and the River Taff, the number one late-night destination for a bag of chips, curry half and half or just a battered sausage to soak up the booze has been the subject of an ongoing conversation that has raged since, well, forever – just what is the fast food Mecca best known as?
Of course, officially it appears on a map as Caroline Street, and for many that's also what it's best known as, but just as many more it's also called Chippy Lane and Chip Alley.
So we decided to put this to the test and set up our own poll.
Just over 1800 of you cast your vote in our poll which ran for 24 hours and the results couldn't have been any closer.
Coming in at 38% and winning the vote was Chippy Lane, closely followed by Caroline Street on 37.5% and Chip Alley with 24.5%
While the vote was not conclusive, it does demonstrate one thing – and that's people will continue to have their own name for the city's number one late night destination.
We say crack on and call it what you want!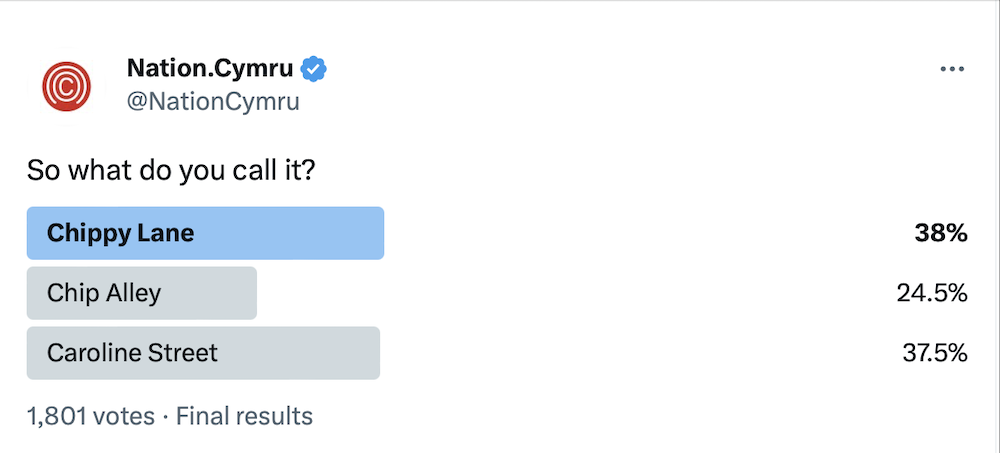 Speaking of the billboard that started the conversation, Working Word managing director Dan Tyte said: "I'm a Splott boy. I'm proud of Cardiff. We can boast many things: more impressionist art than anywhere outside Paris. More movie studio space than anywhere outside London in the UK. More hours of sunshine a year than Milan (thanks 80s TV show 'Why Don't You?' for that questionable fact'). That fastest growing capital city in Europe line we've all heard a million times. But really, nowhere else in the world will you find after hours dining quite like in Cardiff.
"It's always made me laugh how entrenched people are in their name for the street. Language evolves. Things change. Younger people tend to call it Chippy Lane, whereas my 68 year old dad wouldn't call it anything other than Caroline Street. And then some go for Chip Alley.
"When we had the opportunity to put some billboards around Cardiff, we wanted to say something that'd mean something to people and get them talking. We're all about getting messaging straight for some of Wales and the UK's biggest organisations so figured we'd have some fun."
Cardiff: whatever you call it, we'll get your message straight https://t.co/S8VoVvb8Hd pic.twitter.com/DzeV4VWInD

— Working Word (@WorkingWordPR) May 19, 2023

---
Support our Nation today
For the price of a cup of coffee a month you can help us create an independent, not-for-profit, national news service for the people of Wales, by the people of Wales.