Culture
Postcard from Skomer: Finding Sanctuary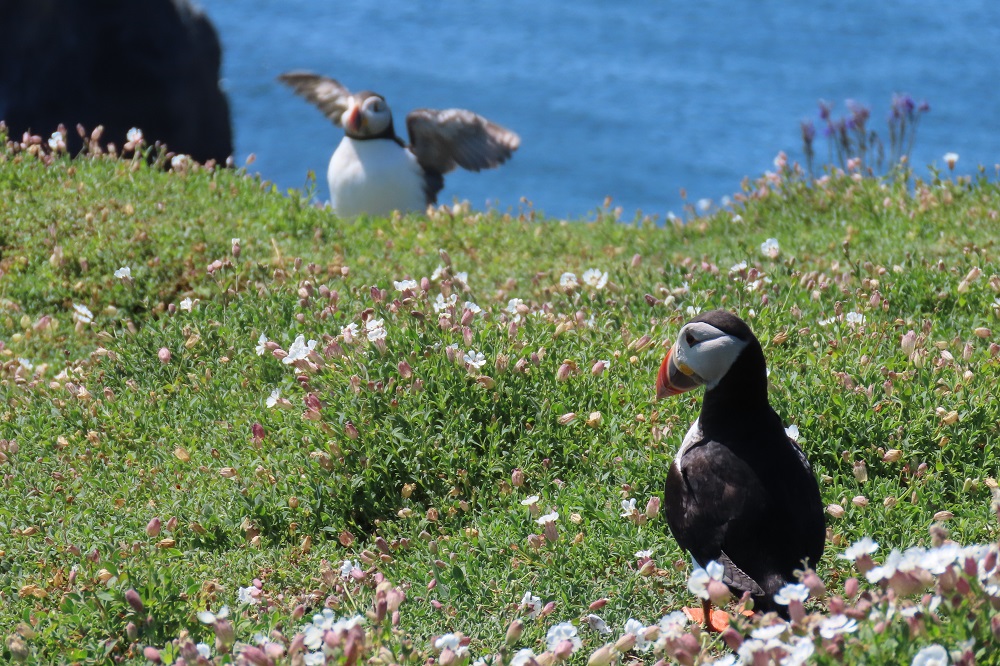 Tawny Clark
I feel an abrupt jolt in the pit of my stomach. Then another. The quakes begin to mirror the undulating rhythm of the boat as it completes a sweeping arc to port-side. Around Tusker rock we go, and I fear that tears will come.
It's not the lurch of sea sickness. Far from it. Today, beyond all odds, the weather has held, the fickle swell is on my side.
A shout. I'm struck, forcibly, by an incredible lightness. Relief. Disbelief. Excitement. As we continue, the tempo builds, until we're swallowed whole. Engulfed by the miraculous cacophony of life that surrounds us.
The boat lifts high over the swaying surface. The water, seemingly far below, moves with the fluidity and chaos of a jazz musician, consumed by the music, lost in its power.
Only a moment ago, we were carving a diesel-fuelled ribbon through the crystal waters of Pembrokeshire, but now, we soar ethereally above them. The brash, sulfureous engine has instantly vanished.
All sense is gone. Everything else in the world evaporates. I'm lost at sea.
Here be puffins. So many puffins.
The bounce and pounding of old rubber tyres against buoys, boat against dock, dream against reality, camouflages the interior churning as it rises to a deafening scream. With a ferry full of eager passengers, each jostling to disembark, I have mere seconds on the gang plank to soak in the gravity of this moment.
I am Neil Armstrong. One small step for me, one giant leap for my soul.
If it weren't for the assemblage of day-trippers, I'd be a weeping mass on the smoothed stone of the harbour floor. After so many disappointments, heartbreaks, I have, at last, landed on Skomer.

Russian roulette
Bought by the Nature Conservancy and made a National Nature Reserve in 1959, Skomer is internationally recognised as one of the most important seabird sites in Britain.
With designations of SSSI, National Nature Reserve, and Marine Conservation Zone, its legal protections certainly pack a punch, and for very good reason.
To book a day trip here is to play Russian roulette with your nerves. With non-refundable tickets – at a hefty price for a family of four – I had no choice but to pick a random day, months in advance, anxiously cross my fingers, and wait.
Last year I was naïve. I'd gone 'all in' emotionally.
When last year's trip was cancelled at 7am, on the day (thanks to a soul-sucking nine-foot swell), I was devastated. Thankfully, if they cancel you do get a refund…but no replacement trip.
Hurriedly, I booked another sailing. This time, the cancellation email came at 10pm the night before. Northerly winds. Excited children waking to the bitter news, was a Tyson Fury gut-punch. I couldn't bear gambling on a hat-trick of disappointment so didn't dare try again.
By then, the puffins had bred and reared their chicks. They were leaving the island for a year at sea.
Externally, stoically, I thought, 'There's always next year'. But, with record numbers of seabirds losing their lives to bird flu in 2022, with populations of gannets plummeting horrifically before our eyes, I didn't know if there'd even be a next year.
I tried to remain positive, but it was hard to shake the possibility that I'd missed my chance. Over the long, wet winter, puffins turned to dodos, waddling around interminably inside my head.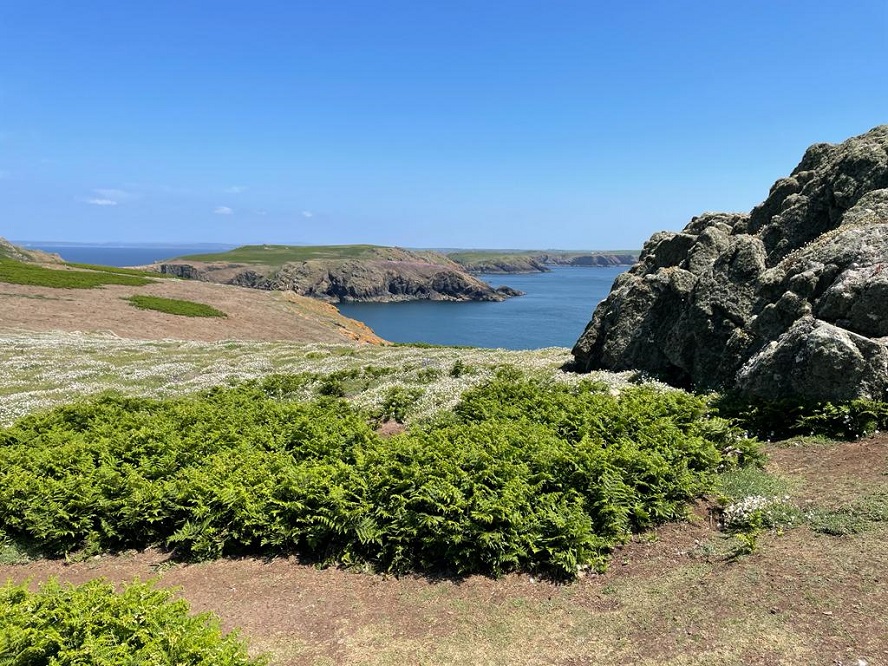 Unfettered cuteness
By the time I booked for this year, world-weariness and doubt had well and truly set in. They placed a chokehold over every questioning thought I had of Skomer.
I couldn't allow myself any hope of succeeding in my quest, for fear of sinking to the shadowy depths of depression. Not until my shaking sea legs hit terra firma would I begin to believe.
Now, as I find myself standing in this reality, on this magical island, I take stock. I am not here to question, I am here to puffin, and by God, puffin I shall!!!
Incredibly, not only did the puffins dodge the worst of the bird flu epidemic by spending their year dispersed at sea, this year they've returned to Skomer in record number, 42,513 to be exact.
With 87 robust concrete steps to ascend and a cliff-sweep of unfettered cuteness to behold, the breathless, charm offensive of Skomer begins before the brain can even register you've arrived.
It's all too much. Hopping from foot to foot and jiggling about, I realise it's more than childish excitement. Nature calls, despite the thirty thousand wees I had before boarding. The only toilets are a 15-minute walk away, at the farmhouse in the centre of the island.
Dragging the kids away from the thrills and gasps of the circus big-top atmosphere of the cliff-side, I feel like the biggest party pooper of all time.
I'm quietly confident though that we'll be adorned in puffins like the 'crazy' pigeon lady from Home Alone 2 in no time, and all will be forgiven. I hope.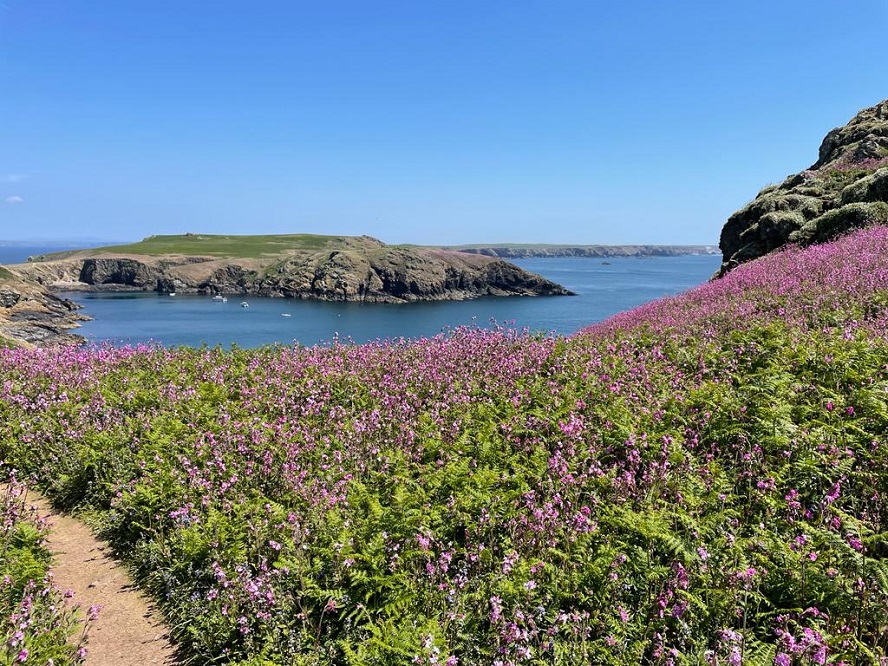 Nocturnal cackles
We venture into the subdued, serenity of inner Skomer. The bracken-scape could be an ordinary heathland, but for the bubbling honeycomb of burrows that cover the entire surface of the island.
Aside from the charismatic puffins, the reserve is home to half the entire world population of another very special species. A species whose eerie nocturnal cackles were once believed to be the terrifying calls of witches, and whose Latin name, confusingly, happens to be Puffinus puffinus.
Many of the burrows on Skomer belong to the enigmatic, Manx Shearwater. With over 300,000 breeding pairs travelling 7,000 miles from South America to breed on the tiny island of Skomer each year, this is one truly exceptional place.
Emerging at night, to avoid their greatest enemy – the Great black-backed gull – it appears their evasive strategy isn't quite foolproof.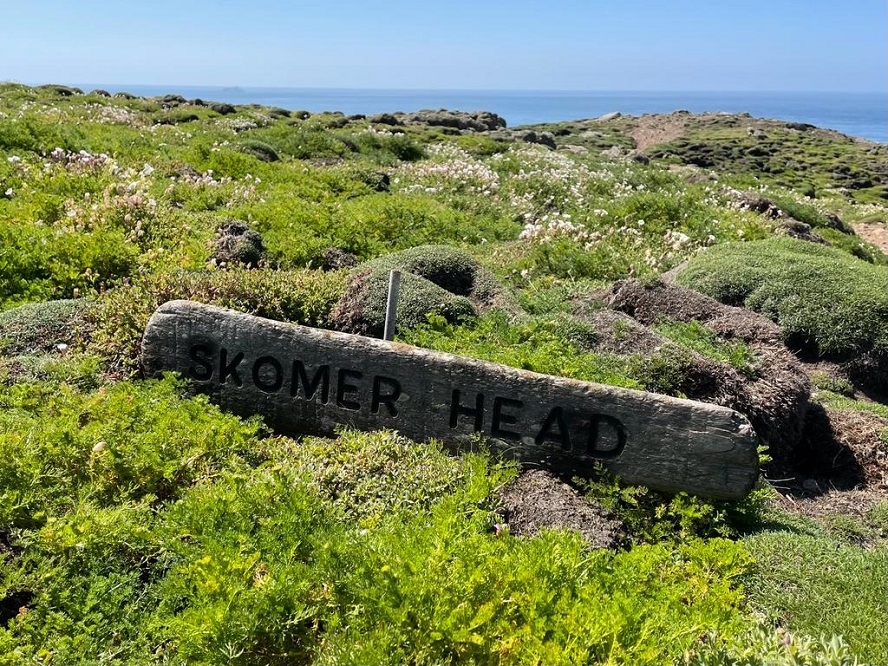 Goliath of Skomer
The first shearwater carcass we find on the narrow path through the bracken is a sobering reminder that we're trespassing in nature's kingdom.
The cervical spine curves backwards, unnaturally, where the small body, the weight of a Coke can, has lost the fight to a Goliath of Skomer.
It's surreal, ominous, to be walking alone over the strange, deserted landscape, towards Skomer Head. The odd birder or two we saw earlier, with their Hubble telescope-lenses, have been swallowed up by the undulations of the island. The madding crowd are still ambling about to the east.
We find innumerable hordes of delicate bones, picked clean, bleaching in the sunshine. And spot the beady eyes of giant gulls, observing us with indifference from nests in rocky outcrops.
We're de-sensitised now to the strewn corpses that litter the landscape. This graveyard is a far cry from the bustle of life at the cliffs.
A familiar squeaky-dog-toy snaps me from my melancholy. Oystercatchers!
A pair amble about the bracken, casually peeping away to one another. Their long, orange beaks and pie-bald feathers contrast to the lush green of the bracken and pink pops of campion flowers. I can't help but smile.
A bickering couple interrupts our amble. They dress to match, all in black, red accessories. They 'caw' at each other irritably; unmistakably corvids. Choughs. Wait til you have kids, I think. Mine have spotted a rabbit. A black and white one.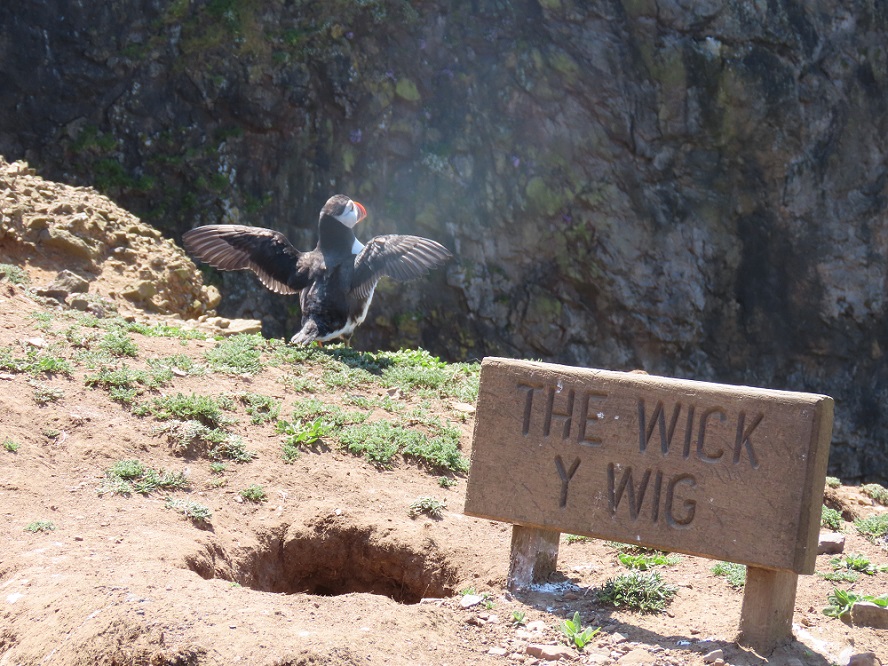 The Wick
Bluebells have gone over now. Occasional tinges of purply blue hint at a spring spectacle worthy of another trip. We reach the edge. Glad to be away from the silent centre, we bounce along the spongey peat of the cliff path. I'm getting anxious, impatient.
We've seen no puffins since I dragged everyone away from the harbour, and the clock is ticking. Five hours sounds a long time, but time slips away quickly here, our wanderings may have taken minutes, hours, days.
We've not seen a single puffin since leaving the harbour at North Haven, and already it is lunchtime.
Forewarned it is 'the place' to see puffins, all hopes are pinned on The Wick. Don't let me down.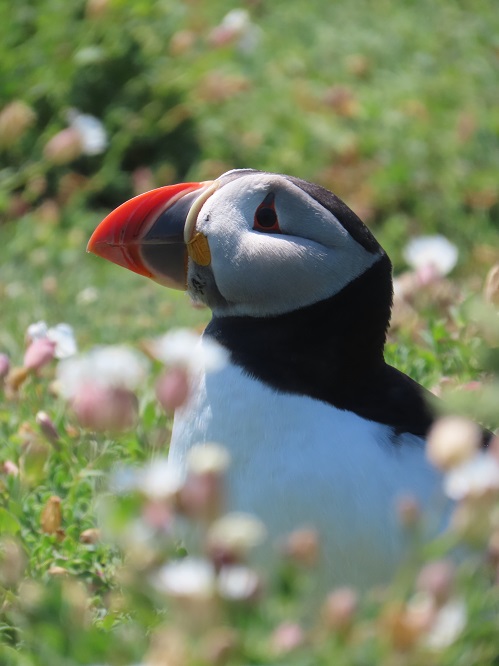 Rainbow beak
With puffins, come people. As we round a corner, the narrow path is littered with couples, and the occasional (loud) family. Everyone has their eyes, phones, and cameras trained on the ground. Waiting.
A minimalist scattering of puffins decorates the clifftop, but they're several metres from the path and I could be watching them on a screen.
As I step towards a young couple on the path ahead, I glimpse a rainbow beak in a burrow, half a metre from their feet. Delightedly, they snap picture after picture with their backs to me. I wait, but they have no intention of sharing the view.
I turn back. A little way behind another couple is having a similar experience. Puffins seem to be everywhere I'm not.
Is this my fate? To stand on the periphery, feeding my soul vicariously, empathetically from those around me?
In my desperation, I've forgotten the vital key; patience.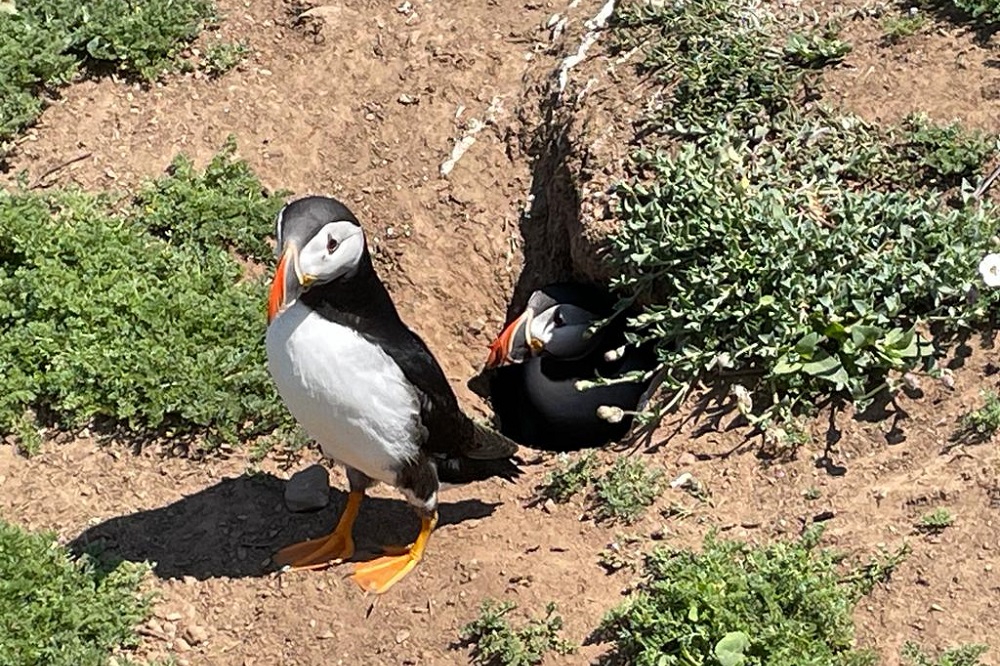 Nonchalant swagger
Just as I'm about to (metaphorically) launch myself off the cliff in a rage of jealous frustration, I find myself watched by a huge, pantomime, eye.
The jaunty, nonchalant swagger of a puffin, appearing as if by magic from its burrow, right at your feet, could bring about world peace, I'm sure of it.
My heart melts. Not the gentle trickle of Joe's ice-cream down a waffle cone, this is complete Arctic ice-cap obliteration. True love.
Approaching The Wick, the delightful trickle of nesting birds becomes an unfathomable circus, or (quite the most ridiculously appropriate collective noun) an 'improbability' of puffins.
It's like whack-a-mole, no-one knows where a head will pop up from next, but everyone gets their moment. Puffins vastly out-number humans.
There are a fair few people, but nothing you'd call a crowd. We're spread along the cliff, milling about. Puffins for all.
Not just puffins. The cliff is awash; overwhelmed with nesting guillemots, razorbills, kittiwakes. Fulmars appear unimpressed. Their angry scowls like café-dwelling pensioners, tutting at the raucous family on the next table. Pick-and-mix gulls swoop and glide overhead.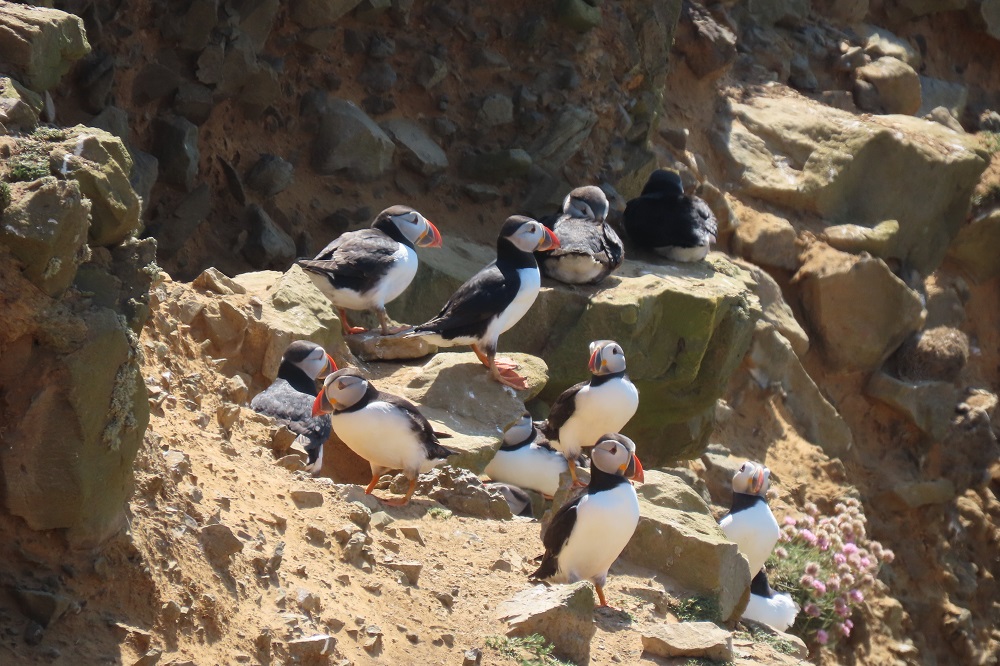 Pufflings
My lungs swell with salty breeze. The tang of guano-smeared rock. The warmth of the day tickles the tiny hairs inside my nostrils. It's loud.
The heat and organised chaos of the London underground, except this couldn't be further from the over-peopled concentrations of our cities. It's busy, crowded, but the balance is right. More birds, less people.
As I stand, quizzing one of the volunteer wardens, I'm clearly – inadvertently – obstructing a burrow.
An in-bound puffin comes hurtling towards me, mouth full of sand eels, big orange feet stretched forward like aeroplane wheels. It skids across the path, throwing a cloud of dust up my legs, and vanishes into its burrow.
I glance at the warden to check I'm not dreaming.
Little pufflings are hungry. Balls of pure fluff not yet ready to venture aboveground.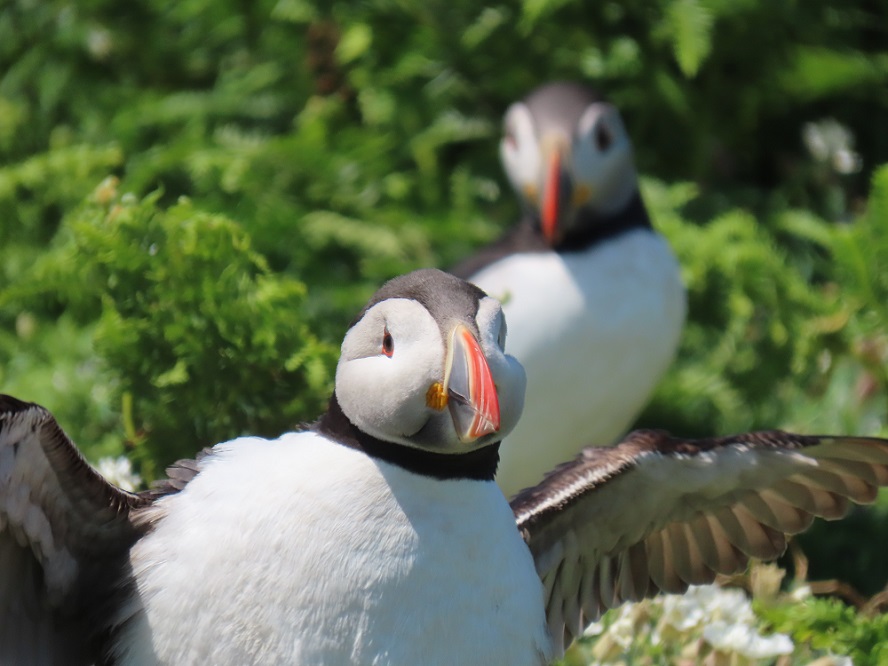 Oystercatchers
Our precious time on Skomer is almost up.
We make our way back to the harbour to watch puffins leap from the cliffs, out to sea, and look on anxiously as returning puffins, beaks filled with sand eels, are mobbed by opportunist, kleptoparasitic, gulls.
I decide there's time for a lone dash to the farmhouse. I'm alongside an old, walled field in no time.
A large bird, with long, curved beak, flies low over my head with a harsh call. An inverted wolf-whistle. A hoarse throat amid the peep peeps of nearby oystercatchers. I gawp at it dumbly, then release a puzzled, 'huh'.
Thankful for another witness, a thrilled Hubble-telescoper marching along the path towards me, confirms that it is indeed a curlew. Possibly half of the only breeding pair left in the whole of Pembrokeshire.
The boat appears, and we're off. I'm light-headed and away with the fairies, when we pass an inflatable boat moored in Martin's Haven, and the crew start shouting.
Glancing absentmindedly at the tarpaulin laid over the tiny vessel, I, along with everyone else aboard, realise it is, in fact, a vast seal. A cheeky, infamous chap, known for his sun-lounging antics, and the occasional sinking of small boats.
We dock, to shouts of, 'Get off, you great oaf.' Or something to that effect. I'm not sure, my head is still in the silken, cirrus clouds which glide peacefully over the surreal Welsh island of Skomer.
Read more by Tawny Clark here or by following her link on this map.
---
Support our Nation today
For the price of a cup of coffee a month you can help us create an independent, not-for-profit, national news service for the people of Wales, by the people of Wales.