Culture
Preview: Y Sŵn – the tale of intrigue and jeopardy in the battle for Welsh language television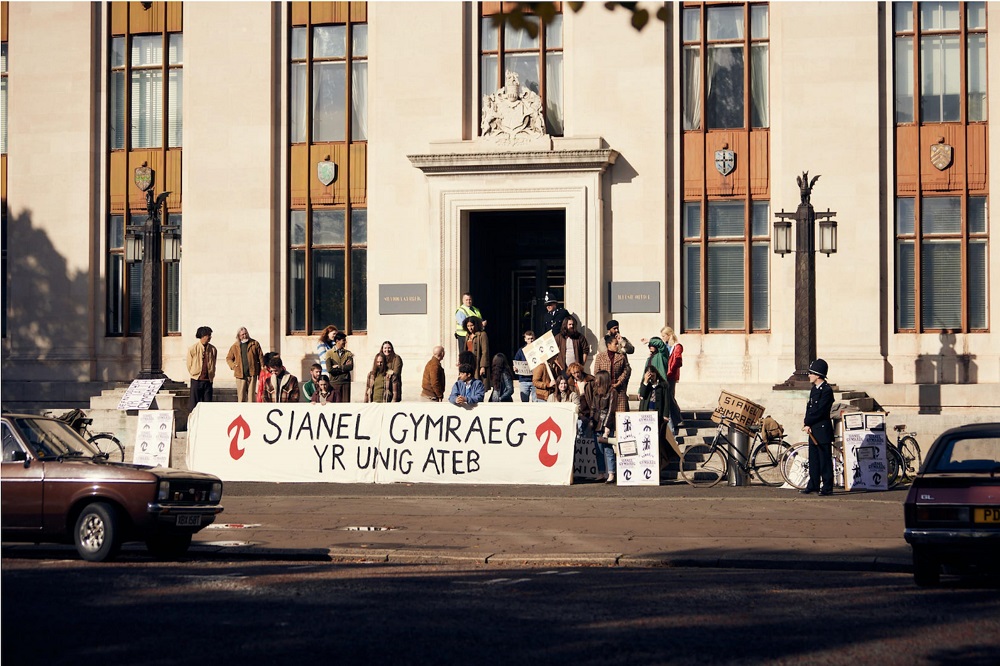 Rhodri Davies
The last time that writer and producer Roger Williams teamed up with director Lee Haven Jones was for 2021's surreal, disquieting and ultimately disturbing horror Gwledd / The Feast, which went on to become the most successful Welsh language feature film of all time.
Although some might argue that a movie which features Margaret Thatcher as one of the key protagonists could qualify as horror too, their follow-up, Y Sŵn couldn't be more different in style and content from its simmering, slow-burning predecessor. According to Williams, this was a very conscious decision:
"We talked about the fact that our first film was a horror, and should we be coming back with another horror – trying to build on that reputation. But both Lee and myself felt that we wanted to try something different and ended up with something very far removed from Gwledd. We also felt we had something to say here – the message and subject matter were really what appealed with Y Sŵn. To be making a film for cinema release, about the battle to get S4C on air in the early 80s, seemed really apt during the year of the 40th anniversary celebrations."
Beginning with Margaret Thatcher's election victory in 1979, Y Sŵn tells the true story of Plaid Cymru politician Gwynfor Evans' battle to get the Conservative government to fulfil its campaign promise and establish a Welsh language television channel.
This after Home Secretary William Whitelaw had decided to renege on the original offer and effectively maintain the status quo of Welsh language programmes being shown on English language channels.

Duplicity
Context is key. Evans was the first Plaid Cymru politician to become an MP and represented Carmarthen twice, between 1966 and 1970 and again between 1974 and 1979.
Having lost his parliamentary seat that year, and having seen the Welsh nation vote in overwhelming numbers against devolution, the Evans of Y Sŵn – as portrayed with uncanny accuracy by Rhodri Evan – is introduced as a man at a loss, a man at odds with himself and the world, a man in need of a mission.
The government's duplicity provides him with the cause and he decides to take the most drastic action possible for a man of conscience – to begin a hunger strike – unless the government changes its mind and fulfils its pledge.
In this he is guided by the recurring ghosts of two of his heroes, Gandhi and Martin Luther King, both offering up advice by way of some of their most memorable quotes. It is King's words that hit home hardest in terms of Evans deciding to take his possibly terminal stand: "No one really knows why they are alive until they know what they'd die for."
So this isn't a straight historical re-telling by any means. According to producer Williams: "It's a reimagining of one of the most colourful, important periods of contemporary Welsh history…We've taken the story, the main events, the themes and key historical figures involved, and presented them in a very unique – slightly cheeky – way.
Like The Crown to a certain extent, we've taken what we know, those general truths, and built our own story around them. That's why the theatrical release is important as opposed to people just watching from their sofas at home. Hopefully it will entertain but also provoke a debate about the issues involved."
The story takes a three pronged approach, with Welsh Office staff caught in the middle of the battle of wills between the Thatcher administration on the one hand and the Welsh nationalists on the other.
Lily Beau plays Ceri, a young, aspiring Welsh office employee, who is initially sceptical as the battlelines are drawn. When she eventually becomes a co-conspirator, her commitment to the 'rebel' cause is sealed by way of one of the film's best comedic set-pieces. Her refusal to pass the Prime Minister – Siân Reese-Williams stealing every scene and enjoying every minute – a much-needed roll of toilet paper, makes for a particularly surreal way of joining the opposition's ranks.
Intrigue
Much of the political intrigue – as it did in reality – takes place behind closed doors, but thanks to papers released by the National Archives, the content of those panicked conversations is now in the public domain. So Y Sŵn takes the audience inside those dark, smoke-filled, rooms and does a great job of conveying the change in mood within the corridors of power as the repercussions of Evans' threat sink in.
As with Reese-Williams' cameo turn as Thatcher, Mark Lewis Jones as Whitelaw and Rhodri Meilir as Nicholas Edwards, Secretary of State for Wales, both make the most of their pantomime villainy. But with the growing realisation of the gravity of the government's self-made predicament, Y Sŵn also reminds us of the true-life roles played in those behind-the-scenes machinations by influential political figures, for example the Conservative Wyn Roberts and Labour's Cledwyn Hughes – both of whom did much to shift the intransigent Whitelaw's position.
The third element of Y Sŵn's plot focuses on the nationalist cause, from young, ambitious politicians such as Dafydd Wigley and Dafydd Elis-Thomas, to the campaigners of Cymdeithas yr Iaith and most affectingly, Gwynfor Evans himself. And where the film has elements of political drama, social commentary, thriller, comedy and fantasy, it is at heart a love story, between a man and his wife.
Devastation
Rhodri Evan's calmness captures the almost mystical sense of Gwynfor's humanity and the actor's scenes with the exceptional Eiry Thomas – playing Gwynfor's wife Rhiannon – are the ones that linger longest in the memory.
As Evan explains: "It's a love letter, to Wales, to the Welsh language, but mostly between Gwynfor and his wife Rhiannon…Their love story sustains the larger historical tale, their intimacy and dependency sustains Gwynfor himself as he accepts his possible fate."
The majority of their scenes together are based in either the kitchen or the dining room, and focused around food – whether Christmas dinner or a birthday cake. The potential devastation of Gwynfor's impending fast, and the possibility that this might be the final Christmas or birthday, are never far from the surface.
Y Sŵn ostensibly comes to a natural conclusion with the launch of S4C in 1982, but then flips that 'happy ending' final scene on its head by bringing the story right up to date.
That shift, for Producer Williams, is crucial in terms of this timely re-telling: "It's an important story. It was important then – to win the battle – and it's important now, because there are still battles to be fought in terms of the language and Welsh broadcasting. So it's about keeping that history alive, it's about our past, present and future, and it's about being able to tell our stories, through our own language.  After all, they are our stories to tell."
Y Sŵn will be released on March 10th and will play Chapter Arts Centre, Cardiff and other cinemas across Wales and the UK. Screening times and host cinemas can be found at www.yswn.cymru
---
Support our Nation today
For the price of a cup of coffee a month you can help us create an independent, not-for-profit, national news service for the people of Wales, by the people of Wales.