Culture
R.S.Thomas – poet, activist and…harmonica player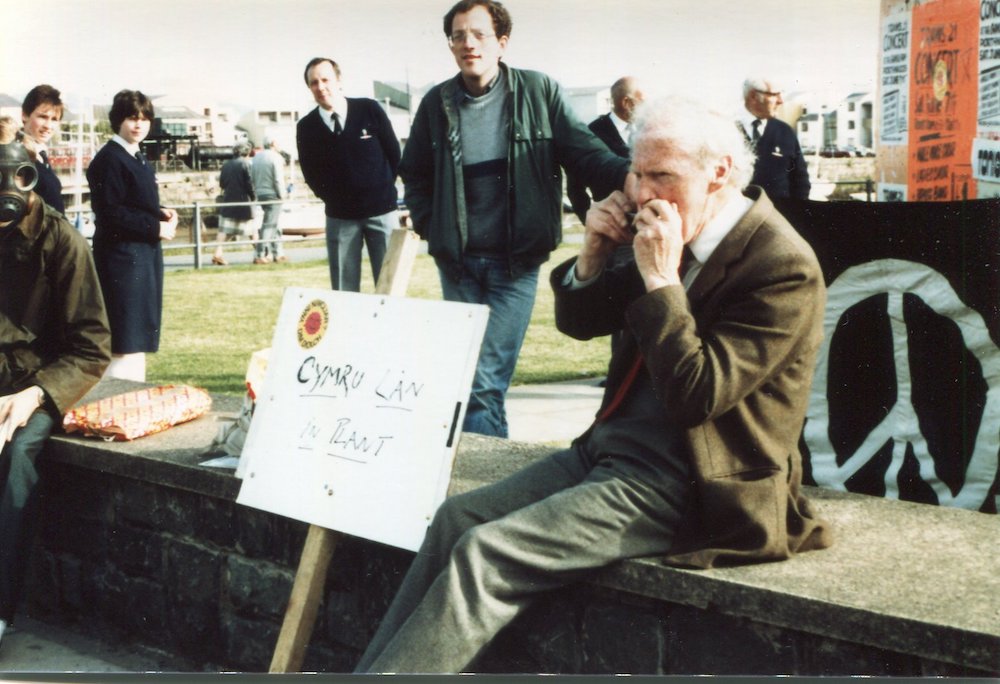 Jon Gower
The poet R S Thomas has a reputation for being a bit curmudgeonly, in part because of photographs of the great poet scowling at the camera. This led to news outlets such as the Daily Telegraph describing him 'the ogre of Wales'; a wild-haired Heathcliffian throwback; an utterly unworldly man brooding in pared-down verse on nature, Welshness…'
I was one of many people who found him to be quite the opposite. We went birdwatching together and I was lucky enough to take a tape recorder with me on some of our ornithological jaunts, which led to my making a documentary about RS and birds called 'Always Seeking Greater Silence.'
There were many more who found him to be amiable and companionable, especially perhaps when you conversed with him in Welsh. Indeed, there's a book called Cofio R S: Gleniach yn Gymraeg, edited by Gareth Neigwl Williams, which assembles personal memories and stories presenting a different and intriguing side of poet R. S. Thomas – his humour, his wit and his kindness.
Now a photograph has come to light showing another side of R S Thomas entirely, as a spirited player of the mouth organ.
A chance meeting between Susan Fogarty, the Director of the RS Thomas & ME Eldridge Festival and north Wales poet Jinny Thomas revealed the existence of the photograph. It shows R S Thomas playing the harmonica in June 1986 outside the Neuadd in Porthmadog in protest against Trawsfynydd Nuclear Power.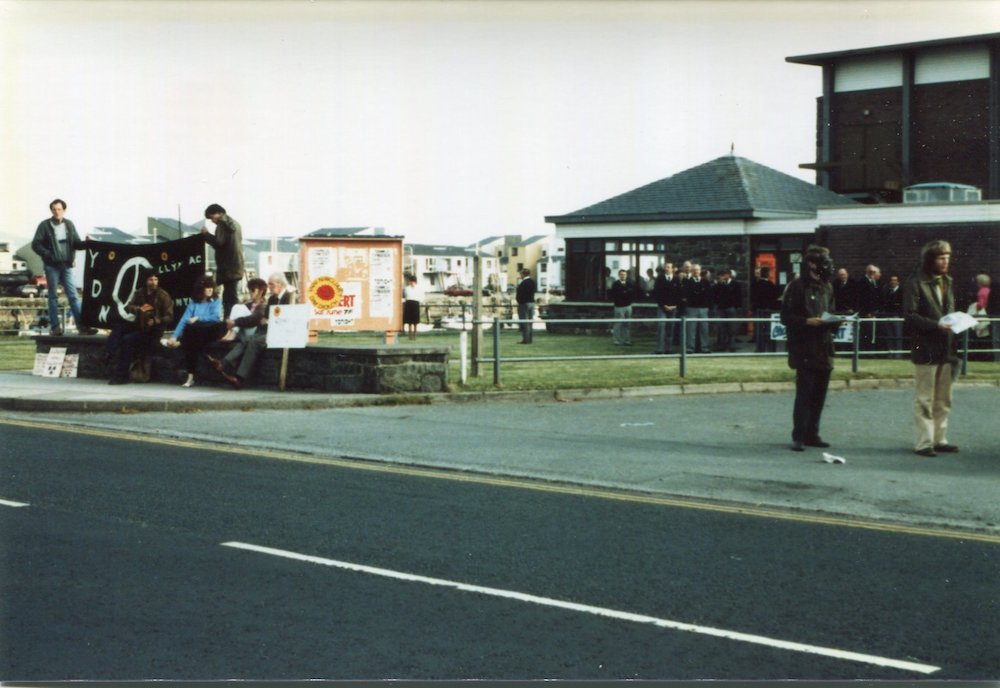 Jinny Thomas, who took the photograph herself, was angered at the cultural appropriation of Welsh identity when the energy company organised three concerts for the local community in Harlech, Porthmadog and Blaenau Ffestiniog.
She organised local musicians to perform outside each concert venue. R S Thomas, though not a musician, said that he could play the harmonica.  Unsure if he was joking or not, she bought one especially for him to play.
The resulting photograph shows the so-called 'Ogre of Wales' plays the harmonica, in June 1986 outside the Neuadd in Porthmadog in protest at Trawsfynydd Nuclear Power.
The three men in the background are part of the Welsh male voice choir who were also performing in Porthmadog.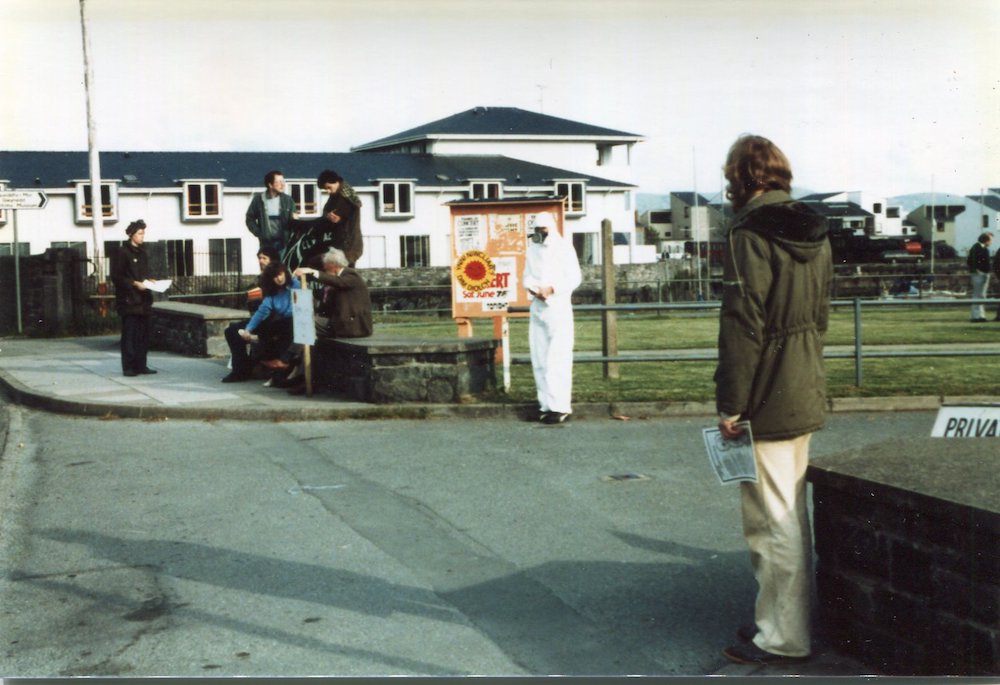 R S Thomas himself was a great lover of music as his poetry often shows, such as the poems about Welsh hymn writers Ann Griffiths and William Williams, Pantycelyn.
'The Musician' recalls a night when R S Thomas found himself on stage in Cardiff with the violinist and composer Fritz Kreisler:
The seats all taken, I found myself pushed
On to the stage with a few others,
So near that I could see the toil
Of his face muscles, a pulse like a moth
Fluttering under the fine skin,
And the indelible veins of his smooth brow.
Susan Fogarty met Jinny Thomas – herself a writer of poetry who lives at Penmon on Anglesey ­– at a recent writing Festival in Bangor. Not only did Jinny explain about the photograph of Thomas' impromptu open-air concert in Porthmadog but also recalled how she and RS had once gone to an anti-nuclear demo in London.
There they found themselves with time to go to the Tate Gallery where RS wanted to see the Picasso paintings.
They weren't allowed to take their rucksacks inside so they each had to take it in turns to sit outside with the rucksacks whilst the other went inside, so Jinny became, in a sense R S Thomas's bag lady.
You can learn much more, and enjoy talks and performances about R S Thomas at next week's R S Thomas & M E Eldridge Poetry & Arts Festival.
The 9th annual festival celebrates RS Thomas and his wife ME Eldridge in the Welsh coastal village of Aberdaron where he was vicar and she an artist. This year's event is on the theme of "Childhood."
---
Support our Nation today
For the price of a cup of coffee a month you can help us create an independent, not-for-profit, national news service for the people of Wales, by the people of Wales.