Culture
Renaissance masterpiece on display at Carmarthenshire Museum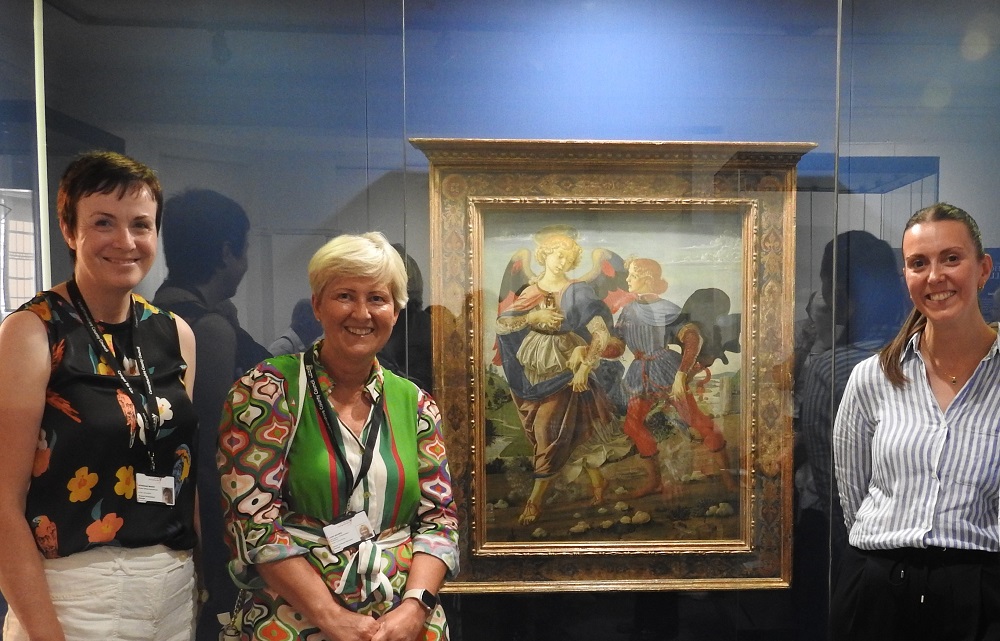 A painting described as a Renaissance masterpiece is on display at the Carmarthenshire Museum until early next year.
Tobias and the Angel, which dates back to the early 1470's, is an altar painting by the Workshop of Andrea del Verrocchio, a leading artist of Renaissance Florence.
Mainly known as a sculptor, he also trained painters in his workshop, including Leonardo da Vinci. It has been suggested that da Vinci painted parts of Tobias and the Angel.
The painting is part of the National Gallery Masterpiece Tour (2021-2023) that offers three non-London museums, galleries or art centres the opportunity to partner with the National Gallery for three years to display one different major artwork from its collection each year.
This is the third and final Masterpiece Tour exhibition at Carmarthenshire Museum.  The first and second paintings were Chardin's House of Cards (1740-1) and Rembrandt's Saskia van Uylenburgh in Arcadian Costume (1635).
The picture tells a story in the biblical book of Tobit. Tobias is a young boy sent by his elderly, blind father to collect a debt. God sends the Archangel Raphael to accompany Tobias and his dog. Along the way, Raphael instructs Tobias to catch a fish and advises him that the organs can be used to create an ointment to cure blindness and be burnt to drive away evil spirits.
While on their journey the pair visited Tobias's cousin, Sarah. She had married seven times, but each time a demon had killed her husband before the wedding night. Tobias decided to marry her and end the curse. On the wedding night, he burnt the organs which, as Raphael had foretold, drove the demon away. The book culminates with Tobias's return home, where he took Raphael's advice and cured his father's blindness.

Folk healing
The themes of folk healing and protection from evil spirits are explored in a display of items from the collection at Carmarthenshire Museum accompanying the painting of Tobias and the Angel. Visitors can also enjoy a tactile panel based on the painting created by the museum's volunteer-run Stitch in Time group.
Cllr. Hazel Evans, Carmarthenshire County Council's Cabinet Member for Regeneration, Leisure, Culture and Tourism said: "Our partnership with the National Gallery has allowed us to host three masterpieces at Carmarthenshire Museum, and I would encourage people of all ages to come and visit this exhibition, which is free of charge.
I would like to thank the staff and volunteers that have put together this exhibition, as they have created a powerful display, connecting themes from Carmarthenshire's rich folk history with a major Italian Renaissance artwork – two worlds that wouldn't usually meet but can, through the extraordinary opportunity of partnering with the National Gallery".
Tobias and the Angel will be on display until January 7, 2024. Admission to the museum is free.
---
Support our Nation today
For the price of a cup of coffee a month you can help us create an independent, not-for-profit, national news service for the people of Wales, by the people of Wales.