Culture
Retired engineer turned TV star tells of joy at landing role in Welsh Gogglebox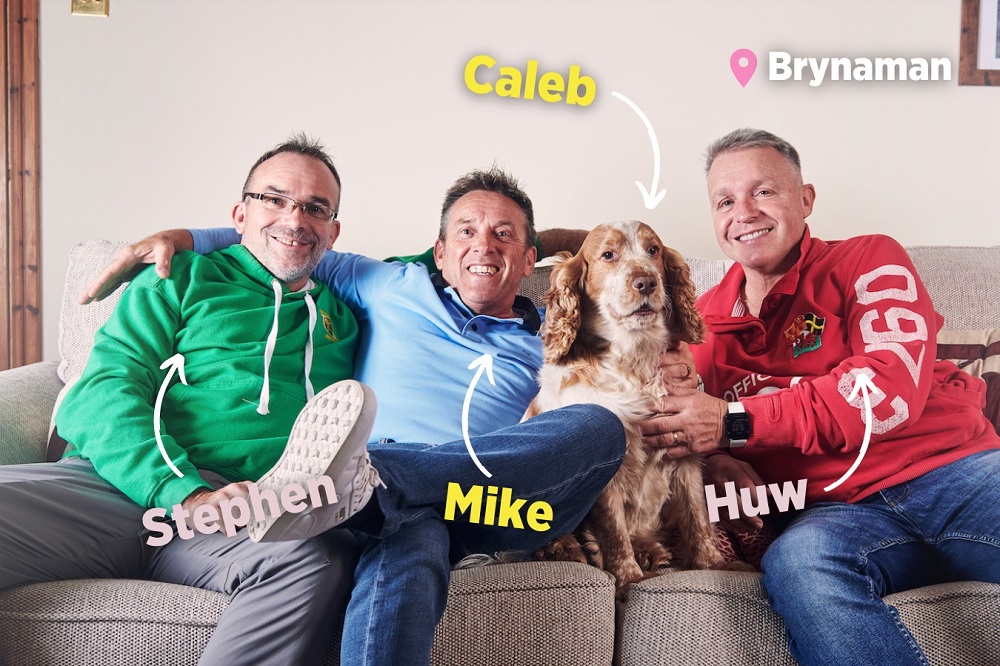 A retired engineer who became a TV extra at the age of 61 has described his new-found fame on the Welsh equivalent of Gogglebox as the 'stuff of dreams'.
Panto performer Huw Williams, from Mynydd Isa, near Mold, said he couldn't believe his luck when he secured a place on S4C's Gogglebocs Cymru – alongside brothers Stephen, 57, and Mike, 64 – describing the experience as the best of his life.
The brothers, who grew up in Brynaman, Ammanford, Carmarthenshire, are avid fans of the British reality show and wasted no time replying to an advert calling on friends and families to try out for the Welsh language version.
Former British Coal engineer Huw, 62, who has appeared on Emmerdale as a vicar since first trying his hand as a TV extra a year ago, said audiences had already warmed to the trio's brotherly banter – so much so that he's now being recognised in the most unusual of places!
"Just this morning I was in the doctors and half-naked when the doctor said in Welsh 'I've seen you on Gogglebocs'! I couldn't believe it!" admitted Huw.
"I had a face mask on as well, but he must have recognised my voice! It's the first time that's happened in north Wales.
"We all used to watch the show so it's fantastic – the best thing I've ever done. During Covid, my brothers and I were doing Zoom calls every week and we continued when everything opened up again – if anything this saves me a Zoom call every week because I'm actually sat on the sofa watching TV next to them.
"To be honest, it's a dream come true that people are prepared to pay for me to go down and sit with my brothers and watch the TV with a cup of coffee. It's great!"

British coal
Huw, who has three daughters aged 27, 24 and 22, was born in Brynaman and worked for British Coal for 18 years before moving to North Wales in 1989 to work on a pilot plant changing coal into oil.
He has appeared in panto for Northop Presents for the last 16 years – most recently last month as Minnie Thesa, a fairy, in Beauty and the Beast – and took up his friends' advice to find work as a TV extra upon his retirement last year.
"I contacted a number of companies and struck up a relationship with one in particular called Boss Casting in Manchester and did a bit of work with them," he said.
"I've been on Emmerdale once and there's a new ITV drama about to come out in January which I'm in. It involves extremely long days but I find the whole process absolutely fascinating.
"The first couple of things I did, you wouldn't even recognise me – I was walking down the street and all you could see was the back of my head. Then the last scene I did I was actually a doctor! The whole day's filming was in the boardroom and I was standing next to Parminder Nagra from Bend It Like Beckham! I'm looking forward to seeing that but then again you don't know what ends up on the cutting room floor!"
Football mad
The Williams brothers love nothing better than a game of golf and are football mad with Huw a Wrexham fan, Mike a Cardiff supporter and Stephen a Swansea fan.
"We have a great rapport and are very close," said Huw.
"We're normally very chatty, no one really dominates although people say I tend to but we get on great.
"Because of the dynamic we have between us, as soon as we are all together, we revert to Welsh – we feel comfortable with each other, there's no nerves it's all natural."
S4C commissioned independent production firms Cwmni Da and Chwarel, both based in North Wales, to co-produce the first ever Welsh language version of Channel 4's and Studio Lambert's top-rated format in the autumn. The inaugural show was broadcast in the first week of November with the new series hitting screens on Wednesday, January 4, after the celebrity special on December 28.
It is the first time Studio Lambert and Channel 4 have licensed the franchise to another UK-based broadcaster.
Series producer Huw Maredudd said the show was already going down well with viewers.
"The first block was very successful and popular thanks in no small part to our cast and all the hard work of the crews," he said.
"Obviously we were trying to represent as broad a spectrum of the Welsh community as possible and so we have people of all ages from John in his 70s through to our youngest cast member, Olivia, who's 16.
"It feels as if we are watching with them, so they've really come into their own, and they've all enjoyed the experience which is the most important thing. We get to enjoy them enjoying themselves as viewers at home.
"A lot of work went into making sure the entire cast complemented each other and that they all worked on their own individually as well as a full patchwork too.
"Yes, we wanted to give everyone the opportunity to be involved but they also had to justify their place. We didn't treat anyone any differently to anyone else, they are there because they are funny and bubbly and part of everyday Welsh life.
"Hopefully, we'll be back later in the year with a cast I hope will have become old friends to the audience by then. We're looking forward to doing a lot more."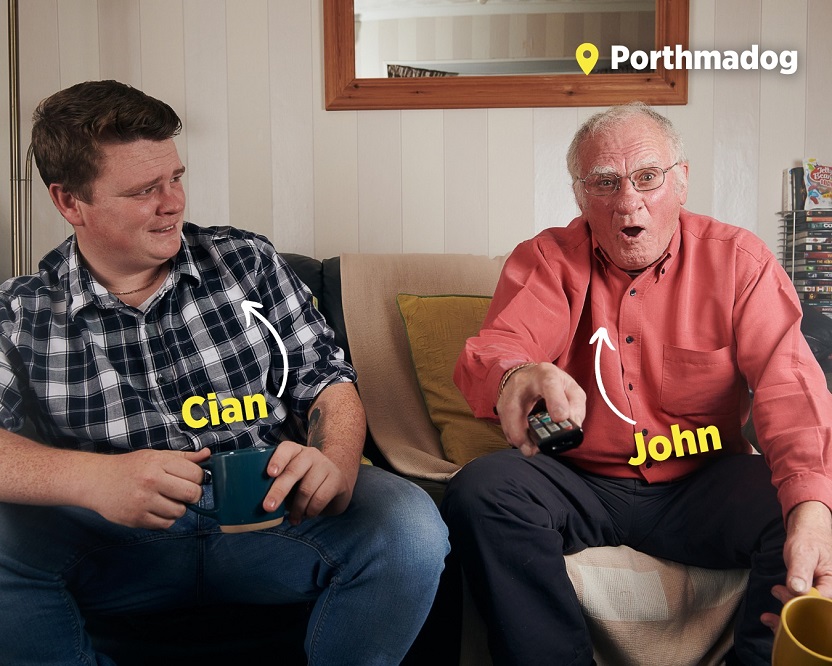 Fellow north Wales Gogglebocs stars Cian and John Williams, from Porthmadog, are getting to grips with their overnight celebrity status – although Cian, 24, admits it's his 79-year-old grandad who's getting the lion's share of the attention.
"My grandad's a local character and is already well-known around Porthmadog. He's known for his humour and it's nice to share a bit of it because I always think he's a wasted talent," said the TV location manager.
"I normally get heckled locally about grandad and what he's up to anyway. One person asked me the other day how it feels to live in my grandad's shadow! There's no doubt about it, he's definitely the 'favourite' out of the both of us."
Retired electrician John has a reputation for saying what he thinks which can leave his grandson sitting on the edge of his seat at times.
"With the nature of his age, sometimes he has a different view of the world than I do – I'm so glad it's not live! Otherwise, he has been on his best behaviour and I do warn him a little before he starts filming!" admitted Cian.
"Wherever you are, it's nice to look through people's windows. The show's not scripted and so people get to know you and when they do like you, it's because of who you are.
"There's a real mix from people learning Welsh to those who use it as a first language. It's a great confidence boost for the people learning Welsh and for the people learning and watching this back home – I've seen lots of people on Twitter saying they've been watching Gogglebocs because they feel it makes it easier to learn the Welsh language."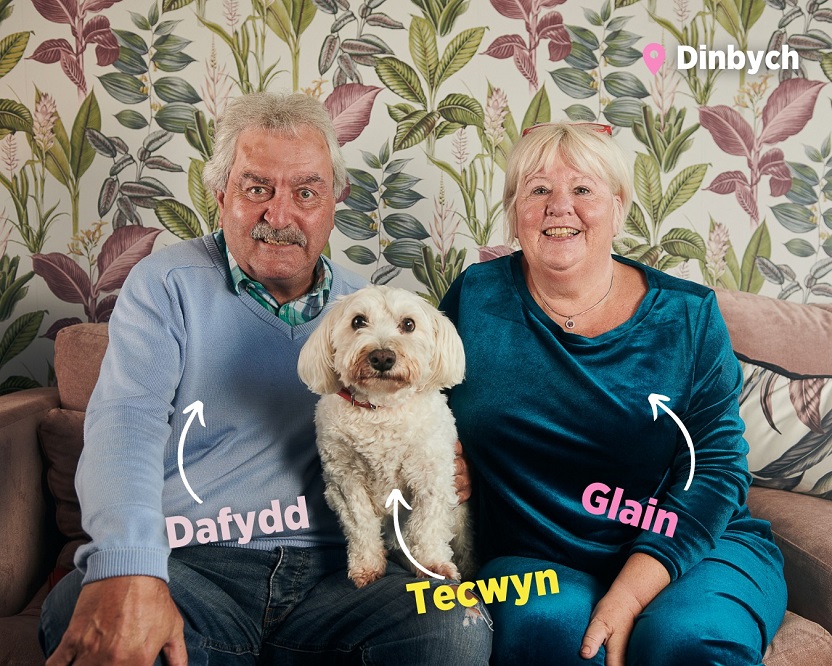 Gogglebocs cast member Glain Jones and partner of 14 years Dafydd Jones, from Denbigh, have also had to share the limelight – with their pet dog Tecwyn.
"Everyone likes Tecwyn – I actually think they like the dog more than us," admitted 62-year-old Glain, who works part-time assessing carers for the North East Wales Carers Information Service (NEWCIS).
"He's a white Bichon Westie and is the star of the show. We've been cleaning his teeth on the programme as he had to have some removed and putting his Christmas coat on – he sits in between us and when he gets bored he goes off into the corner."
Glain, who grew up on a farm and has lived in Denbigh for the past 40 years, said she had applied to the show after her partner retired from a part-time job driving children to a local school.
"We hardly ever agree on anything. I like something, he likes other things," she said.
"We thought that combination would be good for the show. That hasn't really come across yet but the more shows we do the more comfortable we'll be.
"Dafydd works part-time on the estate's corner shop, Siop y Parc, and has had people coming up and asking for his autograph. It's tongue and cheek really although when I was in M&S in Ellesmere Port, I rang Dafydd in the queue to ask where he was in Welsh and a woman in front of me turned around and said 'is your name Glain and are you on Gogglebocs'? She recognised my voice which is very random.
"With the show being in Welsh, you have to be careful. Wales is a small, close-knit community and I've got such an unusual name, that doesn't help. You could be vilified on Twitter talking about a decent Welsh person!"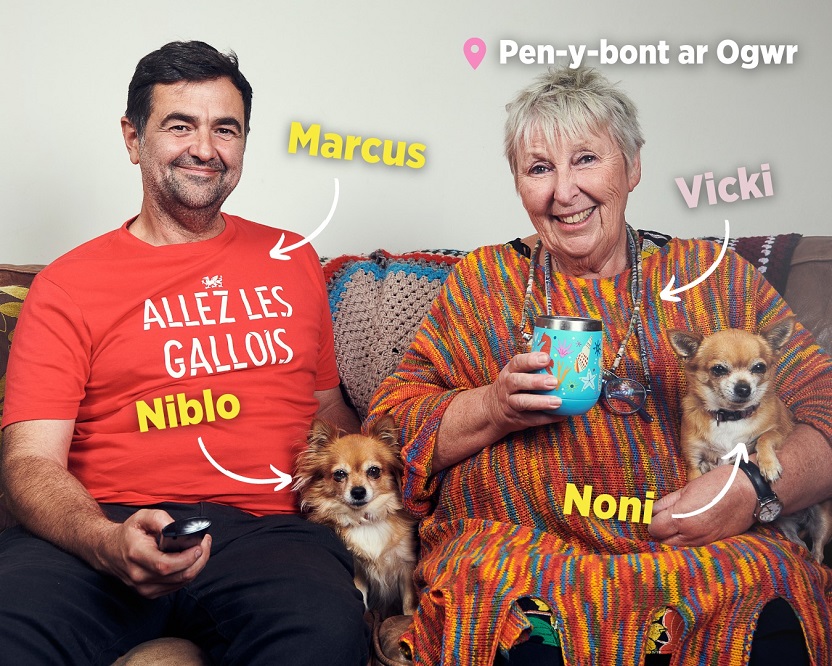 Welsh language learner Marcus Whitfield, who was born and brought up in Buckley, in Flintshire, appears on the show with friend and fellow learner Vicki Edmunds, 71, from Bridgend, South Wales.
The 51-year-old runs a project offering learners weekend experiences to immerse themselves in the Welsh language and culture in addition to a Facebook group for Welsh learners with 9,000 followers.
"One of the reasons I wanted to do this was to represent the people who are learning Welsh," said Marcus, who now lives in Rochester, Kent, and owns a business supplying hair products to hairdressers as well as a B&B in Great Yarmouth called The Hotel of Wizardry.
"There are people out there like us who could get by in Welsh and are now speaking fluently on TV in a show like Gogglebocs – we thought that would be positive for the Welsh learners."
Speaking of his co-star, he added: "Vicki's a very bubbly character. For me, she's the nan that everyone deserves. She has a big family who all think the world of her.
"For the first couple of weeks on the show we'd be sounding off and as soon as the day was over, we'd think 'we shouldn't have said that'. Now we roll up, say our piece, and don't worry about it anymore!"
---
Support our Nation today
For the price of a cup of coffee a month you can help us create an independent, not-for-profit, national news service for the people of Wales, by the people of Wales.