Culture
Review: A Bitter Remedy by Alis Hawkins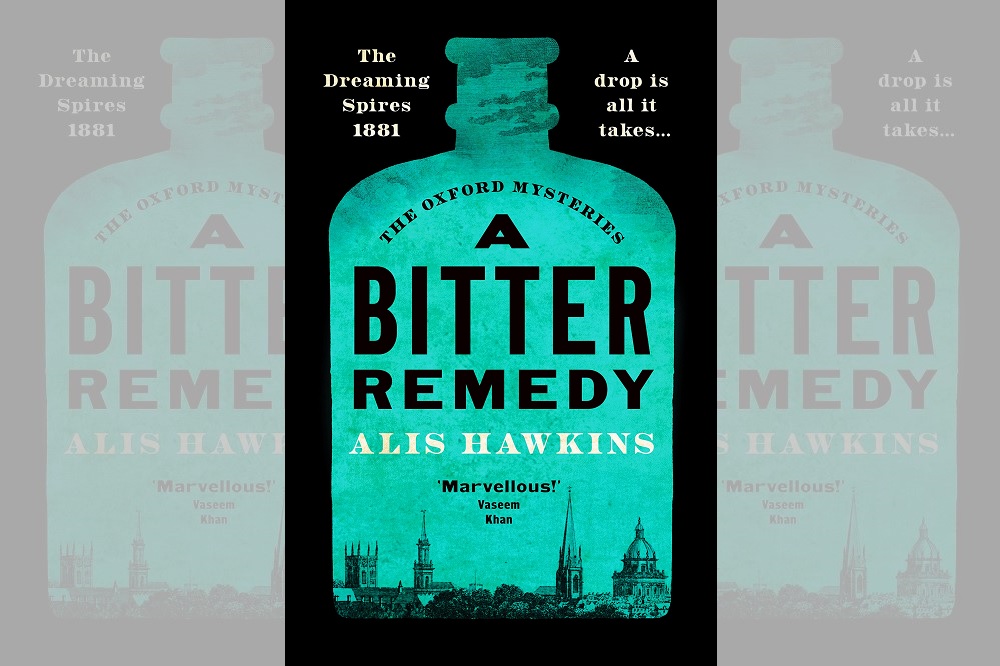 As the Gwyl Crime Cymru festival gets underway in Aberystwyth Myfanwy Alexander reads the latest novel by one of the writers taking part.
The long-standing connection between Jesus College and Wales makes it an intriguing and attractive location for a murder mystery and a historical context adds yet more to the mix: I picked up this beautifully designed book with a great sense of anticipation and I was not disappointed.
There is a peculiar relationship between Wales and Jesus College (a Jesus reject writes): we feel it to be 'ours' in some way, even if we are muttering about Oxbridge elitism under our collective breath.
Feisty
From Dorothy L Sayers to Morse, there is a long tradition of deploying a background of dreaming spires for detective stories, both because of the ageless tranquility of the setting and the idea that the highest minds of the nation are above such sordid activities as murder.
There is also the thrill for the reader of being invited into the cloister, including a way of life which is at once both arcane and familiar.
Alis Hawkins, a crime writer at the height of her considerable powers, draws on her own time at Oxford and her mastery of the historical mystery to create a story which engages the reader right from the first, offering just the glimpse into the groves of academe we have been waiting for since Gaudy Night.
We are immediately party to a spat between our heroine and an odious Bullingdon type and our sympathy is, naturally, firmly attached to the feisty Welsh protagonist.

Non, short for Rhiannon Vaughan, is an outsider in Oxford in 1881. She is of a different class and gender to the vast majority of students and her linguistic background sets her apart, even at the Welshest of the Oxford Colleges.
Non, whose character is enriched by her imagined conversations with her dead twin sister Hara, has come to Oxford at the time when the first female students were starting to play a part in the life of the University, albeit a role truncated by prejudice.
One of the many deft strokes in this well-crafted tale is the way in which Non is restricted by her desire not to generate a scandal which may impact the fragile level of acceptance women have thus achieved.
The committee promoting women's education acts as a brake upon Non's adventurous nature in a manner more subtle than the strictures of the male establishment and provides a fresh, valuable insight of the cost of being a pioneer.
Mystery
Non, with her long-suffering chaperone and their gloriously described bicycle, known as the contraption, which has now demoted Gandalf's horse Shadowfax into second place on my list of all time great means of fictional transport, was likely to run into trouble even before she accidentally learns of the death of an undergraduate.
Her offers to help solve the mystery are officially rebuffed but soon she is collaborating with the academic tasked with ascertaining the truth about the undergraduate's death, Basil Rice.
Exuberant invention
Rice has his own secrets to keep and he certainly would not be able to progress the investigation without Non's sharp intellect and unorthodox methods.
The relationship between Non and Rice is full of humour and not without its moving moments as they grow to trust one another but I could have wished he had not been called 'Rice' as Non has come to Oxford to study under linguist Professor Rhys and her sponsor is the renowned educator Jane Rees, also known as Cranogwen.
At one stage, it did appear that is was mandatory for all characters to be called some variant on the name Rhys, but I do appreciate that Hawkins is not operating with an entirely blank canvas here: she blends real characters with fictional creations and therefore cannot be responsible if so many have, effectively the same name.
The cameo of mathematician Charles Dodgson, better known as Lewis Carroll, is an example of the sort of literary amuse bouche to which Hawkins treats her readers: the sprightly way in which this is accomplished shows how cleverly well-researched facts are blended with exuberant invention.
Cruel world
The case Non and Basil investigate leads them into the deceptive and cruel world of Victorian patent medicines and amidst the Gothic twists, there is real pathos in the story, with unscrupulous villains taking advantage of the ignorance of their young customers. To paraphrase the slogan from the 1980s, it could be said that Sidney Parker died of ignorance.
'A Bitter Remedy' succeeds in bringing together page-turning pace and authentic period detail, creating a story which leaves the reader desperate to hear of Non's further adventures. She has, after all, only just arrived in Oxford and I for one cannot wait to find out in what direction 'the contraption' will be heading next.
A Bitter Remedy by Alis Hawkins is published by Canelo Crime. It is available from all good bookshops.
Details of the Gwyl Crime Cymru festival can be found here.
---
Support our Nation today
For the price of a cup of coffee a month you can help us create an independent, not-for-profit, national news service for the people of Wales, by the people of Wales.