Culture
Review: A Hardy Breed by Bruce Cardwell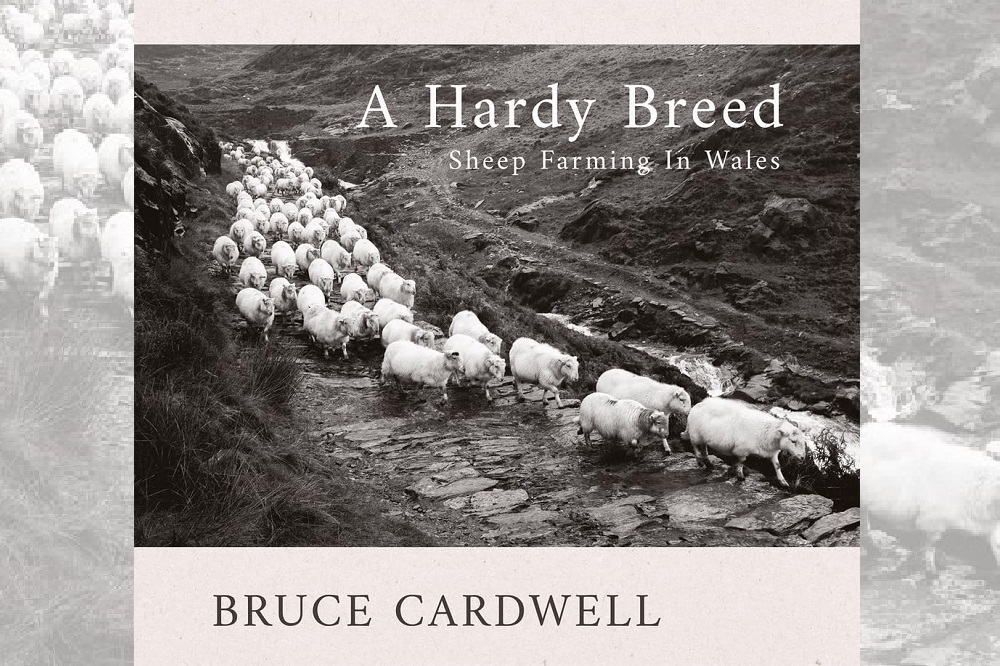 Myfanwy Alexander
Bruce Cardwell has published his thoughtful and beautifully produced book at a time when sheep have become controversial, the woolly villains of an eco-catastrophe. This is not the place to discuss whether or not our hills are 'sheep-wrecked' but in this context, a book like A Hardy Breed, its pictures capturing an industry at a point of great change, might acquire an elegiac, even melancholy tone.
And, of course, the preponderance of black and white photographs stirs a subconscious nostalgia in the reader: are these pictures of the present or a vanishing past?
Wide resonance
Cardwell, however, takes a different tack, honest, affectionate and forward-looking giving the book a dynamic quality and a scope give it wide resonance.
Yes, Cardwell gives his public the sort of images they might expect, such as the portrait of a man with a ewe over his shoulders which might be an illustration for a Sunday School book and the evocative, Breughel-esque scene of helpers on the Hafod estate being fed in the stables after the gather but he also celebrates the lives and triumphs of younger farmers.
I should admit that I have a dog in this fight, a Border Collie perhaps: I am lucky enough to be leader of the only Young Farmers Club in Wales to still have a thriving Lamb Club and therefore, I am not persuaded by the idea that farming is an old man's game.
Last year's winner of our Lamb Club was a girl, then fifteen, who has since headed off to Llysfasi to learn more about farming: try telling Lili that sheep farming has no future.
A Hardy Breed reflects the variety of sheep farming life in modern Wales and Cardwell's extraordinary photographs, which are almost all portraits, combine to make a mosaic of great richness and variety.

Contemporary
These are timeless pictures with a definite contemporary edge, shepherds in Goretex, Friesland milking ewes amongst the Welsh Mountains and conversations which include ecology as well as genealogy.
One of my particular favourites shows a Speckle Face class at the Royal Welsh Show: Cardwell has captured a tableau which makes me long to know the stories of all the figures shown, from the old lady sitting on a camping chair watching the drama with the appraising coolness of one who has seen these chaps get het up about sheep a time or two before, to the blonde bombshell who sets her lips in the required social media pout of her generation as if it were her facial markings, not those of her ovine charge, which were to be judged.
This is a captured moment which displays not only Carwell's endless interest in his subjects but his understanding on the communities and subcultures he portrays.
Hard labour
Given his palpable attachment to the worlds he portrays, Cardwell might run the risk of sentimentality but his clarity avoids this.
The work portrayed in these pictures is hard, physical labour and though the smiling faces of those showing who are in their glory, Cardwell includes shearing scenes which made the backs of my hands ache with remembered strain.
The gloriously composed picture 'Claire at Pant y Dwn' foregrounds the lapped wool, light gently gleaming on her lanolined arms, the expression on her face encapsulating the enthusiasm, energy and resilience of the people who chose this way of life.
Balance
Heritage is one of the themes one would expect to find in a celebration of those who farm sheep in Wales but Cardwell is also interested in those who are, as it were, farmers by choice and their perspectives are explored.
He discusses grazing patterns with Teleri Fielden who farms for the National Trust and the balance between food production and nature is a theme which surfaces time and again.
In his afterword, Cardwell, an Irishman who has worked hard at acquiring Welsh, chooses to highlight the essential role of farming families in the preservation of Welsh as a community language and reminds policy makers of the immortal words of Joni Mitchell: 'You don't know what you've got till it's gone.'
If you look behind the smiles into the eyes of Carwell's portraits, determination and resilience are clearly visible which leads me to suggest that this book should be required reading for anyone making either policies or pronouncements concerning these people.
Honesty
This is a resonant, hugely enjoyable work which will find a ready audience not only amongst those of us who live in this world and rarely see it portrayed with both honesty and generosity but by all seeking to understand more about the connections between mankind and the natural world.
A Hardy Breed makes us all understand that there are people who belong in the landscape as much as any tree.
A Hardy Breed: Sheep Farming in Wales by Bruce Cardwell is published by Seren. It is available from all good bookshops.
---
Support our Nation today
For the price of a cup of coffee a month you can help us create an independent, not-for-profit, national news service for the people of Wales, by the people of Wales.