Culture
Review: A Lesson in Malice by Catherine Kirwan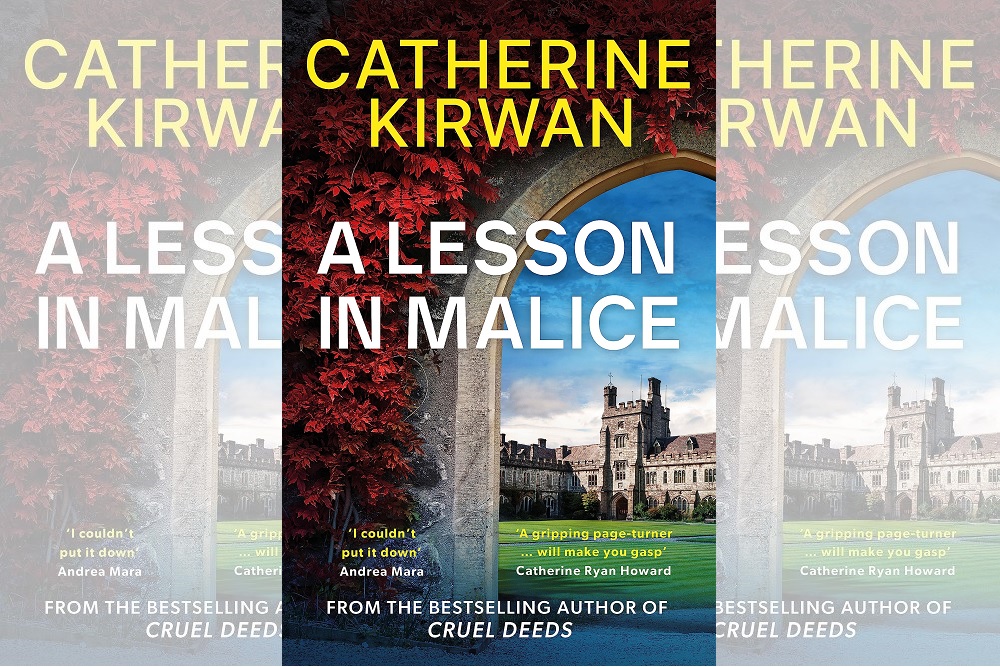 Bev Jones
She said yes to a dinner invitation, now she's a murder suspect…
According to crime fiction, the rarefied halls of our university campuses are simply seething with dark deeds and deadly intent, and you accept an invitation to dine there at your peril.
This latest crime mystery by Catherine Kirwan is no exception, as she brings us a twisty tale of murder and malevolence that would make the bursar blush!
A Lesson in Malice is the third novel featuring solicitor Finn Fitzpatrick and, for authors writing about a recurring character in a series, there's always a tricky balance to observe.
You need to give new readers enough snippets of background information to set the scene and explain how the characters know each other, without boring fans who've already read the previous novels. It's all too easy to rely on repetition or unnatural conversations where people clunkily refer to events they should all be familiar with just to bring the reader up to speed.
But this is deftly handled here, with Kirwan dropping in just enough hints about Finn's past to make you curious enough to want to seek out her earlier adventures while still keeping it accessible as a standalone mystery.
The usual suspects?
The story begins with Finn attending a slightly sniffy day-long conference at University College Cork, (UCC), joining a team of specially invited legal experts delivering their learned papers.
She makes no secret of the fact she's a little surprised to have been asked to speak alongside the far more prestigious international participants, basically to discuss her local investigative experiences. Is there an ulterior motive at work? Of course there is, Your Honour!
After the conference, one of the participants is found dead in unpleasant circumstances. Finn finds herself thrust into the middle of a murder investigation, hired by the university to look into the situation but also technically a suspect, as one of the last people to see the victim alive.

The book blurb describes the novel as 'Agatha Christie meets John Grisham' but, despite its law-firm setting, and Finn's legal role, this isn't really a traditional legal thriller, more 'legal-adjacent' you could say. Since Finn is a solicitor there are no shouty courtroom denouements, sudden surprise witnesses or 11th hour grandstanding, and it's all the better for it.
What the novel does have is an old fashioned whodunnit at its heart, (where the Christie comparison originates, perhaps). We know early on who has been murdered and Kirwan presents the extensive (and to begin with, slightly confusing) set of characters attending the tense college dinner as the obvious suspects.
There is, however, a helpful flow chart in the opening pages which I sneaked a peek at a couple of times and made things easier to keep up with. Then proceedings get off to a galloping start as we join Finn as she wades through the secrets and lies inherent in the institution, unmasking its rivalries and quibbling before the ultimate unveiling of the murderer.
The story has a strong sense of place and Kirwan is clearly familiar with Cork, its locations and culture. Though the building and activities of the UCC School of Law where the book is set are entirely fictional, Kirwan is well-placed to create a cloistered community with a lot to hide. She studied at UCC Cork and now works as a solicitor in the city, adding an easy authenticity to everything.
Modern mystery
The 'even the learned and elite can have grubby secrets' vibe is vaguely reminiscent of Colin Dexter's Inspector Morse novels, set, of course, among the dreaming spires of Oxford.
But this a much spikier and more contemporary mystery without the reverence for the 'hallowed halls' of academia. Finn herself debunks this idea of elitism with a self-deprecating tone that adds humour and lightness to the proceedings.
There are plenty of twists and turns thrown in, but the pleasure of the story is largely down to the very likeable character of Finn herself, who seems unable to stop getting herself into the proximity of murderers and scandals that are not strictly on her day-to-day roster of duties.
She's a lively, no-nonsense investigator who knows her stuff, knows the system and has a nose for details. She definitely has a willingness to put even the gentrified beaks of the professors and academics she encounters on the job (and her bosses, come to that) out of joint if needs be. It's refreshing to see a female protagonist who, though she's had some problems and has a possibly dodgy ex-boyfriend in the wings complicating matters, isn't bitter or dysfunctional.
Helped or possibly hindered by friend (frenemy?) Sadie, who studied law with Finn but now works for the Garda, we get a good insight into both aspects of the legal and police investigation.
Tension
Written in short, punchy chapters, constantly upping the ante and the tension, the novel unfolds entirely through Finn's eyes, with her telling the story after it's already concluded.
This gives Kirwan plenty of opportunity to drop in tasty titbits, not just about what's to come but hinting at Finn's own mistakes and misjudgments as she urges you on towards discovering who did the dirty deed.
A fun, pacey read, strewn with clues and surprises that won't disappoint procedural lovers.
A Lesson in Malice by Catherine Kirwan is published by Hachette Books Ireland and is available from all good bookshops.
---
Support our Nation today
For the price of a cup of coffee a month you can help us create an independent, not-for-profit, national news service for the people of Wales, by the people of Wales.