Culture
Review: And – a memoir of my mother by Isabel Adonis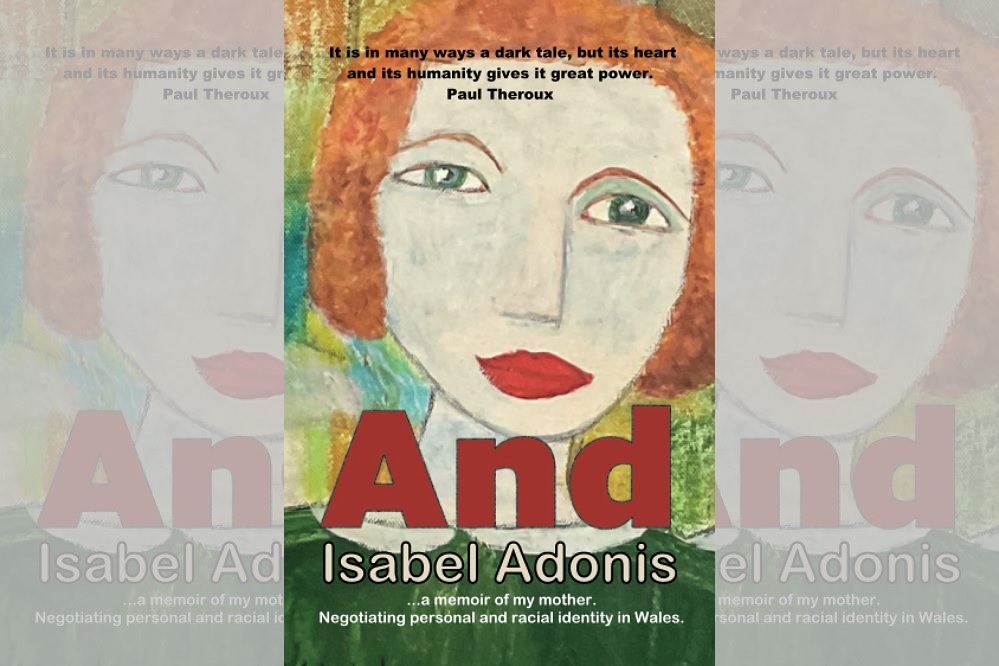 Sarah Tanburn
Catherine Alice is a tatterdemalion ragdoll made beautiful in scraps of fabric and shards of slate, her buttons quarried from a thousand wooden boxes and walking the paths of Llandudno in shoes too big for her. Such a figure she cuts, beloved and bewildered, her memory stalking through her daughter's creative life. Unforgotten.
Oppositions
Isabel Adonis has created an extraordinary narrative, a swirling and circling story of language and heroism, of the many oppositions shaping her life and choices. She is one of the five girls of Welshwoman Catherine Alice Hughes and the well-respected Guyanese artist Denis Williams. Adonis was born in 1950's London and she offers bold snapshots of their life in a flat in Kilburn with blackened bomb sites scattered around the neighbourhood.
When she was six the family decamped to Sudan, home of cockerels and men sweeping the yard, while her father typed at the table under which the small Isabel crouched. Her mother returned with the children to Swansea and then Llandudno for the birth of the last daughter; there was much travelling to and fro' between Africa and Wales but the family never lived together again.
The author is named for her father's mother and titles herself the 'dark daughter', the son her mother really wanted – by nature most like her father, but by choice and circumstance merged into her mother's ancestral paths through Bethesda. She is herself an artist, making work through mixed media collages incorporating fabric and many found items. The picture of two women is one of hers; though she has won awards for previous writing, And is her first book.
It is of course a cliché that no-one can describe a marriage from the outside, yet any child of a failed union knows its fault-lines with unrivalled intimacy. And is explicitly about Catherine Alice; it is also the portrait of a marriage along with one of the artist as a young woman, echoing two other great records of modernism and the intellectual efforts surrounding the slow (and incomplete) death of the English colonial adventure.

Spirituality
Her father became famous not only for his own paintings -of which some hang in the Tate- and for his scholarly explorations of African art, of the continent's artistic history. Adonis condemns her father for operating, in her words, as a 'default white man', building upon the spirituality and insights of his (white) wife. Catherine in turn is the epitome of clattering martyrdom, demanding a fealty to place and rock which he cannot provide.
Dennis, writing to his daughter, disdains the very idea of creative work in a 'North Welsh cottage', and she cannot forgive him for his gutless and shame-faced departure. Such a man cannot be a hero to his abandoned family, however lionised by the academic elite of three continents.
Opposites and hostilities beset her parents from her earliest childhood. Black and white, obviously. Male and female, mother and father. Not being African is central; her father's search for the 'African' nature, that universal connection with the continent so beloved of post-war intellectuals, dominates his life – and hence that of the family.
Arrogance
To Adonis, his project is inherently flawed, defined by European arrogance and manifested in his love of archeologically unearthed objects. Adonis offers many witty and slate-sharp asides; her remark that artifacts 'is "things" in English' is one of the best. Instead, she tells us, he should have sought connection with people, for it is in that we find both the artist and the art.
Similarly, her mother is both Welsh and not-Welsh. Exiled from Bethesda by her mother's death and familial collapse, she cannot create a new home in Khartoum or Swansea. She relies on a great deal of mending and making-do, and a life-long suspicion of the motives of those around her.
For the daughters growing up with such a complex heritage, so many histories woven into the everyday cloth of the lives in the fast-changing social environment of north Wales, being Welsh, being Black or white, are also complicated things. Adonis does not try to tell a simple analysis or a linear narrative.
She gives us an oral re-telling, one which emphasises through poetic stress, through repeated motifs and a spiral dance in and away from the sites of creation and destruction. She takes us to her mother's graveside and then to tropical sunshine, into churches and the shed where he grandfather lived while Catherine was consigned to a children's home. We grow accustomed to the syncopated rhythms of her prose, learning the melodies and patterns which give such depth to her story.
Scars
For all this, And is, at its heart, a deeply hopeful book. We are all wounded, imperfectly healed, it suggests. We all bear scars, whether of childhood accidents or a major car-crash, of trauma borne and buried. Such scars are unique to us, each with a story bringing beauty and shape to our lives. We are not this or that, and the remembered wounds are not failures. Rather, we are triumphantly, expertly, the only possible person we can be.
Each of us is this and that: daughter and mother, artist and writer, all the elements which came before offering us our own particular, passionate life. And is the inimitable work of a collage artist, well worth the reading on multiple levels, and a book which will linger with you long after the last page.
And: a memoir of my mother by Isabel Adonis is published by Black Bee Books and available from good bookshops.
You can read other articles on Nation.Cymru by Sarah Tanburn by following her links on this map
---
Support our Nation today
For the price of a cup of coffee a month you can help us create an independent, not-for-profit, national news service for the people of Wales, by the people of Wales.