Culture
Review: Anwyl Fam – Pererindod Drwy'r Rhyfel Mawr by Ifor ap Glyn.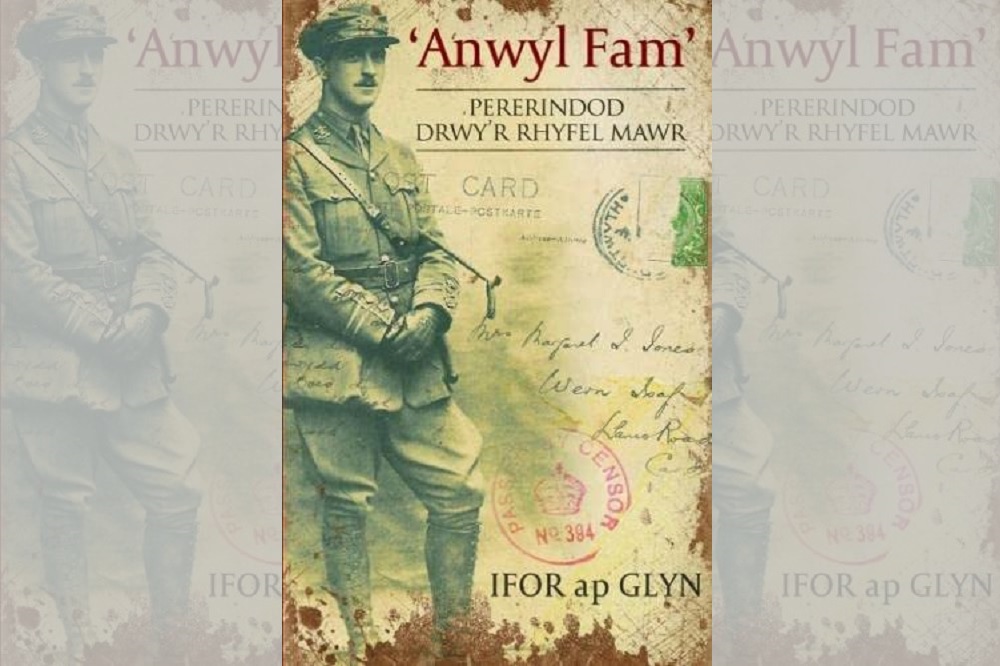 Jon Gower
This book is the product of a long obsession, as its author freely admits, having worked on it since 2007. Based on the letters home of Captain Dafydd Jones, it follows a young man's journey from the village of Llanio in Ceredigion to the killing fields of the First World War.
Ifor ap Glyn dutifully visited all of the places associated with Dafydd's life, so in parts the book becomes a travelogue, showing us how places have changed, or carry ghosts and echoes of the past.
He takes in sunny Rhyl, where Dafydd lived in the Queens Hotel, went to chapel and recorded riotous events when a shop belonging to man who opposed conscription was attacked.
In other places it reveals the mechanisms of researching a life which isn't especially well documented, taking us into the reading room of the National Library in Aberystwyth, or fields outside Winchester where huge numbers of soldiers lived under canvas, or quiet towns in France which now bear few scars of a horribly bloody past.
Guilt
But as its sub-title reveals the book is also a pilgrimage, undertaken in part because Dafydd's mother Margaret never had the opportunity to see the places her son describes so vividly in his letters home. He hadn't even told his family he was signing up and so the early letters are a sort of negotiation, a mixture of guilt and reassurance.
Such letters home are the spine of this volume, constituting, in effect, a one-sided account of an exchange of army news and family gossip, as his mother's half of the correspondence is missing.
As a series of letters which allow the reader to get to know the writer they are rare and as a collection of such letters in Welsh they are simply unique.

Front line
During his brief time in France Dafydd wrote a letter home each week, thanking his mother for parcels she had sent him, and trying to calm her fears by describing his living conditions in terms which made them sound almost luxurious.
He said they lived like rabbits underground, in little palaces under the earth, where he lay snug in his sleeping bag under not one but two blankets.
He peppered his missives with references to the Bible even as his battalion moved to the front line and the 23 year old man assumed responsibility for the lives of the 250 men under his command, a responsibility which weighed heavily on young shoulders. For as he explained in a letter home, losing one of them was like losing a brother.
He also wrote home about days when only 300 yards separated him from the Germans, quiet as cats in their respective trenches. He told of days fighting as snow fell, or how they waited for a new-fangled gramophone to arrive. Or thanked his mother for sending him copies of the Cambrian News, which sometimes brought him disturbing news from other places on the frontline.
Massacre
The letters, and the progress of the war move the story inexorably on to the final episode in Dafydd's brief life, being the massacre at Mametz Wood. Ifor ap Glyn deals movingly with the grim statistics of this battle by telling us about the fallen men.
Private Llewellyn Morgan, a collier and football goal-keeper from the Cynon Valley. Gwilym Williams from Porth, another coal miner and a a young father.Lt Harry Cowie, an officer from Merthyr and the eldest of seven children. William Joyce, 19 years of age, from Penrhiwceiber. William Thomas (25) of Blaengwynfi. William Nicholas Morris (20) from Cwmparc.
And the list goes on, growing into a litany of the fallen.
Sympathy
But the most powerful piece of correspondence in this exhaustively researched and superbly written book is that dread missive which any mother feared, being the official telegram from the War Office in July 1916, informing his family, with deep regret 'that Captain David Jones, Welsh Regiment was killed in action July 12th. the army council express their sympathy. Secretary, War Office.'
A subsequent letter from the adjutant of the battalion to the family explained how 'your son was the last Officer to come out of the wood…he was struck by a shell and killed instantaneously – but being in such a position the burial of the body had to be left to the incoming Division. Your son's body, as well as scores of others who so gallantly died for their country, was buried at Mametz.'
It is testament to the long years of research and resconstruction that have gone into this book that by the time we learn of Dafydd's death we have come to understand so much about his life, as a schoolteacher or as a student at Aberystwyth and how he was always one to exude a sense of authority.
Little wonder then that he became the leader of men, and indeed of hundreds of men. And that he died in the company of so many of them, in a wood in France which has become a byword for the terrible loss and suffering of the Somme.
Anwyl Fam: Pererindod Drwy'r Rhyfel Mawr is published by Gwasg Carreg Gwalch. It is available from all good bookshops.
---
Support our Nation today
For the price of a cup of coffee a month you can help us create an independent, not-for-profit, national news service for the people of Wales, by the people of Wales.