Culture
Review: Any Kind of Broken Man Collected Stories by Roger Granelli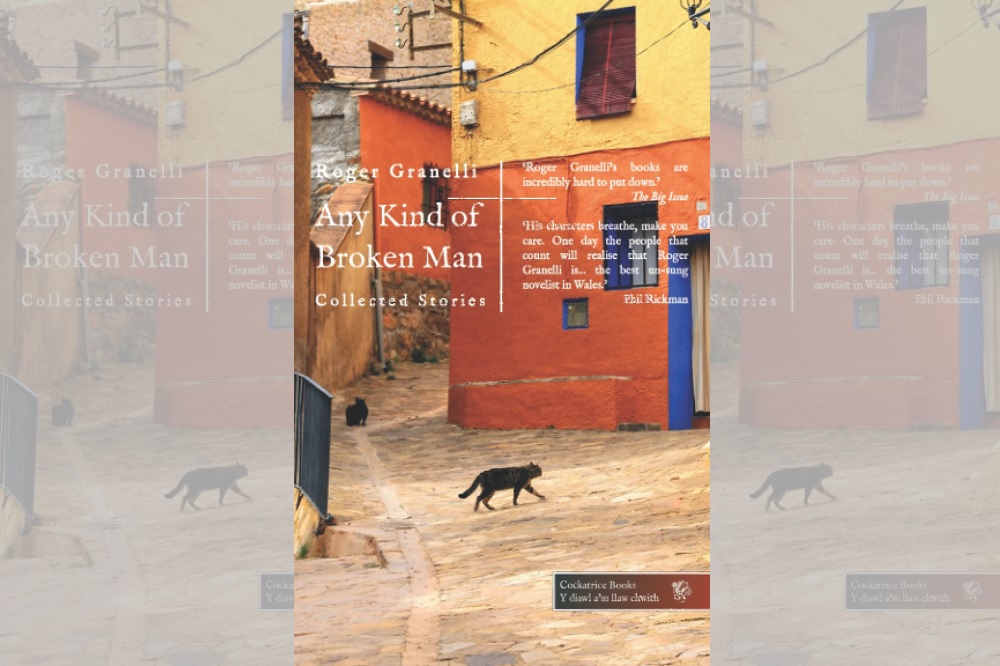 Jane Fraser
The twenty-two stories in this collection were new to me as was the author, Roger Granelli.
This is to my shame as many of the stories have been previously published in new Welsh Review and Planet, broadcast on BBC Radio, and published by SEREN in an anthology of the Rhys Davies National Short Story Prize shortlisted entrants and winners – Granelli took first prize in 1999.
And of course, as I now know, Granelli is also the author of ten novels, as well as being a professional musician and landscape artist. These collected stories span Granelli's writing career, and showcase his work in the short form.
The title, 'Any Kind of Broken Man,' immediately intrigued: I'm drawn to characters on the edges of society, characters who are struggling to navigate troubled lives.
But this is the first time I've read a collection of stories solely about men and their perspectives on the events in life that have shaped them, and keep on shaping them.

Line of Vision
These stories are about broken men, young and old, men living in the south Wales valleys and men living in The USA, Italy, Spain and Prussia. Men who time has passed by. Men who will never – or don't want to – or can't – adapt to shifts in society and economics.
The first story, 'Losing It', sets the tone of the collection when its central character, drug-dealer, forty-year-old Baldock, a carer to his seventy-five dying father, looks out of his window and sees:
'…terraces, bleak and outdated to some, but comforting to him. He liked their conformity, and the wasted remains of former glories that lay all around them. A row of abandoned factories dominated his line of vision as the sun went down on them, flashing off their rotting roofs and ruined windows.'
Many of the stories share this perspective of a post-industrial Welsh landscape, where men have been spat out of so-called 'men's jobs' and struggle to find a new role and relevance.
They are angry men: angry with industries such as tourism and heritage; angry with foreign investment; angry with absent fathers; angry with women – their mothers, their wives and their girlfriends.
These are stories of men who are drawn to alcohol and drawn to violence, and are threatened by, or blame, the world for where they find themselves in life.
Fragile identities
There are men who try to forge new but fragile identities in the local pub (the 'Spite figures in many stories) as hard-men, or drug dealers, or story-tellers where they could, like Baldock, "build a reputation over the years, built on myth as much as substance: that was all that was needed in this kingdom of the lost."
Or like Jack, an eighty-year-old ex-soldier, who's been a Japanese Prisoner of War, forced to work on the railway in Burma and later forced to contemplate his daughter taking employment in a Japanese factory in south Wales who Granelli describes perfectly as: "a man soaked in strikes, loss and the Japanese, a bitter trinity bound together with sudden pride."
Men from different times and landscapes confront their pasts or the pasts of others.
In the US, John LoneWolf Hawkins, (a Navajo and Mescatero), US veteran and retired trucker, struggles to come to terms with his son's white and educated girlfriend.
Granelli creates a wonderful sense of place and state of John's perspective as he describes John's nostrils as they "quivered as they fine-tuned the air, which was sharp and smelling of space and old heat."
In Prussia, Granelli uses the perspective of a man discovering his Uncle Manfred's "sepia world" and "guilty past" as he turns the key to a box kept on the mantelpiece in his apartment after his death, with shocking revelations.
Loneliness
These stories are dramatic: anger and fire rages in many of them and many end with violent deaths and tragedy. There is loss and loneliness.
But there is humour too, albeit black-humour as in "A Question of Balance' where the exotically named, book-reading, Emrys Emillo Matthews, transports a bio-degradable coffin on his bike which makes it appear "like an over-sized stabilizer" to his back yard where he will use it as a home.
Yet in all the blackness and bleakness and the fragmenting families and the recurring trope of the setting sun, there are glimmers of hope.
Take for example, 'Off the Scrapheap' where the title (as in all the titles in the collection) does what a good title for a short story should do, and signposts the reader to what the story is all about, when the long, lost Alva drives into Harvey's south Wales scrapyard in – no less than – a Japanese car like "a shining out-of-place jewel amongst his dross."
And then again, in the final story, "At the Four Aces" when, at a club on 52nd Street, "lush" Jimmy Cond, saves himself, though for how long, we don't know. As the narrator says: "He might be a junkie, any kind of broken man, but the music holds him together."
Enriched
It is said that we read short stories to see in a few thousand words, glimpses of people's lives: how they just about manage. How they cope. People like us and people not like us.
Although often, this collection makes for brutal reading, and if I'm honest, is a collection I might not have chosen to read unless I had not been asked to review, I am wiser and more enriched – in terms of content and writing style – for having done so.
Granelli has taken me inside the heads of many broken men, mainly through very close third person perspectives (apart from one written in the first), authentic dialogue and acutely observed and recreated senses of place to help me understand and empathise with the predicaments of the lives of others who are not like me.
Any Kind of Broken Man: Collected Stories by Roger Granelli is published by Cockatrice Books. It is available from all good bookshops or you can buy a copy here.
---
Support our Nation today
For the price of a cup of coffee a month you can help us create an independent, not-for-profit, national news service for the people of Wales, by the people of Wales.