Culture
Review: Are You Judging Me Yet? Poetry and Everyday Sexism by Kim Moore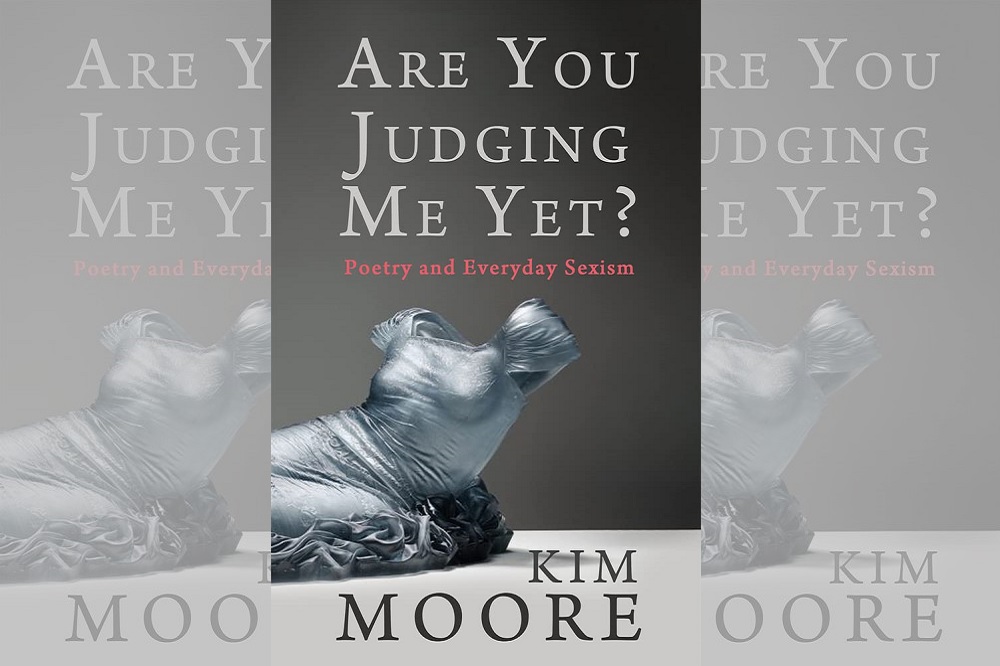 Kathryn Gray
Performance is an inherently risky business. As social animals, dependent on approval and collaboration to survive, we're hard-wired, by evolution, to feel the rush of cortisol when we stand outside of, and before, the group.
To occupy that space is to confront the very real possibilities of shame and shunning, which in earlier times might have led to complete abandonment: truly a matter of life or death. For women, there is an extra-complicated aspect.
From our earliest beginnings, society grooms us to be decorous in every aspect of our aesthetics, from the way we look to the things we say (or, tastefully, choose not to say): we are meant to please and to find ourselves to be pleasing, taking assurance and belonging from that.
Kim Moore, in a thoroughly engaging and intelligent series of essays that invite the reader to select either a linear or a 'Fighting Fantasy' reading, grapples with what it means to stand in performance – as a female poet.
Inclusive
At 50, and with twenty-five years at the poetry rodeo under my belt, I've seen laudable change in the scene. It is certainly more democratic and inclusive.
A few decades ago, it was still permissible for a male reviewer to be openly – even gleefully – sexist, to chide women poets who deployed explicit language or themes, or to diminish, unchecked, the achievement of women who spoke to the lived experiences of their bodies and the implications of those bodies.
These days, the male reviewer of unreconstructed views tends, on the whole, to be more guarded in revealing himself: he knows he is being observed in a world that is now liable to call him out – and, of course, there's Twitter.
But in the act of performance – and the response to performance – things are somewhat less settled.
For the woman poet, removed from the group and standing before it, the very act of performance is transgressive, inviting judgement in an interplay of dare and scare, and it is physical, too.
She is assuming, curiously, both an alpha position and intense vulnerability. What will be made of her looks, her propriety in content – or perceived lack thereof?
And when judgement is given, sometimes on both, at the bar or the post-reading dinner, very often there are no witnesses to overhear, intervene, and correct.
The woman poet returns to her lonely Travelodge and there is no sense check to be had.

Misogyny
Moore's book explores her experiences on the poetry scene as she wrote and road-tested poems from her Forward Prize-winning collection, All the Men I Never Married.
Some of the unsolicited responses to her readings that Moore received are so ludicrously impertinent and mind-numbingly stupid as to be amusing, were it not for the fact that you realise they actually happened – and then reflect on your own experiences, with something of a shiver.
Moore's hard-won achievement is elided by a man who instead chooses to comment positively on her good looks; an elderly woman who seems to be the living embodiment of internalised misogyny heckles her; some men complain that her poems, which draw on themes including sexual harassment and domestic violence, make them feel 'guilty'; another man observes that her poems are 'a bit catty'.
The reader is reminded how very important it still is that a woman should bring comfort to the group – and that to be the bringer of discomfort is still, for some (and more than you think), an unpardonable sin.
Anger
The book is punctuated by Moore's poems, which follow her discourse. It's an effective strategy – and created, for me, an interesting, shifting position.
I found myself carrying the vulnerability and anger of the poet into the poems themselves, but I also couldn't help but to carry the judgement of the auditor along with me. It was a disquieting experience of alternating outrage and shame.
To the latter, it was also a sobering reminder of my own fears about reading poems from my forthcoming collection in public.
The act of writing liberates me; it is a space in which I am freed of the strictures of decorum – which, I must confess, radically limit me in many other areas of my life – because it is, at that point, a secret rebellion.
I do not have to worry about the group – the group has yet to learn of my misdemeanour. Performance, however, will show who I really am – and what will everyone make of me then?
Moore's learning is – commendably – lightly worn throughout.
She draws on critical theory in ways that break down concepts in approachable and lucid language, eschewing jargon and, I hope, encouraging readers to explore further and take on the challenge of important texts, which she champions with generosity and great enthusiasm – and that enthusiasm is entirely infectious.
Consolation
While Moore's book centres on the poetry circuit in its exploration of what it means to be a woman in a world built for and regulated by men, the problematic nature of performance is applicable to women in other theatres of life.
Whether you are a scientist or a publicist, your looks will likely be held against you: too attractive, and the implication may be that this has proved to be a contributing factor to your success on the career ladder; failure to measure up to traditional notions of beauty, and your success is acceptable only as your consolation prize.
As for the content you perform in the world? Decorum, and you will be considered docile, comfortingly forgettable and unthreatening; daring and disagreeable, and you're an unruly embarrassment who will likely find yourself pretty swiftly filed in the cabinet under 'Bitch'.
Moore's book is important and very welcome – and one of mixed feelings. Her pain and anger are palpable.
But these essays are also an assertion and celebration of risk, come what may. Are you judging me yet? Bring it on.
Are You Judging Me Yet? Poetry and Everyday Sexism by Kim Moore is published by Seren. It is available from all good bookshops.
---
Support our Nation today
For the price of a cup of coffee a month you can help us create an independent, not-for-profit, national news service for the people of Wales, by the people of Wales.