Culture
Review: Betrayal by Christine Purkis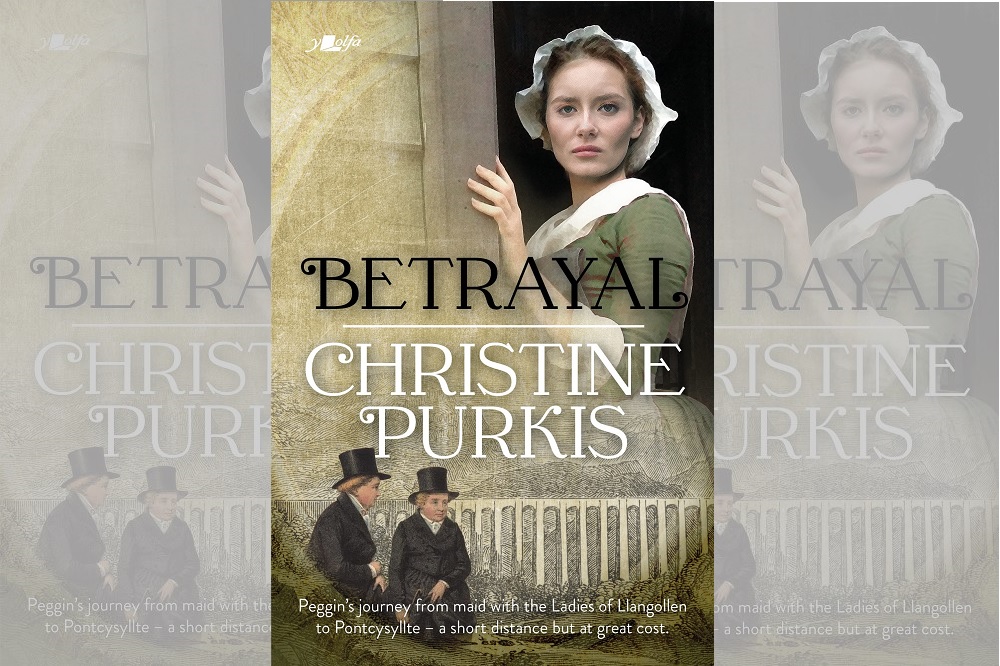 Myfanwy Alexander
Christine Purkis' first novel was a rollocking good read, the larger than life yet grounded in the truth adventures of Jane Evans, renowned as Wales' first female drover.
Purkis has returned to an historical theme in her second novel, Betrayal, and once again, the reader follows an energetic and compelling young woman through a world which excludes her.
The research which so enriched 'Jane Evans' is once again on display: Purkiss has a real flair for using period detail to create a world without baffling the reader with irrelevant colour.
Feisty
The Wales described in Betrayal is both profoundly conservative and redolent of change: the Ladies of Llangollen come to find a quiet sanctuary but at the same time, Telford is creating the extraordinary viaduct at Pontcysyllte.
Peggin, a foundling, is taken in to the household of the Ladies and grows up there but she is very far from being the passive and grateful recipient of charity.
Some of Peggin's story follows familiar tropes, such as the workhouse and the sexually rapacious master taking advantage of a girl in service, but Purkis, having created her feisty and flawed heroine, allows a fresh take on these themes.
Peggin refuses to be merely grateful and her conduct is often reprehensible: her wilfulness can border on being self-destructive and yet the reader is invited to celebrate her agency. She may be making the wrong choices, but those are her choices.
Much of the novel's action revolves around the separation of Peggin's family, divided by the kind of harsh circumstances which makes us glad to live in better times.
The notion of respectability and how that contrasts with the shifts women need to make in order to survive lies behind much of the story but cliches are avoided.
Which is why, perhaps, I am not a huge fan of the physical presentation of the book: with a sub-Poldark photo of a mob-capped heroine on the cover, a reader might expect something considerably more formulaic than this story.

In the current polarized cultural climate, a story featuring the Ladies of Llangollen might have been expected to be polemical.
One of the greatest challenges facing writers choosing an historical setting for their novels is the difficulty of presenting opinions of characters which neither horrify the modern reader nor impose the values of the twenty first century on individuals supposedly living in the past.
Purkis deftly avoids this: Peggin is broadly incurious about her mistresses, regarding their sexuality as one of their many eccentricities. She is aware that their way of life is controversial but it interests her less than her rivalry with the dairymaid.
Nuanced
Another example of Purkis' sound creative judgement is her nuanced portrait of Peggin's brother Joe, especially his marriage.
Joe and Clara are neither bitterly unhappy not deliriously in love: their relationship is formed by the pressures upon it, such as Joe's ambition and their growing family.
This is honest and unsentimental writing many historical novelists would do well to emulate.
Joe is working for Thomas Telford on the project of building the viaduct and the scale of this undertaking is clearly set out. Building such a structure is an immense feat and the reader is invited to share the wonder, the vision and the downright improbability of it.
The glory of the coming age is contrasted with the grime of Manchester: Peggin's confusion in this alien environment are vividly drawn. Llangollen, with all its limitations, seems a paradise in contrast.
Peggin's mission to Manchester and its outcome provide another example of the nuance in Purkis' narrative.
Sensationalist
Occasionally, in matters of language, the story strikes a note which does not quite ring true. Peggin is a clever girl: I found it hard to believe that she could live surrounded by Welsh speakers for so many years without picking up a little of the language.
Also, childish or archaic terms can be over-played: Peggin's nickname for the Ladies grated after a while as did the use of the word 'bubbies' for breasts: bodices might not be ripped in this novel, but they are unlaced with great frequency.
I also felt that the title was rather sensationalist, failing to do justice to the richness of the characters and their well-worked out story.
This is a highly enjoyable book which merits comparison not with the above mentioned bodice rippers but thoughtful novels set in the past, such as Sarah Perry's 'The Essex Serpent' or Jessie Burton's 'The Miniaturist.'
We are always enjoined not to judge a book by its cover: those picking up Betrayal in search of a ripping yarn will not be disappointed but there is also much in Purkis' writing which engages the reader at a different level and encourages a deeper appreciation of the history of Wales.
Betrayal by Christine Purkis is published by Y Lolfa. It is available from all good bookshops.
---
Support our Nation today
For the price of a cup of coffee a month you can help us create an independent, not-for-profit, national news service for the people of Wales, by the people of Wales.