Culture
Review: Both Sides Now – Celebrating Joni Mitchell, Llais Festival
Rachel Taylor-Beales
Cardiff's annual Llais festival is an international arts festival that seeks to showcase and celebrate the power of the voice in diverse and adventurous ways. This creative tribute to iconic singer songwriter Joni Mitchell, whose voice continues to be a seminal influence across contemporary music, certainly reflects this core vision.
Under the musical directorship of Kate St. John, the programme features an eclectic curation of performers and songs. Renowned vocalists Charlotte Church, Laura Mvula, ESKA, Georgia Ruth and Olivia Chaney, are joined by highly acclaimed conductor Anthony Gabriele and the BBC National Orchestra of Wales, to present an exclusive experience of Mitchell's work spanning many decades.
The opening set combines a UK live debut of Vince Mendoza's award-winning orchestral arrangements from Mitchell's Both Sides Now(2000) album.
This is an interesting programming choice as much of this album features Mitchell singing covers of 1930's and 1940's pop standards, alongside inclusion of Mitchell's reinterpretations of her own classics 'Both Sides Now' from 1969 Clouds and 'A Case of You' first released on Blue in 1971.
This bold programming stretches the performance beyond merely delivering a back catalogue of Mitchell's songs, and introduces the audience to Michell's artistic vision behind her Both Sides Now song selection. Speaking to The Los Angeles Times (Feb. 6th 2000) about the concept behind her collaboration with Mendoza, Mitchell states that the song cycle forms a romantic journey:
"It's the one we've all been on. First, you are smitten, which is the first song, You're My Thrill, which was a Billie Holiday recording. Then you go through the facets of pleading and making concessions along the way, then romantic love goes away, and the album ends with Both Sides Now which says you don't know love at all".

Desire
Romance is clearly on the agenda as swirling strings back Charlotte Church's sultry, performance of 'You're My Thrill', setting a scene of desire. Church's later rendition of 'Case of You' showcases her own superb vocal dexterity, while staying true to Mitchell's self-deprecating yearning and storytelling.
It is ESKA's stand out delivery of 'Both Sides Now' that really brings Mitchell's trademark introspections into sharp focus. ESKA is no stranger to performing Mitchell's work having collaborated with NU Civilisation Orchestra for a reinterpretation of Mitchell's Hejira and Mingus albums in 2022.
Tonight, she conveys the nuances of Mitchell's poetic questioning, with soulful gravitas and meaning. Mendoza's Grammy winning arrangement, rises and falls with an emotive, pleading quality, yet there is also a subtly of tone, creating the space for the lyric to be centred.
Exquisite
After a short interval the second section of the programme begins, featuring music from Mitchell and Mendoza's Travelogue (2002) album, a retrospective tour through Mitchell's work. The result is both exquisite and powerful.
This show is not about merely reproducing Joni Mitchell songs. It is a unique experience of responding to the material wherein the synergy of vocalist, conductor and orchestra becomes a voice in its own right, seeking to serve and deliver these songs with creative authenticity.
Throughout both sets, Anthony Gabriele's performance as conductor serves to showcase skilful versatility of the BBC National Orchestra of Wales, who interpret Mendoza's broad spectrum of jazz-infused classical arrangements with sensitivity and feeling. Gabriele holds the stage with smiling warmth and passion.
There is a generosity in all his interactions with the vocalists and musicians. His joy for performance and deep engagement with the music is infectious, and this filters into the delivery of all the arrangements.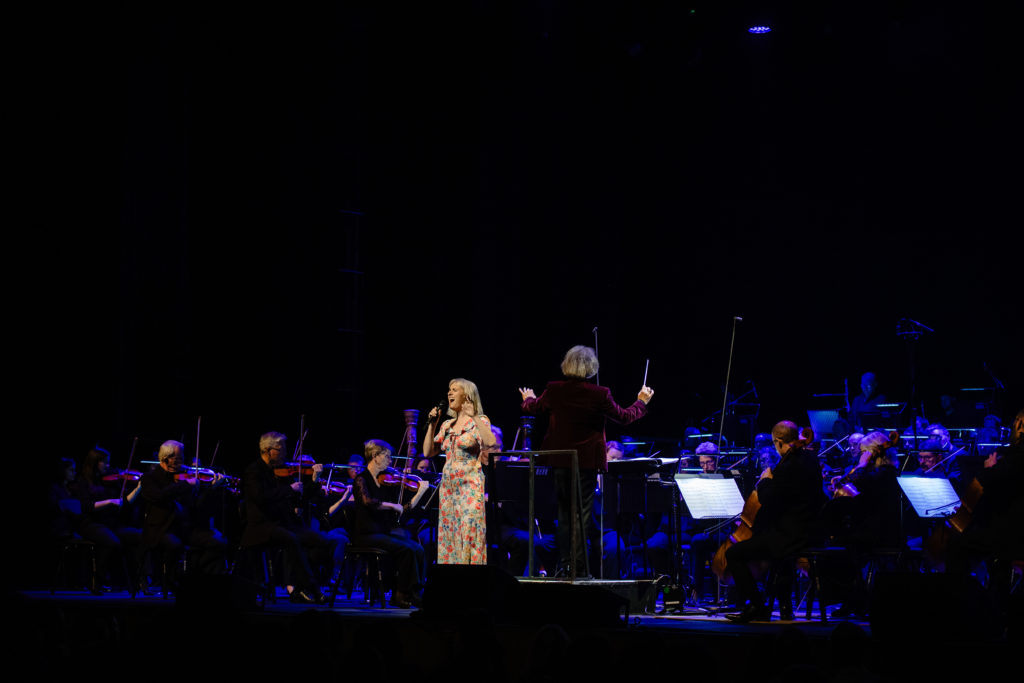 Nostalgia
It is in this second set that the ethereal indie-folk vocals of Georgia Ruth really come into their own. Performing 'Chinese Café/ Unchained Melody' from Mitchell's 1982 Wild Things Run Fast album, Ruth offers a note-perfect delivery of plaintive and reflective nostalgia, for the song that merges Mitchell's reflections on the passing of time against the crooning soundtrack of her youth.
Charlotte Church soars throughout the iconic 'Woodstock' from Ladies of the Canyon 1970 album, offering heartfelt emotion and atmospheric vocal dynamics to Mendoza's haunting arrangement (also a Grammy winner). I
n light of current global conflict there is an added depth of meaning as Church sings Mitchell's "I dreamed I saw the bombers riding shotgun in the sky and they were tuning into butterflies" and she holds the note with moving poignancy.
The set closes with Laura Mvula's incredible rendition of  'Sex Kills' from the 1994 Turbulent Indigo album. This song moves away from Mitchell's introspections, highlighting her voice as a social commentator and activist.
Mvula owns it. Her vocal delivery sears with passion as she snipes at the world's injustices. The orchestral accompaniment conveys urgency and Mvula stands mighty, commanding the auditorium, with power and authority.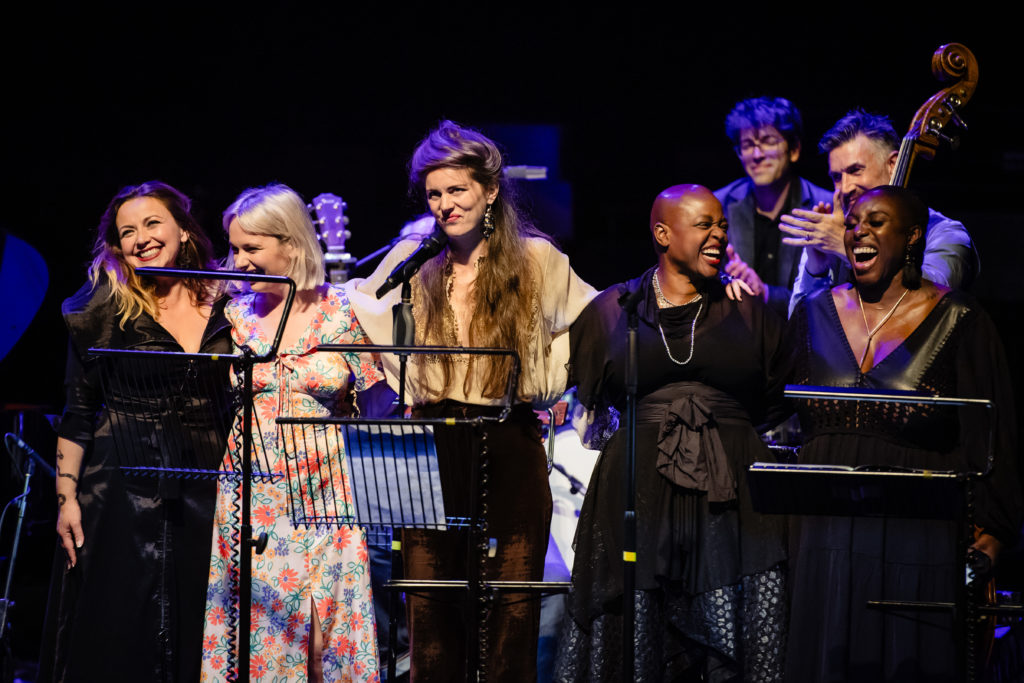 Triumph
The stage is then set for the final band-led songs, with a grand piano placed centre stage. Olivia Chaney enters and is seated at the piano where she commences with a spellbinding solo version of 'Blue' from Mitchell's 1971 album of the same title.
After the full orchestral arrangements of the previous sets, the delicate sparsity of piano and voice is arresting. This stripped back homage to Mitchell as singer-songwriter and musician, reflects the raw quality that is found in the Blue album.
Chaney's performance is flawless. Her lilting jazz-folk vocals interpret Mitchell's work with an authentic, beautiful melancholy, matched by the tone of her piano playing. There is silence as Chaney ends the piece. The audience, so intently focused on her performance, pause momentarily before rapturous applause.
A stripped-back band led by Kate St. John, featuring piano, guitar, double bass, percussion and cor-anglais, accompanies the singers in a further selection of Mitchell's back catalogue, before they all join together for a lively encore of 'Carey' from the 1971 Blue album.
The audience responds with a standing ovation for a night that has been a triumph of creative musicality and a rich celebration of many aspects of Joni Mitchell's voice.
The Llais Festival at the Wales Millennium Centre continues today.
---
Support our Nation today
For the price of a cup of coffee a month you can help us create an independent, not-for-profit, national news service for the people of Wales, by the people of Wales.