Culture
Review: Braids of Song – Weaving Welsh Music into the American Soul by Mari Morgan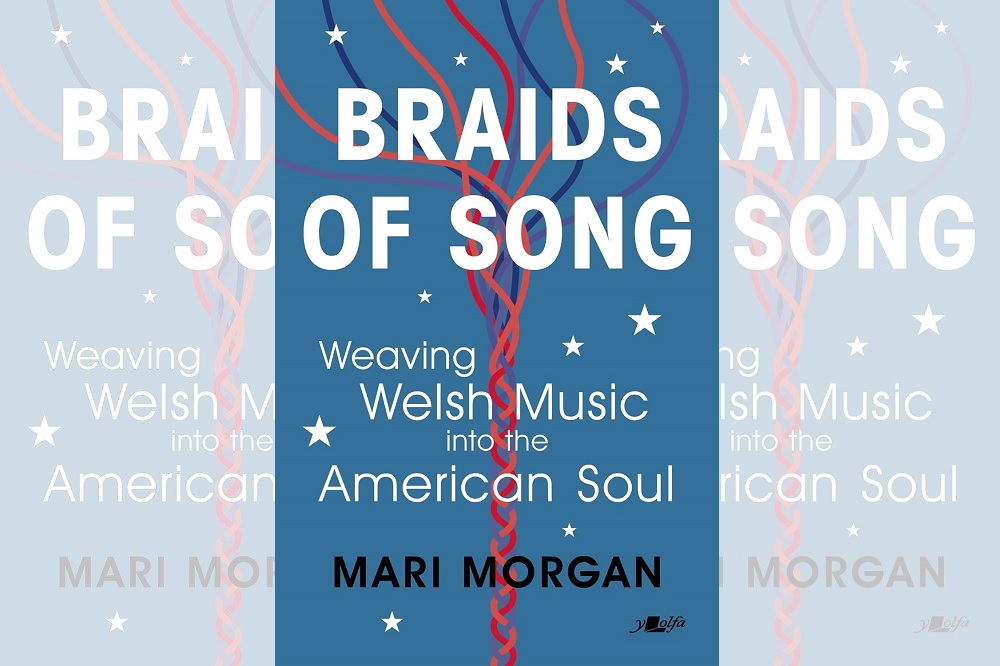 Rachel Taylor-Beales
Who are you? What are you? These are the central questions that have led Llanelli born vocalist and conductor Mari Morgan on a creative journey of discovery.
Starting from a place of grief and loss of sense-of-self, after the death of her father, Morgan re-examines herself as both musician and migrant, alongside historical stories of three Welsh musicians who similarly moved their lives and music to the U.S.A.
The resulting Braids of Song is a highly imaginative and compassionately reflective tapestry of ideas, stories, and musical ventures, all intersecting across time and genre, through Morgan's unique creative filter.
Interweaving stories
Having been bequeathed the handwritten score of Joseph Parry's Arianwen, by her late father, Morgan begins a quest to explore the nature of creative-immigrant identity, through the lives and musical works of others, alongside her own life.
These being: composer Joseph Parry who started life in Merthyr before moving to America and staging his Welsh opera in Danville Pennsylvania; renowned conductor Daniel Protheroe originally from Cwmgiedd; and Maesteg born Maria Novello who toured as an international concert pianist.
Their stories are interspersed with compelling accounts of Morgan's personal experiences that led to her founding Côr Cymry Gogledd America, the North American Welsh Choir.
Here Morgan traces key moments in her early career as she slowly learns how to assimilate herself within her new American home, while also retaining the songs and Welsh heritage that have shaped her growing up. As Morgan writes in her preface:
'Each story reveals a tale, both real and imagined, overlapping and interweaving in time to show what it is to be an immigrant with a creative soul in the vast land of opportunity that is America'

Hybrid writing
Written in an inventive hybrid-style, combining scholarly research with personal memoir, monologues, songs, reviews, poetry, and historical artefacts, Morgan braids the strands of each storyline with three overarching themes: grief, artistry, and immigration. It's ambitious writing and Morgan tackles her subject matter with a combination of playful and reflective tones.
When approaching the historical narratives, Morgan chooses to create a series of monologue sketches in the vein of Joyce Grenfell and Ruth Draper, that merge historical data with her own empathetic insights surrounding the imagined details of the protagonist's lives.
Each monologue showcases Morgan's innovative creativity in approaching historical storytelling.
Conductor Daniel Protheroe and his artistry are realised through comparison to bespoke tailoring, while glamourous concert pianist Marie Novello offers a final deathbed interview reflecting on her life in music and the personal sacrifices she has had to make.
One of the great strengths of this book is the way that Morgan adopts multiple viewpoints. We find Joseph Parry, narrating his version of events, only to be reframed and interrogated through the eyes of his 'friend for life— most times' brother-in-law Gomer Thomas, with what Morgan describes as an 'American view'.
This dual perspective allows the reader an insight into the complex world of interpreting historical narratives that will so often differ in regards to who it is telling the story.
Welsh language
Morgan's inclusion of Welsh language phrases and lyrics throughout the book, embeds a sense of Welsh heritage and motherland to the work, while also nodding to the combination of both 'Welsh opera and English words blended with Welsh folk melodies' in Joseph Parry's Arianwen.
In part two's critical reflective section of the book, Morgan explains:
'For those to whom it is a mother tongue, Welsh is the language of intimacy. Toward the end of his days, my father was far more comfortable when those who cared for him spoke in Welsh. Joseph Parry would have spoken only Welsh to his father and English to his wife and colleagues'
Grief
In many ways grief plays a central role in Braids of Song and Morgan's sensitive writing style allows the reader space for personal reflection. The inclusion of poetry and song lyrics strengthen the scope for emotive connection.
Grief is portrayed in terms of loss of person, with the death of Morgan's own father being the catalyst to her writing. Yet grief as a companion to the act of migration through loss of homeland and former identity, is another core strand.
Morgan also contemplates collective grief through trauma, highlighting both America's civil war, and the more recent devastation of September 11th   2001, that impacted her so personally. Here Morgan's story speaks of the power of music to heal, restore and re-connect individuals and communities.
'In the sharing of our national songs came support for the trauma of the emergency room nurse who had prepared to receive casualties that did not arrive, the teacher who had helped tell young children of the death of a parent, the worker who had walked home with the crowds through the dust and ash of Lower Manhattan, to New Jersey across the George Washington Bridge, and many more'.
Life affirming
It's interesting to note that Morgan hadn't originally intended to include her own story within the project. Yet it is Morgan's personal story that serves as a backbone to the body of the work. She writes her life with clarity, vulnerability and depth, asking questions of herself, her craft, and her experiences.
She is the conductor of this literary ensemble, the heartbeat keeping time, while actively entwining the many strands of narrative into a symphonious collective, and as Morgan states: 'the cae gwirionedd (the place of truth) lies in the exploration'.
Braids of Song is a beautifully observed, boldly creative, and skilfully compiled testament to the restorative, enriching and life affirming powers of music.
Braids Of Song: Weaving Welsh Music into the American Soul, is published by Y Lolfa and is available to purchase online and in all good bookshops.
---
Support our Nation today
For the price of a cup of coffee a month you can help us create an independent, not-for-profit, national news service for the people of Wales, by the people of Wales.