Culture
Review: Breuddwyd Roc a Rôl? by Cleif Harpwood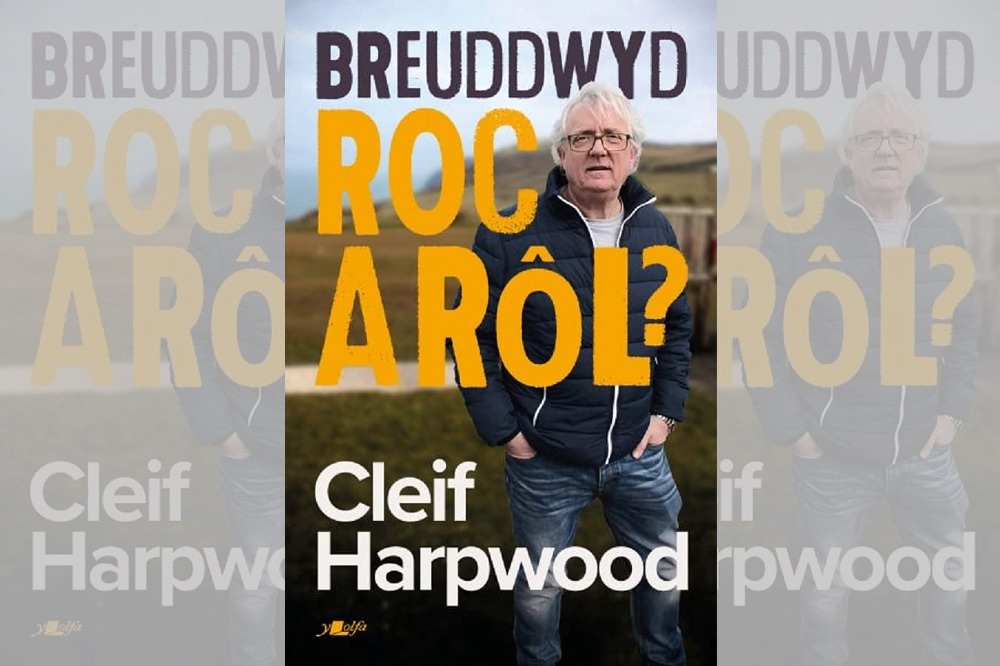 Ant Evans
Cleif Harpwood might be best known as the lead singer of premier Welsh language rockers Edward H Dafis but as Cleif tells us in Breuddwyd Roc a Rôl?, his first taste of performing came about when he was still a primary school pupil at Ysgol Gymraeg Pont-rhyd-y-fen.
Much to his disappointment, as a member of the school band which competed in the Urdd Eisteddfod, Cleif would often end up being given the triangle (I'm sure it's not just me who can empathise with that feeling) or castanets. The band's performances were likewise disappointing, apparently.
The school's Parti Cerdd Dant was much more successful, and Cleif was a member when they won at the 1964 Urdd Eisteddfod in Porthmadog.
That summer, Parti Plant Ysgol Gymraeg Pont-rhyd-y-fen went to the school hall of Sandfields comprehensive to record their winning performance of "Dau gi bach" on a vinyl EP, this being Cleif's first record! It would be another nine years before his next one.
Not Malibu
The record in question would be released during Cleif's time performing with Ac Eraill, with "Tua'r Gorllewin" the record's centrepiece, proving particularly popular.
Cleif attributes this to Adfer (a campaign group focused on protecting the Welsh language in its strongholds) having adopted the track as an anthem for the movement. The track's popularity even led to the BBC filming a music video for it.
As Cleif mentions: "The scenario for the piece was a barbecue on a beach somewhere in the west as the sun was going down and a crew of young people sat around the fire listening to the group performing the song, exactly as the Beachboys and the Monkees had done a decade before…
It was a pleasant enough day, though it was quite cold on the beach and I think that's reflected in the winter clothes everybody wore in the video – Llansteffan is not California."
Indeed, Llansteffan may not be Malibu, but the video was sunnily received by viewers.
As well as Ac Eraill, two other bands Cleif mentions as performing regularly at this time were Hergest and Sidan. The three groups would often perform at the same events.
"We all got along well together and there was no competitive element between us as the three groups each offered something different" says Cleif.
The camaraderie amongst the members of Ac Eraill is especially evident when Cleif breaks the news that he's accepted the invitation to become the lead singer of Edward H Dafis, as he expresses his gratitude that they all remained friends following his departure from the group.
Edward H Dafis's first album, Hen Ffordd Gymreig o Fyw was, Cleif tells us, "a mix of new styles and traditional songs and songs which would show we were mindful of causes such as the peace movement and the national campaigns."
This variety meant the album received a favourable response from people of all ages.

Mental health
One aspect of his life that Cleif is very open about throughout the book, is his mental health.
One fateful afternoon when he was 15, his father and grandfather (who were involved with some religious fundamentalist types at the time) taking issue with Cleif's long hair, held him down on a kitchen chair and cut it.
As Cleif himself says "The events of that afternoon had an adverse effect on me. I began experiencing very dark periods afterwards, a condition which has stayed with me throughout my life. The slightest thing brings them on, and there's no pattern to them, headaches with periods of depression, lack of confidence and guilt".
Whenever Cleif has felt like this subsequently, he's never shied away from mentioning it here, and fair play to him. I can't think of many people I know who'd be as open about their mental health.
Arctic
One period in his life when these dark thoughts were absent was during a trip to Iceland and Norway. This came about whilst Cleif was still in sixth form. After having been treated unfairly (to say the least) by the head following a trip, Cleif and some others took to Edinburgh to watch the rugby.
Now well and truly fed up with school, he sent a letter to the British Schools Expedition Society expressing an interest in joining an expedition to West Central Iceland and Arctic Norway and got a place.
Cleif's account of the months spent on the trip gives a snapshot of a very eventful time, including the time he volunteered to help a member of one of the teams – who had broken his leg – get medical assistance, with a helicopter eventually arriving to take the patient to Reykjavik.
After arriving in Iceland, Cleif and the others were informed there were three rules.
"Don't shack up with local girls, don't drink the local beer and don't misbehave".
Cleif of course, managed to do all three. And it was during one evening during his last weekend in Sigrin's (one of the local girls) company watching the aurora borealis, that apparently inspired the lyrics "Wyt ti wedi gweld y ser, man ganhwylle'r 'mennydd bler?" from Gwenwyn yn y Gwaed (Sneb yn Becso Dam, 1976).
In addition to the more serious moments, there were many moments which gave me a chuckle. Such as a panicked rush back to his first year uni lodgings, a.k.a. "Stasi HQ" (you very much get the impression that Cleif and Mrs Thomas did not enjoy living under the same roof) after moving out to collect forgotten evidence of his "extracurricular activities" (involving monolingual English road signs, if you see what I mean) from the garden shed.
Not to mention the "final" Edward H gig (but of course, there were others) in the Corwen Pavilion in 1976, following not one, not two, but three blackouts. Despite this, the gig was a success, and they went out with a bang "having blown a few fuses" says Cleif.
Second homes
Cleif closes Breuddwyd Roc a Rol, much as he began it, with a history lesson and talking about the changes that have taken place in the area where he was raised.
Whereas in the beginning he mentions things such as two semi-detached houses being on the site of the maternity unit where he was born suggesting that "soon the time will come to decide whether the blue plaque should go outside number 65 or 66 Penrhiwtyn Rise" or the former Norman inspired castle now being a multi-storey car park, in the end, Cleif focuses increasingly on the decline of the Welsh language locally in the area since his childhood.
Here he talks about how similar "Brafan" now is to coastal areas in the west, with increasing numbers of second home owners.
He also mentions that whilst there's an increase in demand for Welsh medium education "There needs to be increased resources for the Welsh language in the community, centres and social clubs where it's possible to use the language".
This is an open, candid autobiography in which Cleif isn't at all shy about discussing the highs and lows of his life in equal measure.
Breuddwyd Roc a Rôl? by Cleif Harpwood is published by Y Lolfa and is available from all good bookshops or you can buy a copy here.
---
Support our Nation today
For the price of a cup of coffee a month you can help us create an independent, not-for-profit, national news service for the people of Wales, by the people of Wales.