Culture
Review: Child Poverty in Wales – Exploring the Challenges of Schooling Future Generations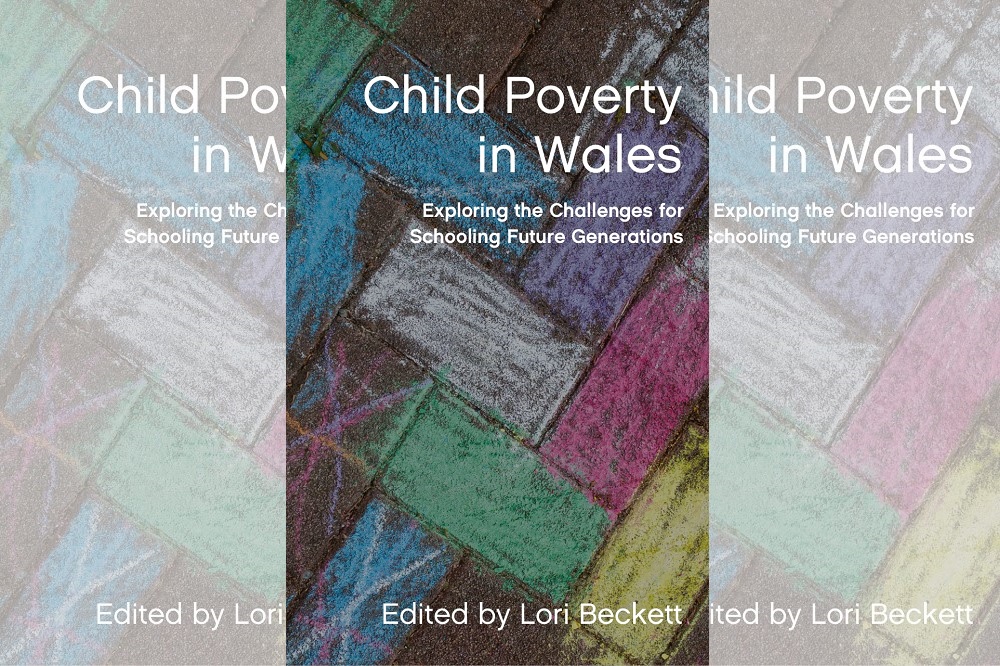 Sarah Tanburn
Money is what people living in poverty need. Cash. It's not rocket science.
This book should be read by anyone serious about systemically eradicating the scourge of child poverty. I particularly recommend it to those who are (or should be) redrafting the so-called strategy on the subject produced by the Senedd earlier this year.
The Children's Commissioner roundly criticised it in September for lacking focus, direction and accountability. If the Senedd or the Commissioner want to see a sustained approach, rooted in both evidence and experience, linked to the Curriculum in Wales and with real promise for change, this collection is a good place to start.
Mostly, people need more money in their pockets. The hideous cost-of-living spiral has made matters much worse, although embedded, multi-generational poverty is hardly new. People also need their income to be stable: not based on zero-hour gigs or the whims of distant politicians imposing punitive sanctions.
Communities need that precarious, precious 'revenue expenditure' – money spent on real people who help, coordinate, advocate, juggle the system and who stick around for the long term. And, yes, estates like the one featured in this book need actual investment. The new multi-agency hub. Decent facilities for youngsters. Enlarged spaces for family support in the primary school. That's before we get to robust energy resilience and sustainable, local food.
Besides the money, the articles collected here demonstrate many other impacts – particularly but not only on children – of living poor in this rich country. Old, badly maintained housing stock that is expensive to heat. Shops and facilities (including secondary schools) that are two bus rides away. Highly processed, expensive food from small convenience stores. Mental health degraded by uncertainty. All these are hard for people with sufficient resources: they are potentially catastrophic challenges for families with no money.
Child Poverty in Wales is unusual in its field and the more enlightening for that. Concentrating on the community in one estate in North Wales, it shows myriad ways money – relatively small amounts compared to grandiose legacy projects – is needed to combat child poverty. The contributors offer a comprehensive, community-designed programme which both alleviates current shortages and builds resilience, ameliorating its worst effects for future generations.
The seven interlinked initiatives come from joint work between community activists, professionals in their fields and university academics. All are committed to interventions which are led and designed by resident families but informed by evidence from further afield, relevant history and statistical study.
The key unusual feature of this book is the celebration of interventions led by the school-community, identified and defined by that community, informed by data and experience elsewhere: a 'systemic co-designed and co-produced approach,' as one writer calls it.

Residents are the greatest asset
The estate at the heart of this book has been given the pseudonym Trem y Mynydd. It is not far from Bangor in Gwynedd, and money is not the only deficit. But first let's take stock of the strengths, recognising those good things which sector jargon calls 'asset based community development'.
There's clearly leadership, commitment and imagination in spades, from residents or professionals and academics engaged over the long-term. Story after story, plan after proposal, demonstrates their capacity. There is also a great deal of compassion and hard work: it is almost in passing that contributors talk about the number of residents who were key workers during Covid 19. Not only were they doing those jobs – they were coming home and bulk cooking for their neighbours, making sure everyone got contacted regularly and helping with costs.
Yet this is no bastion of 'not invented here' parochialism: there's plenty of learning from and celebrating local history while drawing on research. Ambition runs high on Trem y Mynydd – whether for a brighter future for children still in pre-school, for a fascinating bilingual hip-hop festival or pioneering new village ownership of its energy resources.
As the book says, 'the people living on the estate are its greatest asset.'
I have learnt the truth of this over four decades of working (after several years as a volunteer and activist) in regeneration, housing, community development, anti-poverty, transport and related fields. If you start – as so many institutional players do – from a position that the residents are 'problematic', an issue to be solved or at least contained, you will not see lasting, multi-generational improvement. Over those years, too little has changed and much has got worse – especially in employment. But there are positives too, particularly in the school-community development at the heart of this programme.
Money plus
Despite these great assets, the deficits are real. A big one is political will – I will come back to that.
I must also mention trust. Throughout the book we see evidence of the loss of trust and the huge gaps left behind. Parents and children don't always trust the school. Professionals don't trust the families. Few people trust elected politicians. There is the desperate need for young people to build social capital linking them to the peer groups and organisations. So often these conversations are dominated by institutions earnestly saying that they must 'rebuild trust' from local people, while not trusting those same people with the resources they clearly need and will use.
Such resources are often contingent on massive challenges of monitoring 'outputs', assessing 'outcomes', engaging 'hard-to-reach-groups and more. The drug of measurement was injected into the regeneration bloodstream in the late Major years, but became an addiction under Blair.
Whilst it is true that that 'what is measured is what matters', these expectations often become insuperable hurdles to winning and spending money. The difficulties encountered in enabling the school to win money for more family support are entirely typical of the systemic barriers created by a distrustful, ration-based system owned by people on decent salaries.
The results-prioritisation of the education system is an acute example of this approach, and several articles in this book articulate how this sustains poverty in families and communities. In education, as in transport, poverty is very much a policy option. In cultural pursuits, outdoor learning, nursery opportunities and more, community activists show that there are choices to be made which will benefit every child for the long term, but may not immediately raise up results within standardised league tables.
Basic rights
The reorientation demanded in this book also points to the failure to honour the human rights of children on Trem y Mynydd and their families. Adequate, nutritious food; dry and secure shelter; warmth; a peaceful family life; education. All of these basic rights are destroyed by grinding poverty, especially within a benefits system run by a UK government intent on demonising and punishing people for being poor.
Language is another key challenge: similar phrases turn out to mean different things. The frustration of the school secretary is obvious as he describes their 'open-door' policy, their efforts to build relationships with families, the challenge this is for his team and their need for ongoing revenue for space and staff to enable children to stay in education.
The approach is called school-community development on Trem y Mynydd, and it contrasts sharply with the 'community focused school' envisaged by the current Education Minister. As the school secretary says: 'a business manager [would be needed] to oversee the practicalities and legalities … They would require clerical and administrative assistance in regards school property, site-management, and [much more]'.
None of that would be free, and none of it would support children to escape poverty. The details of language, exactly what the policy document means, the funding proposals and the expectations are crucial to success, not least to rebuilding trust rather than overseeing yet another betrayal.
Political will
I said I would come back to political will. Academics have brought rigour, evidence and policy links to this project. Professionals have brought their expertise, compassion and experience to bear. Community leaders have brought their own experience and professional skills, together with ambition, passion and determination. It is notable that the only politician cited as such amongst the contributors sits on Gwynedd Council as an Independent.
Issues of political will, intent, ambition and consistency echo through the chapters – whether discussing a resilient, locally owned energy supply or addressing the need for more front-line family support in the primary school. I agree with the many criticisms made of UK Conservative governments, especially after 13 years in power. (Mr Sunak, you can't disown it, however hard you try to persuade us that you had nothing to do with austerity, Brexit or appalling PPE for those key workers.) At the same time, the book offers important critiques of Labour, including Welsh Labour in power in Cardiff, and Plaid Cymru in Gwynedd.
We have seen the concern from school leadership that 'community focused schools' is a new jargon for creating educational franchises. Of course education is wholly devolved and responsibility sits firmly in Cardiff. Policy choices made there or in Caernarfon directly undermine community, family and front-line efforts. This includes, for example, the need to make funding processes accessible and timely, trusting communities to deliver and respecting local imagination in designing solutions for their children.
Who is the book for?
I am sure many of the contributors would say: for everyone! Or at least for everyone concerned about child poverty in Wales. Nonetheless, the book reads as if unsure of its audience. Academics, perhaps, for there are lots of endnotes and references. Practitioners on the front line of public services? It's a hefty read and, as the school Head and Secretary point out, such study is a challenge. Residents? That seems unlikely: those same endnotes and references are hard for busy, angry people to battle through. Politicians? Maybe but it's a big meal for them to endure.
The contributors describe amazing actions on the ground, enduring resilience and ambition. Child Poverty in Wales needs to be followed up with some more material for those activists and front-line workers. While I strongly encourage everyone to read it, I suggest that it could have been made easier for those audiences who have the power to do something about the challenges it offers – who perhaps are the first port of call for the book itself is activism.
It would be immensely helpful if the book was supported by a map of power, a schematic showing which bit of governance holds the responsibility for decisions affecting the lives of resident families. For example, the UK government controls Ofcom and the (ridiculous) pricing structure with which we are all struggling. But the Welsh Government controls planning policy and Gwynedd Council has its own powers.
Why are we still allowing anyone to build homes without solar panels and adequate insulation? Why do we put hurdles in the way of developing community assets? Each of the projects in this programme, or its adaptations elsewhere, could then see where pressure was needed, and what could be done now, rather than needing years of campaigning and new legislation.
Good timing
I have referred to the currency of this discussion. It has both been going on for ever and is a hot topic right now. Either way it is time for Welsh Government and the Labour party in Wales and across the UK to put their money where their mouths are.
If Mark Drakeford and his successors are truly serious about child poverty they need to stop helicoptering in distant fashions and start trusting local solutions for social justice. And Sir Keir, when he walks into No. 10, needs to listen to the efforts of our people to put fairness at the heart of policy.
Most of all, Caernarfon, Cardiff and Westminster must spend money where it is needed and will do some long-term good. In the pockets of poor families, in systems which don't punish them for being poor, in services which build resilience and in resources which will truly make a difference.
Child Poverty in Wales: Exploring the Challenges of Schooling Future Generations, edited by Lori Beckett, is published by University of Wales Press. It is available from all good bookshops.
---
Support our Nation today
For the price of a cup of coffee a month you can help us create an independent, not-for-profit, national news service for the people of Wales, by the people of Wales.