Culture
Review: Churchill's German Special Forces by Paul Moorcraft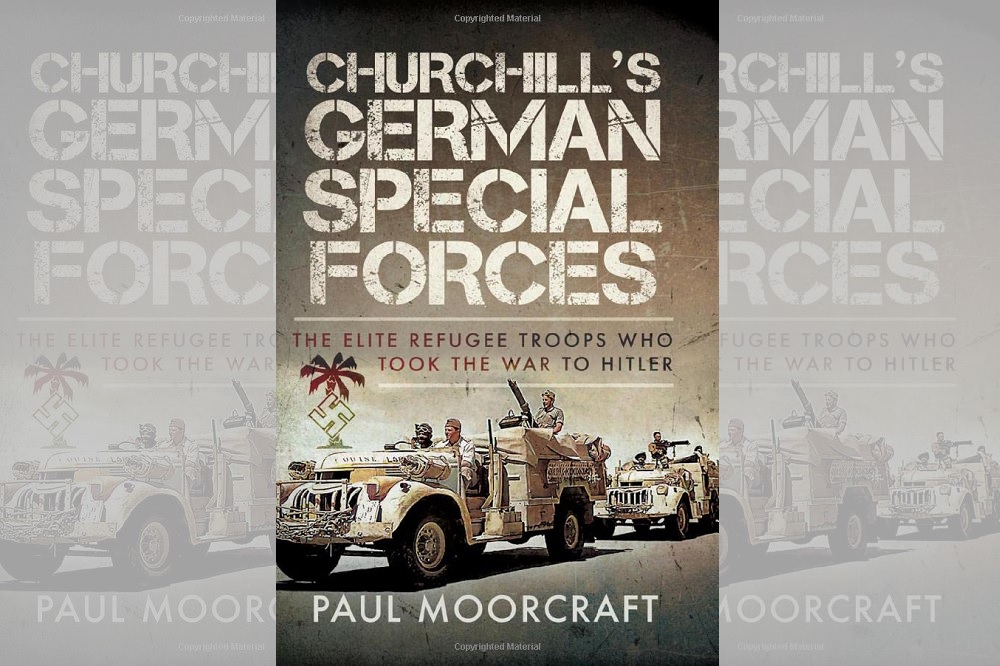 Meic Birwtistle
Paul Moorcraft's new book on 'Churchill's German Special Forces' has an eye-catching title. It's a work about a small but forgotten army of warriors who fought a particularly personal war against fascism.
'The Elite Troops Who Took the War to Hitler' is the similarly catchy sub-title. And these stories take us from the walls of Harlech castle and the crags of Eryri to the shores of Normandy and the concentration camps of the Third Reich.
The author deals almost exclusively with Jewish fighters from the German- speaking world. And it seems that they were the vast majority of those involved in such units.
So here is the story of Jewish people who fled Nazi persecution and then went on to face discrimination in the countries that they had looked to for sanctuary. People who chose to face the almost unbelievable struggle of being trusted and allowed by Britain to take up arms against their fascist oppressors.
Suspicion
Initially treated as political/religious refugees when arriving in Britain, on the declaration of war in 1939 these Germans and Austrians now became treated with suspicion and fear as enemy aliens. Many then once again faced incarceration behind barbed wire – this time by Britain instead of the Nazis – a profound and sometimes fatal shock to their psyche.
But it was in the Western Desert that the first units were formed, recruited from largely German speaking Palestinian Jews. These had been raised as part of the British Palestinian Police (in parallel with Arab ones)designed to keep the peace at the time of clashes between the two communities in the late 1930s.
The colourful officer Orde Wingate of subsequent 'Chindit' fame was central to this plan. They were though, infiltrated from the start by various Zionist, clandestine semi-military groups. And indeed, Moshe Dayan, the famous future Israeli commander, was one of the men who served with them.

As the war reached North Africa they were taken into the regular British Army, initially due to their linguistic skills, and used in the questioning of Axis prisoners. Soon though, members of this Special Interrogation Group would be in increasing demand, working with the Long Range Desert Group and the Special Air Service on intelligence and sabotage missions behind enemy lines in the Western Desert.
But there is a clear link in the book to Wales, as the author tells the almost unbelievable story of the formation of the ultra-secret 'X Troop'. Many occupied countries formed commando units from troops who had evaded capture by the Axis-forces or refugees who fled the occupied countries. But the German speaking unit X Troop was exceptional.
X Troop
Not wishing to spoil the story for potential readers, this was created in what was then Merionethshire under the command of (later) Captain Bryan Hilton-Jones, a brilliant Cambridge University linguist and sportsman who was particularly fond of rock climbing in his native Snowdonia. But crucially Welsh speaking Hilton-Jones' flawless German got him command of 'X Troop' of 10 (Inter-Allied) Commando.
They were named X Troop due to the clandestine nature of the unit or, allegedly, by Churchill himself, as they were an unknown quantity like the algebraic symbol.The landscape of Eryri became the unit's tough training ground and even the area's fortifications – both of the British WW2 and mediaeval types – were used by Hilton-Jones in his challenging and dangerous regime of preparation for combat.
Setting Europe ablaze
This small unit of mostly Jewish German-speakers did indeed 'set Europe ablaze' as their founder Winston Churchill had wished of the commandos as a whole. Getting their baptism of fire in the disastrous Dieppe operation of 1943 before truly cutting their teeth in reconnaissance landings prior to D-Day.
Triply imperilled they faced a potentially horrible death for being Germanic, Jewish AND commandos thus being required to adopt English or Welsh names and identities to try and avoid such a fate. Though technically enemies, they were taken into the homes and hearts of the people of Meirionnydd.
A very large number of these Jewish men and women had been wholly integrated into German, Austrian or Czech society and culture, their families having even fought for and been awarded medals under the Kaiser or Austrian Archduke.
Some had even trained in the Axis armies. Many of them were no longer Jewish in religion, though Nazism would turn significant numbers of them towards what had been the relatively minor group of followers of Zionism.
The author tasks himself with outlining what he describes as the history of the men up to the creation of the groups that would eventually fight to create the state of Israel. And, in fact, he argues for their being a crossover between them, with individuals and indeed elements of units set up by the allies in WW2.
Finally, the content has to walk a fine line as it deals with the subsequent role of ex-members of these forces in the contentious fight to establish the state of Israel. Some turned their training to use against their erstwhile allies in the British Army during the post WW2 fighting in Palestine.
Incredible
In conclusion, this book has 'Boys Own' elements to it. But the real dangers these fighters faced if captured by their Nazi fellow-countrymen were truly incredible.
Moorcraft embarks on countless interesting diversions, taking the reader off down a series of fascinating sidetracks. He's a bit of a magpie of as an author recounting all sorts of anecdotes. Although frustrating on occasion stick with him in this.
On a personal note I was intrigued to discover that a small mansion, near to where I was brought up in Surrey, until recently a young offenders' institution , had been a secret interrogation for German POWs and captured Nazi spies.
The author is himself Welsh, and a Welsh-speaker, who has now returned to his native country, living in Penarth. He has lectured at the Royal Military Academy Sandhurst and worked for the Ministry of Defence, studying conflicts across the world, looking in particular at special forces.
The writer of some 50 works of fiction and non-fiction, his blurb hints at a cloak-and-dagger past, with his own career reading almost like a novel.
For those wishing to pay homage to these wonderful fighters against fascism may I suggest a pilgrimage to the simple but striking stone monolith at Aberdyfi which commemorates their bravery.
Churchill's German Special Forces: The Elite Refugee Troops by Paul Moorcraft is published by Pen and Sword and is available from all good bookshops.
---
Support our Nation today
For the price of a cup of coffee a month you can help us create an independent, not-for-profit, national news service for the people of Wales, by the people of Wales.