Culture
Review: Cracking Cricket by Robin Bennett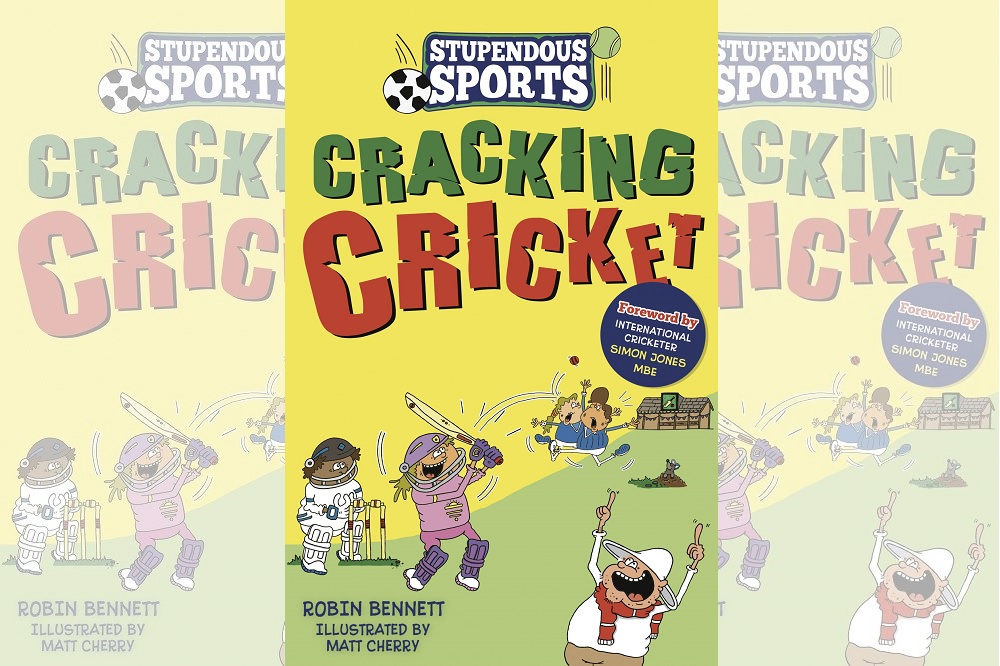 Jon Gower
If you're one of those people who finds cricket perplexingly complicated there's fun-filled help in the pages of Cracking Cricket, whose very name seems to contain the sound of leather thwacking willow.
Not that the opening definition of cricket in this lively, funny children's book leaves you doing anything less than scatching a deep groove in your skull with puzzlement:
You have two sides: one is out in the field and one in. Each man that's in the side that's in goes out, and when he's out he comes in and the next man goes in until he's out. When they are all out, the side that's out comes in and the side that's been in goes out and tries to get those coming in, out.
As definitions go, that's pretty much as clear as mud, just as surely as rain must stop play.
Not that anything stops author Robin Bennett and illustrator Matt Cherry from playing about in this, the third of their Stupendous Sports series, where it joins football and rugby. Here they invent spurious origins for the game of cricket, such as its being invented by bored shepherds with too much time on their hands before starting to locate its actual origins around the first written record in 1550.
Initially a game played by children, cricket had apparently become the most popular sport in London among men and women by the 17th century and grew to become what can be a compelling and massively popular spectacle, nowadays watched by a TV audience of as many as 300 million people when India clash with arch rivals Pakistan.

Odd facts
Cracking Cricket is chock full of odd facts about the game including its very many variations around the world. These include Kilitiki, also known as Samoan cricket, which can be played by any number of people and for which there are no written rules.
Then there's Trobriand cricket, played on islands in Papua New Guinea in which the home team always wins – which naturally begs the question how do they ever rustle up an opposition? Especially when you find out that the home team dresses as if it's going to war.
We also find out about sensational top speed bowling, such as the astonishing 161.km per hour delivery by Shoaib Akhtar of Pakistan, which easily explains his nickname as the 'Rawalpindi Express' and how Afghanistan became the latest country in the world to qualify for Test status, in 2018.
And how there has only ever been one cricket game played during the Olympics. It was in 1900, France playing Great Britain. France lost by miles, managing only 23 runs in their second innings, a scoreline so très terrible.
The book cheerfully bowls a "googly" (leg spinning with a twist, as it teasingly explains) when looking at the game's set up in Wales. It reminds us how that temple to rugby, Cardiff Arms Park was originally the main cricket ground in the country while explaining that unlike international rugby and football Wales plays with England in cricket, under the England and Wales Cricket Board. One sadly looks in vain for Glamorgan in the list of recent UK County Championship winners.
Vignettes
With lively vignettes of some of the cricketing greats such as Sir Garfield Sobers and Sir Donald Bradman and deft if playfully undependable definitions of fielding positions and the rules of the game Cracking Cricket will most certainly help you tell your "jaffa" from your "grubber" and a "Mankad" from a "Manhattan."
It will also help you while away an hour or two when the pitch is damp and it's a sticky wicket out there, or when the umpire's called it a day because of the rain.
But then, consolingly and despite the current weather forecast it reminds us there will also be some 'sunny days when time slows and the game feels like a dream; the smell of freshly cut grass; gentle clapping; and the sudden call to action when you stride out onto the pitch and anything could happen…
As it most certainly can if this colourful volume is anything to go by. Hits it for six it does.
Cracking Cricket by Robin Bennett, with illustrations by Matt Cherry. is published by Firefly Press and is available from all good bookshops.
---
Support our Nation today
For the price of a cup of coffee a month you can help us create an independent, not-for-profit, national news service for the people of Wales, by the people of Wales.