Culture
Review: Culmination of Stars by Martyn Rhys Vaughan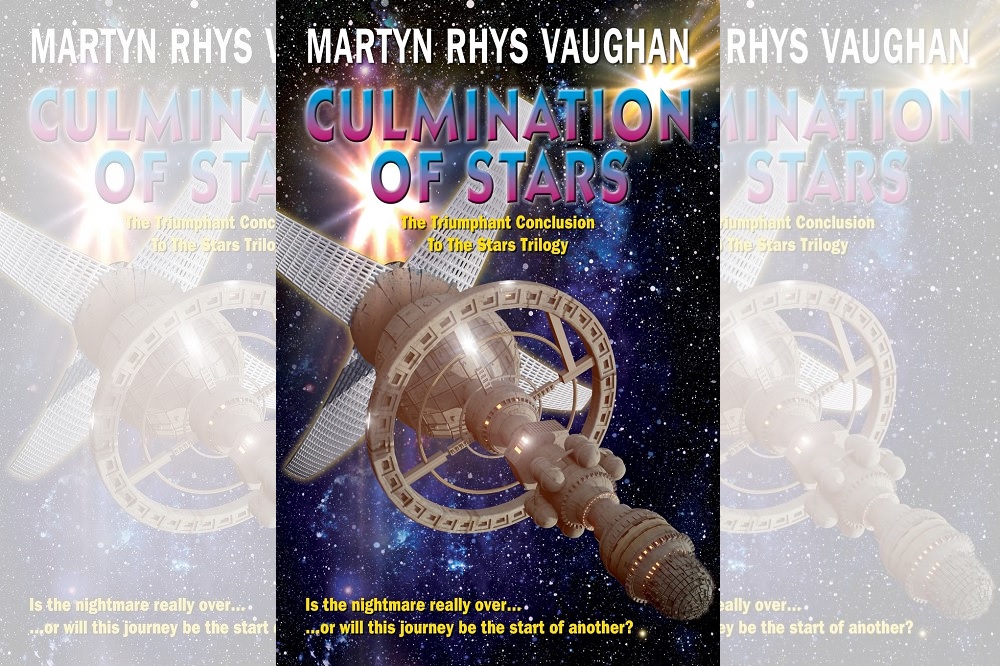 Jon Gower
As its title suggests, this latest sprawling instalment of a mega-ambitious writing project is also an ending: it concludes The Stars Trilogy which started with Doom of Stars, followed by Resolution of Stars. Just this volume in itself must weigh in at a quarter of a million words.
Culmination of Stars concentrates mainly on the interstellar journey of the Magellan, an enormous starship – a ship, indeed with an enormous sail –  heading for Centauri, 'a stable system where the stars are quiet and don't flare.' The voyage will take them centuries of travelling through the empty void of space and allow them to look for other life, or somewhere that can sustain it:
'In the days before the Doom of Stars had been visited upon humanity, scientists had probed further and further into space, with better and better instruments, looking for a world that resembled Earth, hoping to see a longed-for world of blue seas and white Catherine-wheels of cloud. One not merely allowing life, but overflowing with it, demanding there should be life.'
Space madness
The mind-numbing sameness of the journeying does little for the mental health of the 250 people on board, for these 'fugitive children of a murdered earth.' Even the chief psychologist on board the Magellan loses it temporarily. But incipient space-madness is only one of the problems they encounter as they power on, having far too much time to dwell on the horrific immensities they are crossing.
There are nasty bugs in the computer system. Those on board the Magellan hear about the fatal problems of their sister ship the Resurgam. They also have a saboteur on board, who is pouring acid into the tanks of algae which provide a food source for the Magellanites and demanding that they turn the ship around. Furthermore, someone has adjusted the ratio of male to female babies being born. Not to mention on-board affairs which threaten to tear a hole in the artificial social fabric of the ship.
Loneliness
It's not a human social fabric either. Not everyone on board is human. Some of them are newhumes, adults cultivated in tanks and brought into being in an updated version of Frankenstein's experiments. They are human-ish but have lost out on birth and growing up, which leads to some of them questioning the ethics of their existence and to dealing with the effects of crushing loneliness.
Then there is a sub-lot involving the transference of knowledge from individuals which leads to the creation of avatars, these being made up of people's distilled memories. These get involved in video-game-like testing adventures involving fighting apes, fantasy princesses and insect armies. And even these memories are uncertain and can meld with each other, thus diluting the avatar's identity.
But all these are mere trifles, intergalactic bagatelles, by comparison with the huge task of turning the enormous ship around at the right time so they can head for Centauri. They hit a lot of things along the way, some big enough to dent the gargantuan hull. But when some dark matter throws them off course it almost scuppers the two centuries' long quest for a new home in another part of the universe.

Predations
Culmination of Stars is in two parts, the first being the Magellanic adventure and the other a story set  in the far, far and surprisingly bucolic future. Here, we encounter Gwion, a female shepherd who tends her animals by night and after dark tries to keep them safe from the predations of the pig-like Night Creatures.
Under the tutelage of the Matriarch Gwion is taught to fly and subsequently traverses huge distances of the planet called Majeh and finds herself caught up in skirmishes against the Heavy Landers.
Nemesis
But there is a greater battle to be fought, as a powerful nemesis called Vorkus steps into the frame. He is a digital entity, a 'mad god' who wants to transform and enslave the galaxy by riddling it with wormholes. Outsmarting Vorkus is, in a sense, humanity's final big act and a fitting conclusion to an ambitious series which harnesses the author's outsize imagination in order to create vivid visions of the post-Earth future.
Martyn Rhys Vaughan had delivered another doorstopper-sized book with a central story, or stories that never flag, even as he introduces a host of often oddball characters and marshalls all of the trials and travails of very long distance space travel. It's a huge achievement, not least pulling off what might be the most simple and essential quality of speculative fiction of this ambition, namely making it all believable.
Culmination of Stars by Martyn Rhys Vaughan is available from Cambria Books and from all good bookshops.
---
Support our Nation today
For the price of a cup of coffee a month you can help us create an independent, not-for-profit, national news service for the people of Wales, by the people of Wales.