Culture
Review: Cwmwl Tystion II: Riot! at the Llais Festival
Jon Gower
If the wildly experimental American jazz composer Sun Ra had made the music for a documentary series by the firebrand historian Gwyn Alf Williams it might have sounded a bit like this. The latest instalment of Tomos Williams' Cwmwl Tystion project was inspired by various riots and other troubled moments in Welsh history.
Delivered as an hour-long suite, with complementary visuals by the Llangollen-based artist Simon Proffitt, Williams' aim in the work was to challenge a certain tendency in Wales 'to romanticize all Welsh riots: I wanted to highlight a few slightly more uncomfortable moments in our nation's history.'
Williams had assembled an ensemble of real verve and talent, inviting vibraphone player Orphy Robinson – whose jazz pedigree is as impressive as they come – and award-winning alto saxophonist and rapper Soweto Kinch to join Eädyth Crawford and his more usual collaborators, drummer Mark O'Connor and bass player Aidan Thorne.
While there was plenty of space for individual flair to be put on show the piece swirled the various musical colours together to make a coherent whole, a good Welsh cawl made with unusual ingredients.
Williams cites influences such as Wadada Leo Smith, Matana Roberts, Don Cherry and John Zora, a list which is, in itself testament to the range of this trumpeter's listening, and how far he casts his net.

The opening section, 'Cadw tŷ mewn cwmwl tystion/Keeping house in a cloud of witnesses' is named, just like the band, after a Biblical quote woven into a poem by the great Welsh poet Waldo Williams.
It was a suitably gentle entry point, with Crawford's rendition of the folk song "Aderyn Du" – which hymns the bird's silk feathers, gold bill and silver tongue –taking flight among the twisting flocks of the projected visuals. These came as if from the band's seventh member, with Proffitt's palette of colours being often vividly lysergic as he mixed historical sepia images with slow views of woodland glades or scenes from American cities.
In this it mirrored the various musical components in the swirling mix, from folk songs such as Dyffryn Cletwr through hymns like 'Leoni' such as to folk melodies such as 'Ffarwel i Gymru' which was re-presented here as a dynamic duet between trumpet and drums, a passage of respect and rapport between two jazzers who know each other of old.
The fact that the suite took its cue from events such as the Merthyr Rising of 1831, the riots in Tonypandy and Tredegar and the Cardiff Race Riots of 1919 did not mean that here was riotous music necessarily.
While multi-instrumentalist Orphy Robinson's use of electronic effects could turn the conventional sound of vibraphones into something more resembling German kosmische music and Kinch could make his saxophone soar both wildly and ecstatically, this was as much a piece about control, the musicians measured, virtuosic in their restraint and economy when necessary.
In the case of Kinch I was reminded of a favourite short poem by the Liverpool beat poet Roger McGough about another great saxophonist:
He breathed in air
He blew out light
Charlie Parker
Was my delight.
You could say the same about Soweto Kinch in the Weston Studio at the WMC, blowing out showers of notes by way of night-time illumination.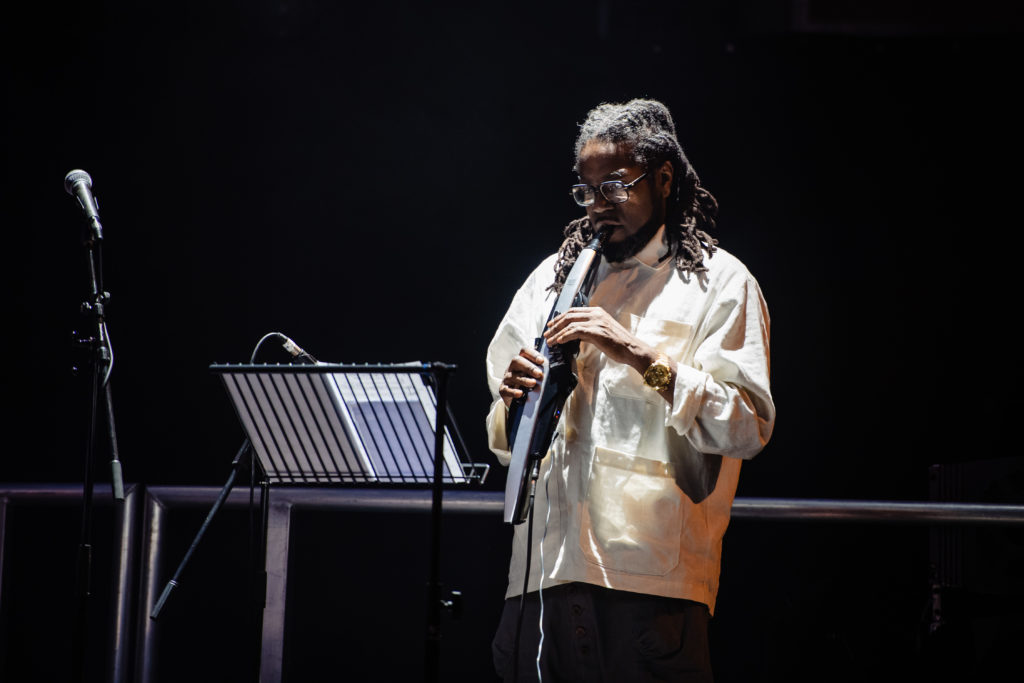 Meanwhile the deft interplay in one particularly delightful passage between Aidan Thorne's cascading notes on the bass and Eädyth Crawford's beautiful voice was enough to give you pause, make you hold your breath.
She can certainly channel the spirit of the blues like a very young Billie Holiday but when the chosen song is one written by a quarryman, Rowland Walter – who emigrated from Blaenau Ffestiniog to America where he became an abolitionist – the choice of musical genre seems very apt.
And as an anchor for it all Mark O'Connor beamed and smiled and syncopated as if drumming makes him happier than he can ever explain. Here is a smiling percussionist who never misses a beat and his joy at playing, and doing so with a bunch of gifted other musicians is both palpable and communicable.
With Cwmwl Tystion/Riot! Tomos Williams further consolidates his reputation as one of the most restlessly creative and seriously gifted musicians in Wales. Just in the past few months he had brought together musicians from India and Wales in the band Khamira which mixes traditions from East and West to great effect and he also helmed a tribute to one of his own musical heroes Miles Davies.
That's not to mention his role in the yeasty jazz-folk fusion of Burum or the many collaborations with a range of artists such as the triple harpist Llio Rhydderch which have resulted in some simply beautiful music.
Williams' trumpet work now similarly speaks of serious accomplishment and range but also of openness to experiment.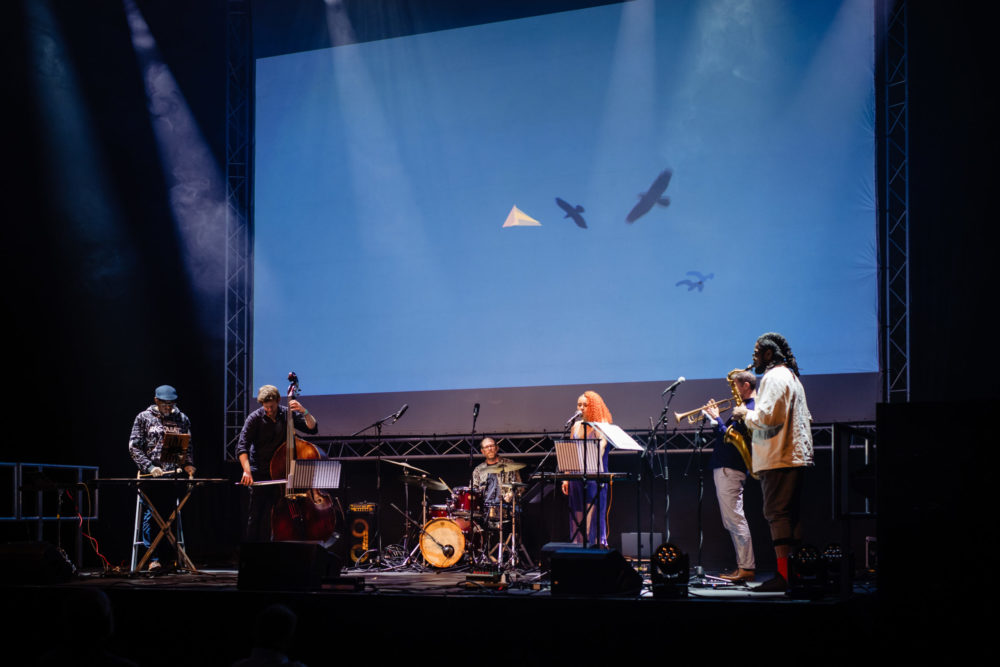 This was evident in having Soweto Kinch deliver spoken lyrics about the Cardiff Race Riots or commemorating the death of Mahmood Hussein Mattan, the Somali man who was the last man to be executed in Wales by having Crawford simply intone his name in song over and over, so that it would not be forgotten.
Any more than the fact that he was wrongfully convicted of a murder and so a name eventually cleared after the police admitted that the prosecution was flawed.
This was the last performance of a work that has toured Wales and now been captured on CD and released by Tŷ Cerdd. It was a rare pleasure to listen to such challenging and provocative music in Cardiff and music which is so relevant too, taking us into troubled history and questioning the accepted version of past events.
Mark it down as very successful musical experiment. One could imagine a spectral Miles Davis, fresh from the show he played in St David's Hall in 1988, watching on from the wings, looking on through some of those trademark outsize shades he wore towards the end of his playing career, saying 'Blow, man, blow.'
---
Support our Nation today
For the price of a cup of coffee a month you can help us create an independent, not-for-profit, national news service for the people of Wales, by the people of Wales.