Culture
Review: Cymru Ddoe – Mewn Lliw a Llun by Gwyn Jenkins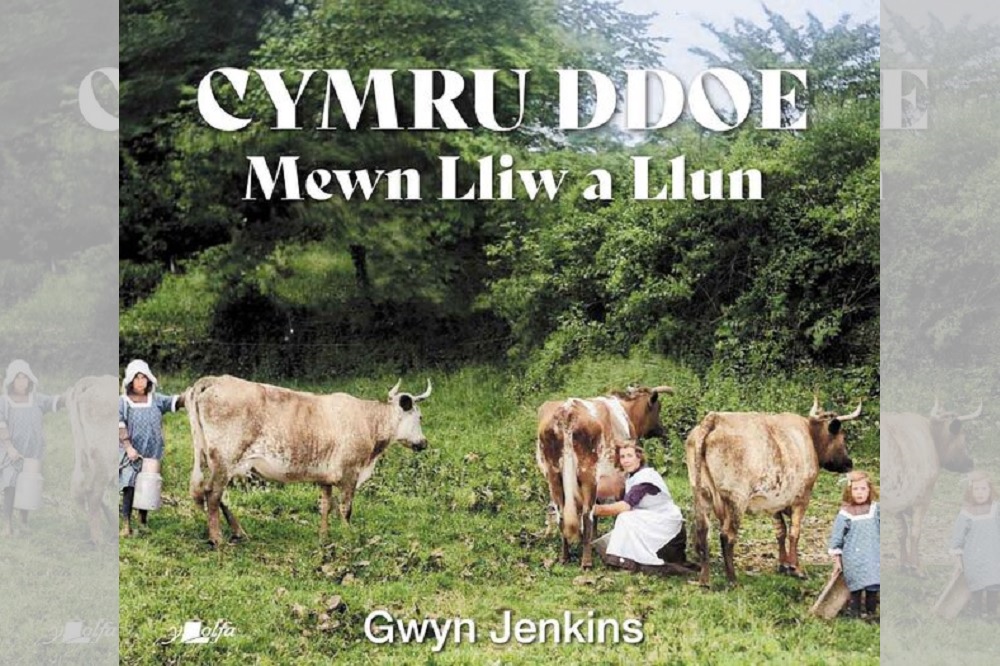 Jon Gower
If you're intending to do a bit of time-travelling there's no need to equip yourself with a Time Lord's Tardis-come-blue-police-telephone box to do so.
Just get a copy of this photographic engrossing and evocative account of life in Wales – spanning the period between the middle of the 19th century and the mid 20th century – and be duly transported.
You'll be given vivid glimpses of yr hen ffordd Gymreig o fyw, the old Welsh way of life as it was lived in all parts of the country. Or as the volume's title has it, here is yesterday's Wales, both in pictures and in colour.
Documentary
The photographs derive from the cultural-treasure-filled vaults of the National Library of Wales in Aberystwyth and in some instances come with added colour, bringing the documentary nature of the black and white originals to life as flesh-tones are added to faces and sepia is replaced by a brighter palette, although these are never more than pastel shades and always properly muted. They are therefore in keeping the age and provenance of the pictures.
The book's editor, Gwyn Jenkins, concedes in the preface that this updating technique might not please everybody but reminds us that the originals are there to see on the Library's website whilst also reminding us that colorisation has been practised as far back as the early dawn of photography and continues to this day, with still and moving film, such as Peter Jackson's They shall not grow old, which tinted images from the First World War.
The book is divided into three parts and the first concerns itself with town and country and as the cover photograph attests, these often register work, and ways of working that have disappeared as surely as has the rasping call of the corncrake.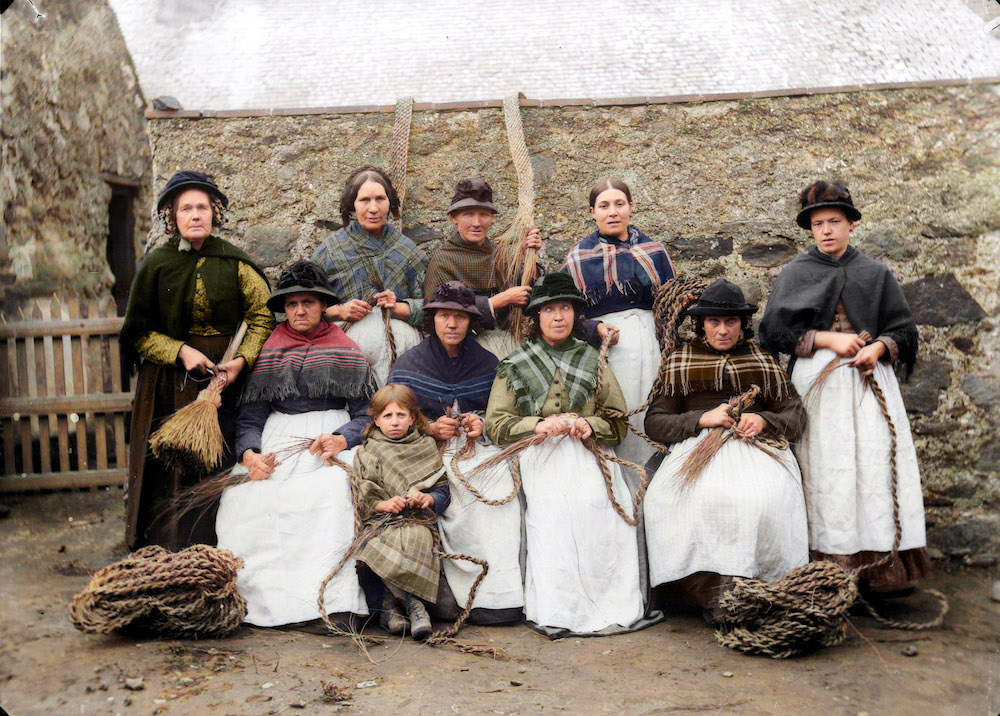 Plait and weave
There is the fascinating snapshot of life in late Victorian Anglesey, when workers would gather the tough cords of marram grass stems from coastal sand dunes to plait and weave to make rope and brushes.
It is likely that one of the women in this group in Aberffraw was blind but could yet make a living from working the morasg.
Then there are the stern-looking, axe-wielding and moustachioed members of the Welsh Goat Breeders' Association, a society established in 1928 at a time when the animals were very popular with smallholders who couldn't afford a cow but could source their milk from such Welsh goats.

A woman's lot
When people were fortunate enough to own a cow it was often a woman's lot to milk it and in an age which was pre-milking parlours the work might be done outdoors, whatever the weather and with children lugging the churns and pails.
As the informative text that accompanies the image tells us, should an animal stop producing its daily quota of milk this could be disastrous for a poor family and should this happen then witches and fairies would often get the blame.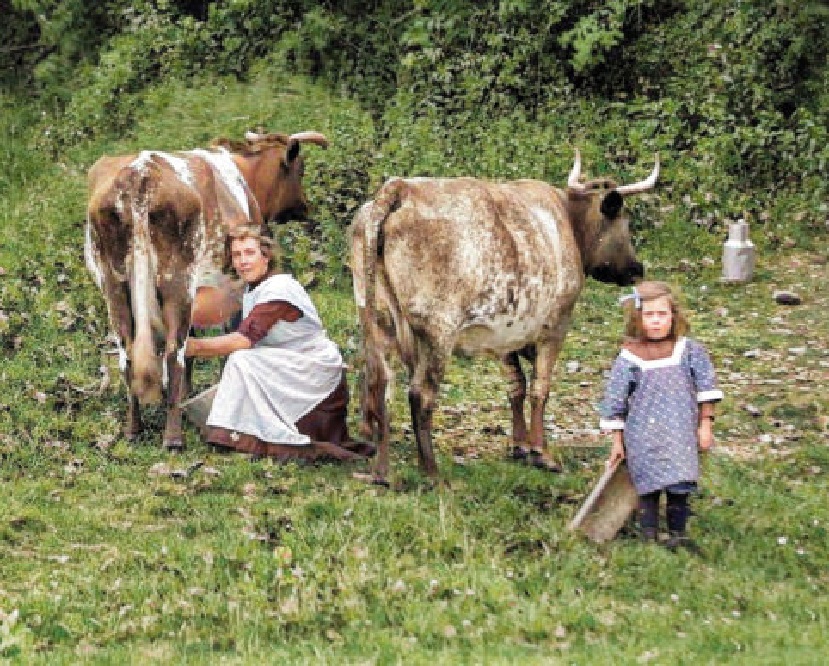 Disaster
The second section of the book covers events including the terrible pit disaster of 1913 at Senghennydd, the unveiling of the statue of the great pacifist Henry Richard in his native Tregaron and the first ever international Eisteddfod in Llangollen in 1947.
There are rail accidents and street parties to mark the Festival of Britain in 1951 as well as a real old mudbath in Machynlleth during the Royal Welsh Show which was held in the town in 1954.
This prompted a discussion which ultimately led to its finding a permanent and by now familiar site in Builth Wells in 1964.
Real characters
And then there's a closing section of arresting portraits, all of them marvellous characters, from poets to preachers, from rural bellringers through Aneurin Bevan and footballer Billy Meredith to Carmarthenshire cockle pickers and members of the Land Army.
One of the most memorable faces in this veritable gallery of a chapter is corduroy-clad old bachelor Tom Williams Lamia. He, along with his sister Anne Owen, kept a public house called Lamia in the village of Bodedern on Anglesey.
His eyes fix you like gimlets, while his shadowed cheek-bones seem to be hollowed out by years of hard work.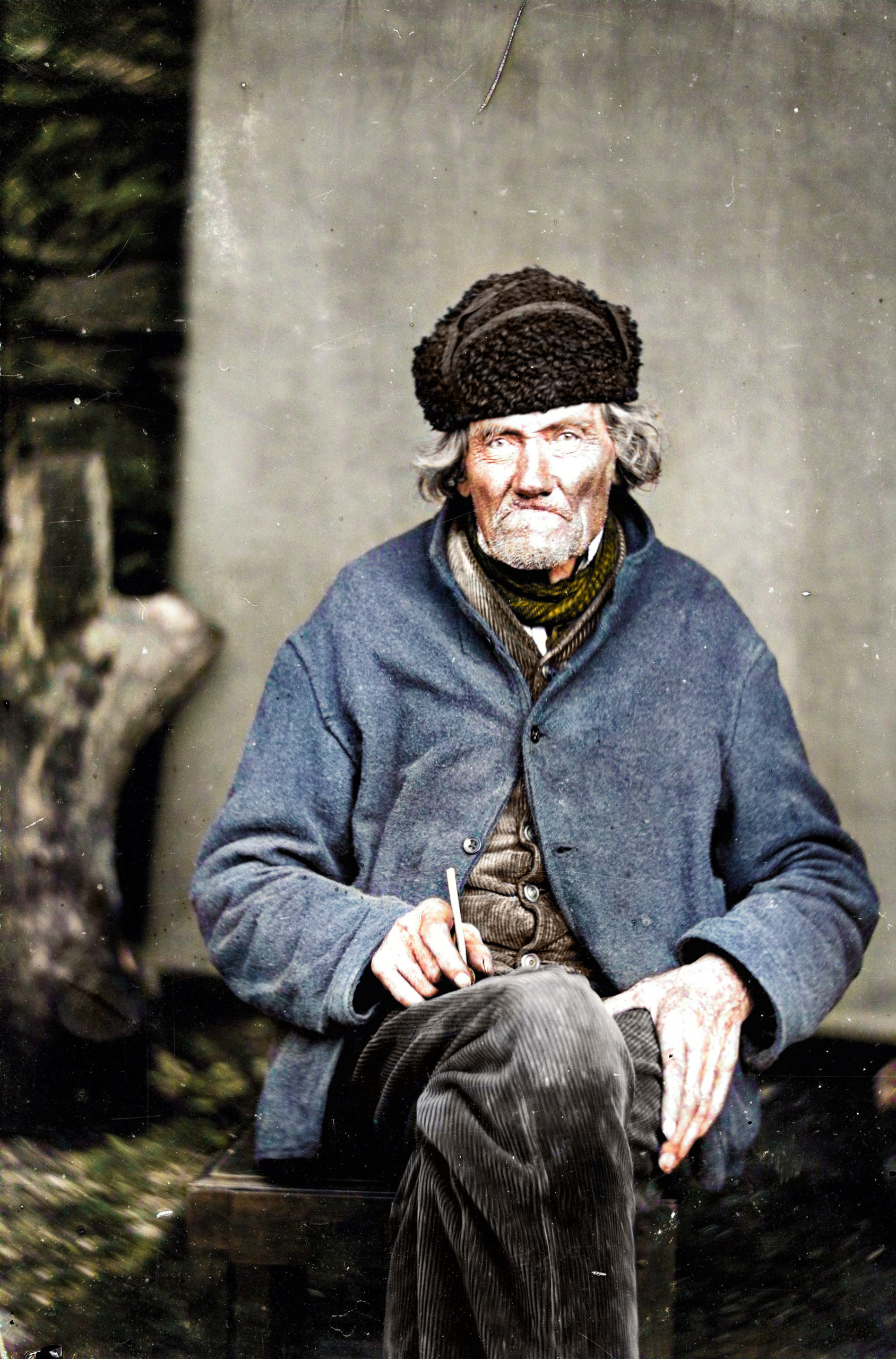 Changing times
As you peruse the collection you'll see various changes of dress and fashion, from the black-cloaked inhabitants of the alms house for the poor in Cerrigydrudion, who look as if they've strayed in from a Dickens novel to the unexpected sight of granite quarrymen in Llithfaen wearing what seem to be straw boaters on their heads.
Times change and with that too the modes of transport and so we see the age of the car being ushered in and the mechanisation, in turn of agricultural life, with mechanical harvesters replacing the scythe and the sweat of one's brow.
Cymru Ddoe: Mewn Lliw a Llun is an absorbing read as well as an extremely atmospheric volume, complete with the tang of new-mown hay, the feel of hard work and the sharp taste of the past.
The judicious selection of images means that there are images here from every Welsh county and every walk of life and every class to boot. If a picture paints a thousand words, then these images speak many volumes indeed.
Cymru Ddoe: Mewn Lliw a Llun by Gwyn Jenkins is published by Y Lolfa. It is available from all good bookshops or you can buy a copy here.
---
Support our Nation today
For the price of a cup of coffee a month you can help us create an independent, not-for-profit, national news service for the people of Wales, by the people of Wales.