Culture
Review: Cymru Fydd by Wiliam Owen Roberts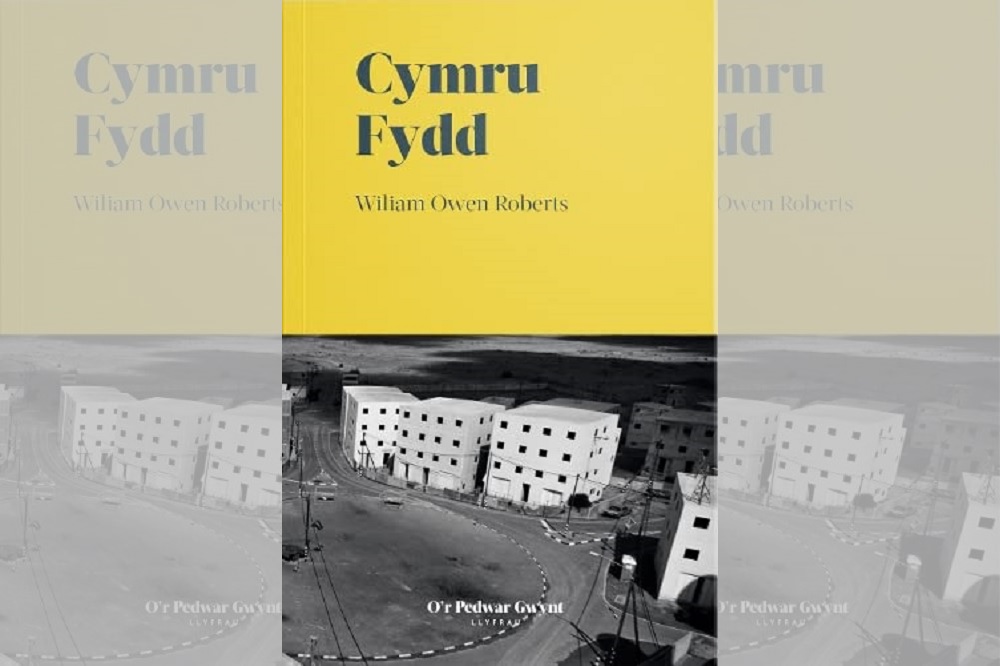 Jon Gower
Wales has changed dramatically by 2090. The coastal cities of the south have been inundated as a consequence of sea level rise, so Cardiff is now a bay and the Welsh capital has migrated to Merthyr.
The land itself has altered enormously: some areas have desertified and the trees are certainly now those of warmer climes, with banyan trees, bamboo thickets and swathes of olive groves on the desiccated hillsides.
A great war has led to many more people being dispossessed and many refugees, some styled as Dychweledigion o Dras, now want to return home. Many live in what used to be England, now divided into four zones, much like the city of Berlin after a much, much earlier war.
And there are new cities, too such as sprawling, divided Oswestry or the new Carmarthen, rising from the ruins of battle. Caernarfon is twinned with Cartagena and the new world order has seen the United States sunder.
Dissent
But the new sovereign state of Wales, created in 2049 in the wake of violence is riven with dissent, with simmering discontent turning into civil disobedience and threatening to spill over as a full-blown civil war.
The refugee camps in what used to be the borderlands, in places such as Whitchurch and Pontrilas are tense enclaves of the so-called Cymrics. A terrible bombing in Llanidloes has killed and maimed. New prisons have mushroomed such as Pumlumon, Scranton and Llanfaches to house dissenters.
Add to this a new wave of Christian evangelism and it's little wonder that Wiliam Owen Roberts' latest novel has an end-of-days' feel about it, even if the peace summit in Shanghai is going well and the living is relatively easy for some members of the political class.

Dystopian
Roberts isn't the first Welsh language novelist to try to vaticinate the future, of course. There was Islwyn Ffowc Elis' Wythnos yn Nghymru Fydd published by Plaid Cymru in 1957.
This classic predicted the shape of things in 1933 and included in the title a nod to the late 19th century movement Cymru Fydd, which promoted both devolution and David Lloyd George's reputation, and was recently translated by Steven Morris as A Week in Future Wales.
Then, more recently there was Llwyd Owen's terse and dystopian Iaith y Nefoedd which featured a Wales now bankrupt and one where the Welsh language has been forced underground.
But Roberts' powerful projection of the closing decade of our own century is its own creation, showing how a lack of unity dogs the creation of a successful state, or perhaps of two states living side by side.
Allegory
For a two-state solution to the tensions has been mooted, and, in this ,the novel seemingly edges into allegory about Palestine, a sense shored up by the olive-groves described in the novel and indeed by Josef Koudelka's cover photograph of the Israeli urban training camp at Ze'elim, where a version of Palestinian streets was created much like the fake village on the Epynt in Wales, both to help train soldiers for combat in urban situations.
And just as Palestine has its Palestinian Authority, established following the Oslo Accords, so too does this imagined Wales have a Welsh Government Authority, Gwladwriaeth Cymru, established after the Beijing Peace Process.
As the Chairman of the Wales Liberation Movement, Gregory Goffin explains in a speech:
Even as I speak, Gwladwriaeth Cymru remains safely in the folds of the major players in the international community, China, India and Brazil, who assiduously protect its interests and obsession with secuity measures. What we are up against is a tightly controlled entity which fashions its own reality, whereby the Cymrics are civilized peacemakers, righteous in their struggle, their daily oppression a mere aggressive defence, while they portray us as terrorists and racists who are hell-bent on turning Wales back into what it was before 2049.
So, just as there's a Welsh government there's a government-in-waiting, too, which wishes to base its headquarters in West Oswestry, a huge metropolis which borders with East Oswestry, with its dirty shanty towns and dusty districts such as Kalahari I and Kalahari II.
Torture
At the heart of the challenging topography of Cymru Fydd is Koi, a young man caught stickily in webs of deceit, be they personal – cheating on his wife Xennie , a 'gobby PFLW type' – or being possibly used by Rhys Ddwfn, the Stasi or Mossad-like secret police that keeps tabs on people and happily employs torture to extract truths or confessions.
Koi is one fixed point in the story until he starts to change name according to circumstance and this in a story which has a welter of names.
Political parties and their acronyms have proliferated so that different ones proclaim their allegiance to One Wales, to Patriotism, to Workers and to Equality in turn.
There is the Wales Liberation Movement and the Popular Front for the Liberation of Wales not to mention the newly formed Plaid Wladgarol Cristnogol with its Christian precepts.
Blade Runner
It's clear that Roberts – one of the most seriously intellectual and sharply analytical Welsh language writers – has had a lot of fun in creating his vision of a decade in a future Wales, with its secret police headquarters in Penmaenmawr, its laser train cutting through tunnels in Eryri – fully able to travel from Holyhead to Chepstow in forty minutes flat – and occasional sightings of camels.
People smoke gangji-ji from East Greenland, communicate via holomobs and down drinks made from artificial fruit.
There are rickshaws stands, orchards of bamboo and clothes made from recycled plastic, all bringing a touch of Blade Runner to what used to be South Shropshire.
Enslaving
But there's the serious side to the novel too. One of its epigraphs is by the Israeli novelist Amos Oz who maintains that the real tragedy of humankind is 'not that the persecuted and enslaved crave to be be liberated and to hold their head high. No. The worst thing is that the enslaved secretly dream of enslaving their enslavers. The persecuted yearn to be persecutors. The slaves dream of being masters.'
That's perhaps one of the key ideas in play in this sophisticated, ambitious and troubling book. Why troubling? Well because it suggests that factionalism, together with a seeming stubbornness on the part of the Welsh to resist the very notion of unity will pertain long into Wales' future, suggesting, perhaps, that this is something to guard against right now, before the great sand storms come.
Cymru Fydd by Wiliam Owen Roberts is published by O'r Pedwar Gwynt and is available from all good bookshops or you can buy a copy here.
---
Support our Nation today
For the price of a cup of coffee a month you can help us create an independent, not-for-profit, national news service for the people of Wales, by the people of Wales.