Culture
Review: Dr Henry Hicks: The Life and Times of Dr Henry Hicks of St. David's and the Bubble that Refused to Burst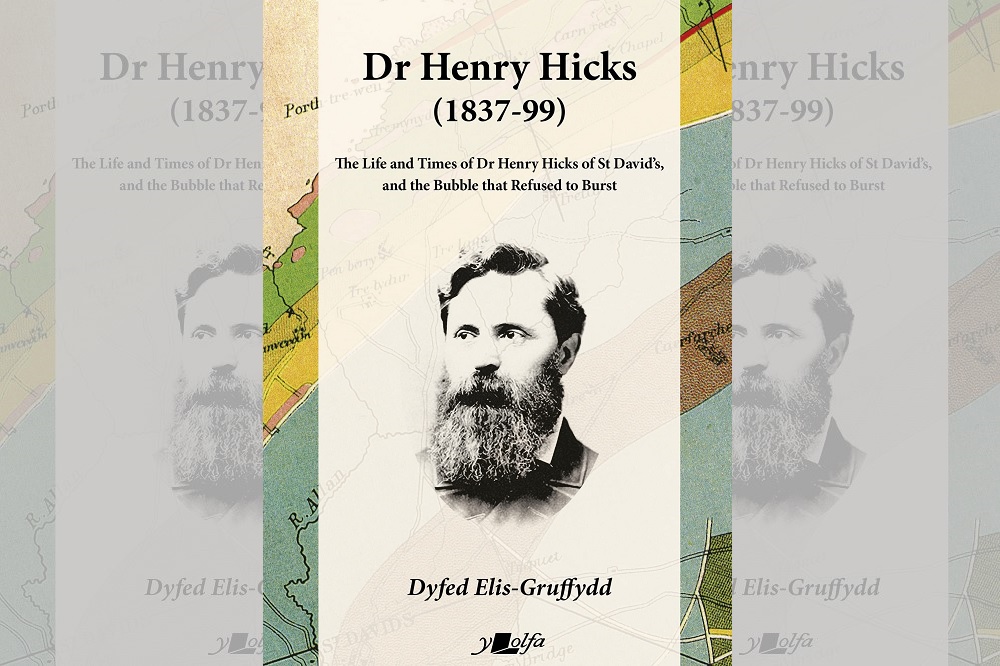 Jon Gower
Dyfed Elis-Gruffydd has done so much to celebrate the geology and landscape of Wales. His book '100 Remarkable Vistas' took us on a journey around some of the country's finest scenic locations while he also compiled a dictionary of geology and the earth sciences in Welsh, as well as lecturing on the subject and finding time to chair Cymdeithas Edward Llwyd, the Welsh language naturalists' society.
In the subject of his latest volume, Dr Henry Hicks, he seems to have found a kindred spirit, a man also blessed with 'unflagging energy' as well as a deep curiosity about rocks and time, and what they say about each other. Hicks, a sometimes irascible figure and thorn in the side of the geological establishment is, the book argues, sadly overlooked. This crisply written, beautifully presented little volume, full of maps and photographs will go some ways towards changing all that.
Long, long history
Hicks, a native of St David's was a doctor there, finding time to explore the rocks in the area and publish papers about their long, long history. After attending college in London Hicks initially loved with his mother and sister in a house adjacent to the Druggist's House on Cross Square which he used as his temporary surgery. But after he married Mary, a local vicar's daughter and started a family he suddenly decamped to Hendon, which was, at the time a small village north-west of London. It was all a bit sudden, with one explanation being that mooted in an obituary:
At that date [i.e the decade following the publication of Darwin's The Origin of Species] geology was not favourably regarded in clerical and county circles and to be suspected of it might have been injurious to the young practitioner. So, as Hicks used to relate in later years, he had to carry on geological investigations behind the screen of professional duties, and his servant must have often wondered at his master's fondness for leaving his carriage to walk home across the moor or along the cliffs.

Hicks' status as an amateur was a problem for many in the scientific establishment and so this sprightly monograph chronicles some spirited spats he had with some of the haughty academics such as Sir Andrew Crombie Ramsay, who arrogantly tried to dismiss his work. Those spirits rose when some of his hypotheses turned out to be spot on, not least his work on the rocks of Llŷn and the pre-Cambrian ones of his own patch of Pembrokeshire. And Hicks seemed to enjoy a good intellectual scrap, being immodest, arrogant and quick-tempered, and more problematically perhaps, because he was a man, who, 'In drawing conclusions…was very quick – too quick – in publishing them.'
Trilobites
Hicks found out about many things as well as finding a lot of things physically. In Pembrokeshire he amassed a trove of trilobites and other fossils. He found the bones of mammoths under London streets and published no fewer than ten learned papers about two caves, Ogof Ffynnon Beuno and Ogof Cae Gwyn near Tremeirchion in the Vale of Clwyd. In these he offered evidence that the bone bed here included the remains of hyena, horse, rhinoceros and mammoth as well as flint instruments, not to mention that the whole of it was overlain with glacial deposits of Irish Sea derivation. Moreover he argued that very early man had wandered here before the Glacial Period.
Honours
For all of these explorations, investigations and suppositions he was awarded many honours, not least the Presidency of the Geologists' Association and, latterly of the Geological Society of London. Along life's way he led excursions across north Wales, where he enjoyed the learned company of the great American palaeontologist Charles Doolittle Walcott, who had famously found important and unique fossils in the Canadian Rockies. The two men might well have bonded because Walcott was, like Hicks, a man without any formal scientific training in geology. They stood apart from the institutions and universities.
Recognition
Hicks, who died in his late sixties, didn't live long enough to finish what might have been one of his most significant books, being The Oldest Rocks in the British Isles. But as Dyfed Elis-Gruffydd argues at his book's end Hicks had certainly done enough to deserve more recognition, especially perhaps in St.David's, where the author suggests siting a plaque might be appropriate. And just to oil the wheels of such civic recognition he even supplies the words such a memorial might carry, underlining the point of the book, which is to give a pioneer of the so-called 'Heroic Age of Geology' just a little of his due.
Dr Henry Hicks: The Life and Times of Dr Henry Hicks of St. David's and the Bubble that Refused to Burst is published by Y Lolfa and is available from all good bookshops.
---
Support our Nation today
For the price of a cup of coffee a month you can help us create an independent, not-for-profit, national news service for the people of Wales, by the people of Wales.