Culture
Review: Drawing from the Well, Song of the Water, Saint Aidan of Ferns, The Bright Plain and The Oldest Music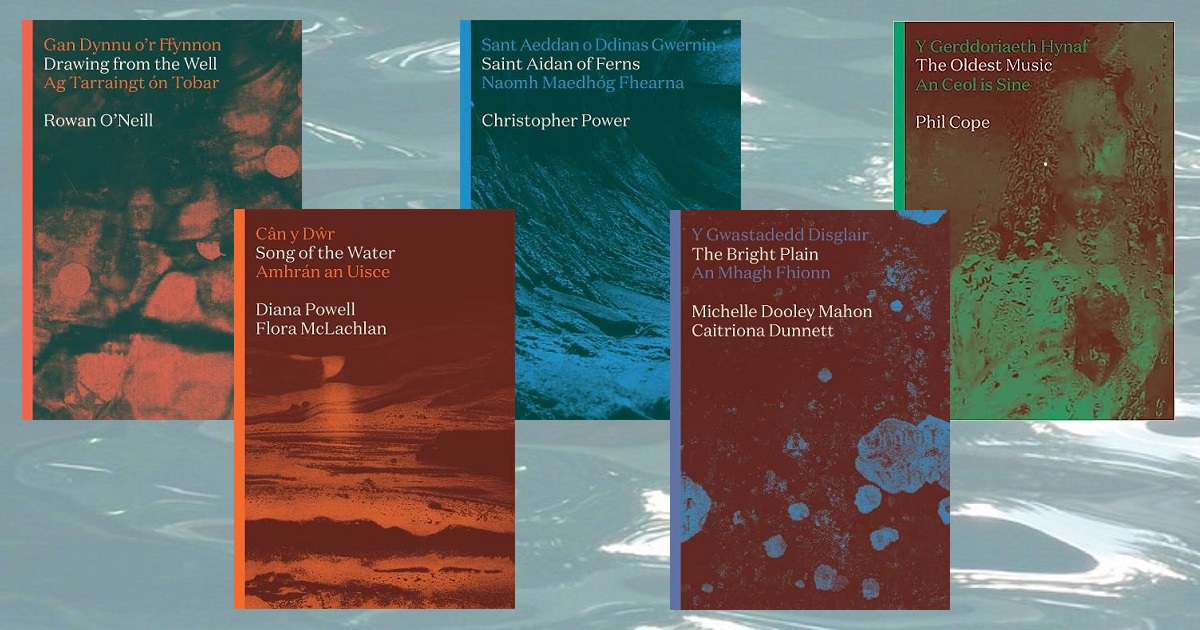 Jon Gower
This beautifully designed and presented series of five tri-lingual chapbooks explores connections between Wales and Ireland, concentrating on holy wells on both sides of the Irish Sea, from material which then fans out to include links between Welsh saints such as St David and Irish ones such as St Aidan.
The first volume, The Oldest Music is an assemblage of poetry, old and new, selected by long-time well enthusiast Phil Cope.
His very evocative photographs of wells in Wexford and Pembrokeshire are little works of art in themselves and complement work poetic work spanning the 15th century account of a visit to St Non's Well by Lewis Glyn Cothi to modern visits and evocations of those at St Cooraun's Blessed Well near Enniscorthy, County Wexford and St Nicholas in Pembrokeshire by poets such as Julian Cason, Grace O'Reilly and Angela Graham.
Atmospheric
The second volume is made up of two crisp little short stories by Michelle Dooley Mahon from Wexford, this time accompanied by atmospheric cyanotype prints by Caitriona Dunnett.
These shifting shapes match the interplay in the tales between the present, in which a woman seeks help for a cancerous growth from a healer called The Deacon and the past.
The Deacon, with his poultices and old, old knowledge, harnesses old wisdom to treat the malignant melanoma because:
The old people of Tomhaggard knew the secrets of the land, Fairy rings, Fairy trees, Brigid's Crosses, boggy marshes, flattened grasses, the warm smell of cattle from the fields, the importance of fresh water and the beliefs attached to it. They knew winds and seasons from sky watching, hanging over five-barred gates chewing a blade of grass, watching cloud formations to save hay.

Miracle working
The third book in the series offers a brief but illuminating biography of Saint Aidan of Ferns. This manages to pull together the story of a very holy life from scanty material, as much of what we have to go on comes from hagiographies published a long time after Aidan's days.
It shows how both Wales and Ireland featured in the life of a very well-travelled and highly literate man who was 'obviously a superb organiser and good administrator who inspired those around him.'
His CV could also include the working of miracles, such as bringing people back from the dead, which would have put him in a different league of job skills altogether.
Otherworldly
The fourth volume in the quintet is made up of two magical and magic-infused stories by Diana Powell, melded with otherworldly etchings by Flora MacLachan.
The second tale, A Pilgrim Wife is set around that remarkable well at Llanwnda, just outside Fishguard and is written in compact prose which assembles some basic elements of life – blood, water and bone – from bright shards of language.
'The ribs of the earth, she guesses. No tendril roots. No cossetting pillow. Instead, an ungiving ground. On the hill, it breaks from the soil up, towards the sky. She climbs this jumble of rocks to fix where they are, and sees how it is one of many, stretching across the headland – a spine.'
Healing properties
As if to confirm the range of approaches in this mini-collection the contribution by Rowan O'Neill is perhaps the most personal.
In 'Drawing from the Well' the artist, writer and performance maker from Felinwynt, Ceredigion takes water from the place where she was baptised over the sea to Ireland, a country which, for her has connections both familial and musical.
There is nothing new about travelling between wells, but O'Neill turns her journey into a condensed, meaningful psychogeography as she connects the histories of drought in both Wales and Ireland, considers the nature of liberty and ponders the weight of meaning carried by place-names.
O'Neill also considers the specific healing properties of wells when it comes to curing ailments of the eyes, for which many individual sites were renowned.
This assortment of chapbooks, born out of the Ancient Connections project and drawing on the work done to establish the Wexford-Pembrokeshire Pilgrim Way, can stand alone or can equally be read in tandem or indeed in sequence as they constitute a fine little series.
Each one is the sort of beautiful object you might well turn into an offering, a gift of thanks for helping you see things better, to understand the world a little more clearly.
Drawing from the Well, Song of the Water, Saint Aidan of Ferns, The Bright Plain and The Oldest Music are published by Parthian. They are available from all good bookshops.
---
Support our Nation today
For the price of a cup of coffee a month you can help us create an independent, not-for-profit, national news service for the people of Wales, by the people of Wales.