Culture
Review: Energy – The Great Driver by R. Gareth Wyn Jones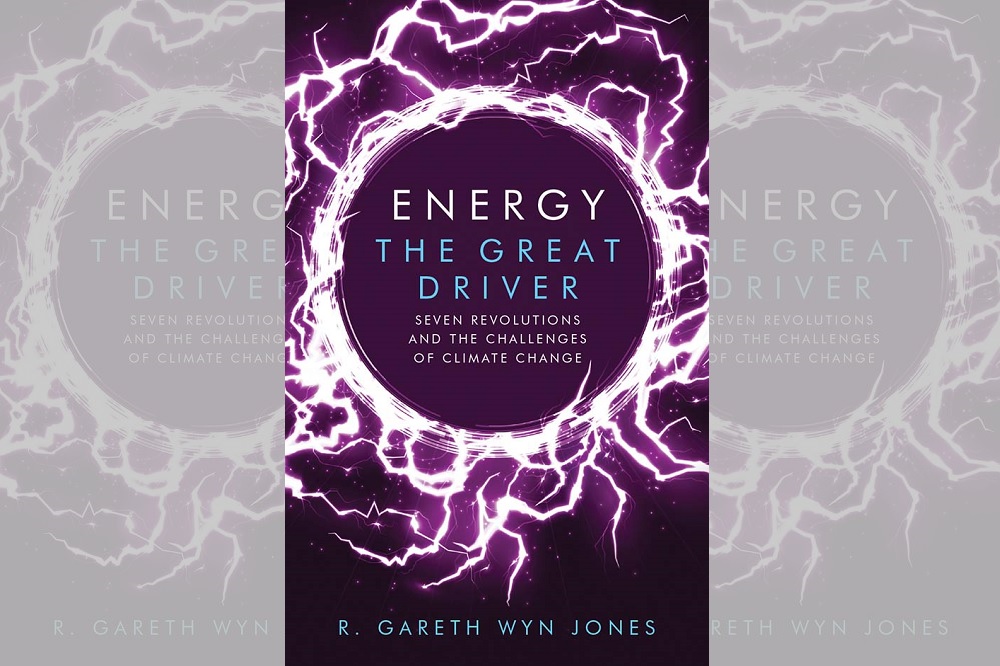 Jon Gower
As the subtitle of this deeply considered and powerfully argued book tells us, this is an account of seven energy revolutions, spanning 4 billion years. It therefore covers many kinds of life-forms, from the most basic single cell animals found in thermal vents in the sea through to the most dominant species in the history of the planet, namely humans.
It also covers different kinds of energy exchange, from that necessary to bring life itself into being to the fossil fuel burning that powered the industrial revolution, which was a 'shattering event' when 'mankind found ways of accessing and exploiting hundreds of millions of years of geologically stored, modified photosynthate – fossil hydrocarbon fuels…'
One of the most striking timescales is measured by the gap between revolutions which have been getting much, much smaller so whereas some of them were separated by over a billion years to more recent ones which have been a mere 200 years apart.

Seventh revolution
It's not an easy read for a non-scientist, especially the opening chapters, but Professor Jones – an Emeritus Professor at Bangor University – helps the layman or generalist in great measure by constantly finding accessible analogies, or drawing on examples from his native Wales along the way.
It's also a challenging read when one realizes that the whole book is leading up to the overwhelming profligacy of the seventh revolution, which is happening right now with all of the gargantuan problems of the climate emergency and global warming. This is especially salient when one reads that much human wealth derives from energy consumption but that:
In the context of the seventh revolution, many of those with 'wealth impunity' have the heaviest carbon footprint. Some are the direct recipients of coal, gas or oil wealth. In turn they have the most to lose from an equitable resolution, perhaps indeed any solution, of the seventh revolution. Their status and affluence appear at stake and they have the ability to dissemble, promote misinformation and exploit the social media to protect their self-interest and, maybe, in their own perceptions to buy themselves out of any trouble.
This makes now, in the geological era named the Anthropocene – because man is now the principal agent of change – a time of enormous challenges, not least when 'the political will and economic commitment to combat global warming has been tepid.'
Urgently timely
'Energy: The Great Driver' is a bold and urgently timely book full of stimulating ideas and information, such as the fact that, as a species, Homo sapiens devotes a quarter of the energy consumed each day in the form of food to keeping the brain working, as the activities of neurons and their associated cells require formidable amounts of energy. But we use energy for so much more than thinking. Even the data storage for this article needs energy.
Humankind is demonstrably part of the problem. In Britain in 2007 the average individual energy use was estimated to be 195 kWh per day, or the equivalent to 250,000 food calories per day. While a person might only require 3 kWh of energy from food each day, it takes a substantial investment of energy along the food chain, in fertilizers, farming, agrochemicals and the like.
And even the huge energy consumption in the primary food budget is as nothing to the energy spend of transport on land and sea, on heating homes and buildings (or cooling them where necessary) not to mention air travel, the needs of industry and the simple act of consumption itself.
Biomass
Recent work on biomass has come up with some startling results. Plant biomass, on land was found to be two orders of magnitude greater than marine biomass while the human biomass 'is now an order of magnitude greater than of all wild mammals combined. Humans and their livestock outweigh all vertebrates with the exception of fish.'
This is huge in and of itself but then one learns that from the dawn of human civilization onwards, the amount of living matter on Earth has fallen by a half, suggesting not only are we reducing resources but are also decreasing the total available to all life.
Calamity
Sobering and penetratingly argued, this is a book which starts in the ruins of the Syrian city of Aleppo, which the author knew before it was destroyed by the calamity of a civil war and sees as a possible harbinger for a stormy and violent future for people in other parts of the globe as poverty and environmental degradation ignite violence or force people to leave their homelands.
Questions about survival proliferate almost in tandem with man's profligacy. Or as the historian Arnold Toynbee once asked: 'Will mankind murder Mother Earth or will he redeem her?'
R. Gareth Wyn Jones, for all the deep learning on display in this fine volume, readily admits he simply doesn't know the answer.
Energy: The Great Driver by R. Gareth Wyn Jones is published by the University of Wales Press and is available from all good bookshops or you can buy a copy here.
---
Support our Nation today
For the price of a cup of coffee a month you can help us create an independent, not-for-profit, national news service for the people of Wales, by the people of Wales.