Culture
Review: Fighting to Speak – Rugby, Rage & Redemption by Mark Jones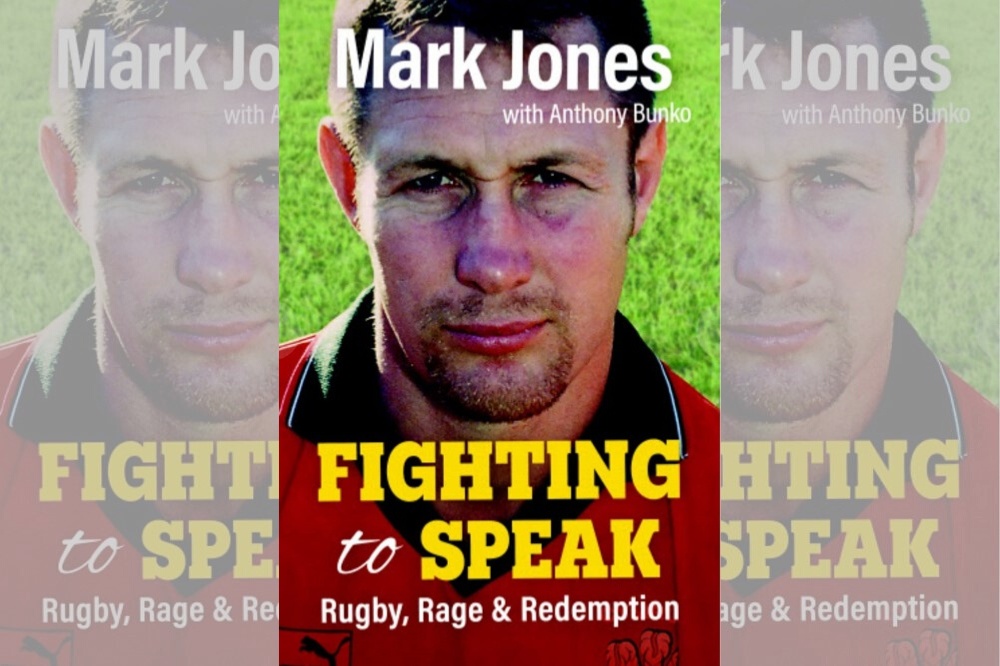 Rhodri Davies
"There hasn't been a day that has passed where it hasn't affected the way I've behaved, the way I've felt, the way I've conducted myself. It has led to a rollercoaster ride through the dark emotion of self-loathing, hatred, anger and endless insecurities. It has shaped everything I've ever done."
If you remember Mark Jones the player, and if the word 'brutal' immediately springs to mind, then here is Mark Jones the man – not brutal, but brutally honest – as he lays bare his soul in print.
Violent
He was sent off six times and banned for over 33 weeks for violent conduct. Yet his playing career spanned over twenty years, from the mid-eighties to the early 21st century, and he reached rugby's heights with Neath, Hull, Warrington, Ebbw Vale and Wales.
Team-mates, friends, reporters and a fair few fans would have been aware of Jones's speech impediment during those years. Few would have given it too much thought, or dared to try to broach a subject which was plainly difficult.
Yet the ever present, never confronted stammer 'maketh the man' in so many ways. The opening passage of Fighting to Speak confronts the reader with that starkest of realities, a condition which Jones himself admits "has owned me."

Frustrations
From his childhood in Tredegar to his many travels, his has been a life of vicious circles, where even the most seemingly natural situation could lead to unwanted drama.
For most players of a certain vintage, a post-match game of 'Buzz' in the local pub was a traditional, youthful right of passage, but for Jones, one such occasion led to a night in the police cells – all started by his inability to say the word 'Buzz' out loud when his turn came.
That meant a fine… which meant more drinking… which meant frustrations building…
Even a pre-school stop at the local sweet shop could induce panic, with the ever present danger of being asked what he wanted at the counter. His struggle to communicate would inevitably end in shame and embarrassment.
Through what Jones described as "physical and mental bullying" during his school years, he managed to take solace and find a vent for his frustrations on the rugby pitch, where his talent and tenacity spoke on his behalf.
Born and raised in a working-class home, many elements of Jones's early life will strike a familiar chord with Welsh readers, from outside toilets and tin baths at home, to the family 'box room' – barely bigger than he was – where he slept until the age of 25.
As he explains with self-depreciating humour, by the time he left that room, he'd already won over a dozen Welsh caps.
Glory days
Rugby fans will love the behind the scenes view of Jones's glory days with the great Neath side of the 80s, of his trials and tribulations with the national team, followed by frustration and jubilation with Hull, Warrington, Wales and Great Britain after he made the move to Rugby League.
It may be a leap of faith to liken those years at the Gnoll, where the squad "didn't see or touch a ball for the first hour" of training, to Barcelona's golden era, since no-one ever did anything at La Masia without a ball at their feet. Yet Jones is insightful and revealing on a range of subjects, including the current concussion arguments.
Even when discussing his international career though, the off-field elements are often the most intriguing. For all the confrontations with the equivalent hard men of Swansea, Bath, St Helens, Warrington and England, Jones was never out of his depth on the pitch, but having to deal with the press or having to mix with opposition players post-match took him way out of his comfort zone; "A nightmare scenario for me…my affliction was holding me back, controlling me."
Confrontation
And the underlying need to hurt (and be hurt?) was ever present. The instances of physical confrontation are dealt with unflinchingly.
None more so than the assault on fellow Welsh international Ian Gough, which effectively ended Jones's international career, but started him on the road to therapy and ultimate redemption.
His heartfelt regret and his acknowledged debt to national coaches Graham Henry and Steve Black brought on a realisation that things had to change; "The stark truth is that if Graham and Steve hadn't taken an interest in my wellbeing…my life would have been so very different."
Punches
But the biggest emotional punches don't come from the violence or the rugby. The passages on trying to find work, trying to tell his children bedtime stories, trying to make his wedding day speech, and especially on the death of his father – the things left unsaid and done until it's too late – leave a lasting impression.
Jones explains that his story is in fact that of three very different characters, 'On the Field Mark, 'After the Game Mark' and 'At Home Mark'. Those who flocked to the Gnoll, the Boulevard and the Wilderspool undoubtedly loved and admired the first two.
Many more will read about the third person and respect the courage it took to be truthful about 'At Home Mark', a tormented, tortured character whose long and ultimately successful fight to speak may prove to be an inspiration.
Fighting to Speak: Rugby, Rage & Redemption by Mark Jones is published by St.David's Press. It is available from all good bookshops or you can buy a copy here.
---
Support our Nation today
For the price of a cup of coffee a month you can help us create an independent, not-for-profit, national news service for the people of Wales, by the people of Wales.