Culture
Review: Finding Refuge by Andrea Hammel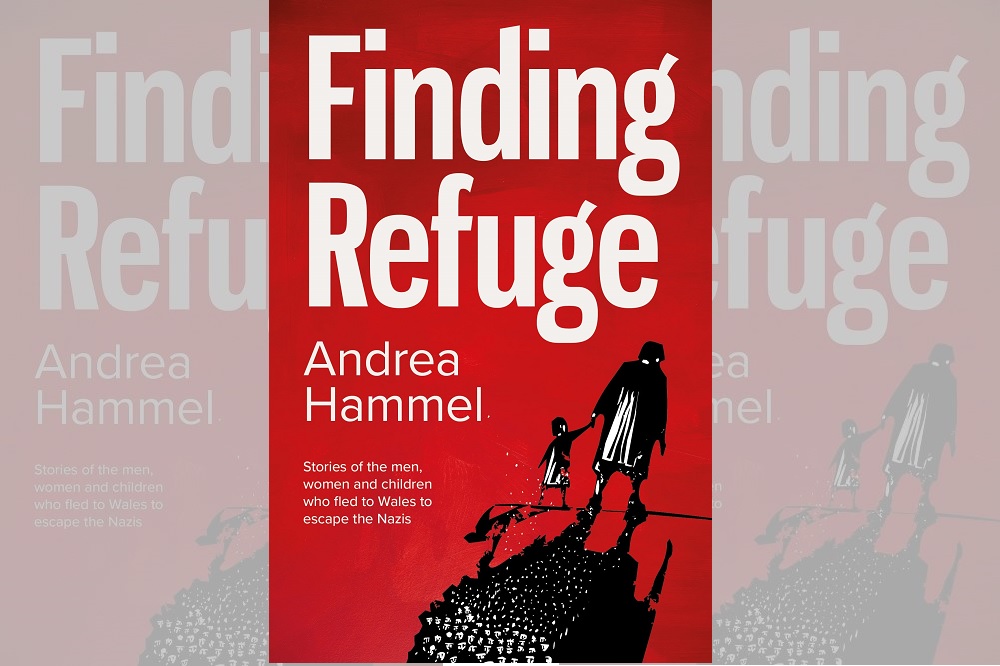 Finding Refuge is published by Honno
Rebecca Roberts
Finding Refuge recounts the stories of people who fled the scourge of National Socialism in the 1930s and 1940s and found refuge here in Wales.
Each chapter follows an individual Jewish refugee or family, describing their lives in Germany, Austria or Czechoslovakia prior to the rise of the National Socialist movement, their flight from their homeland, how they came to Wales and what happened to them following the war.
We hear the stories of refugees from all walks of life, from well-heeled business folk who viewed immigration as a potential business opportunity, to a very young girl fortunate enough to gain a place on the last Kindertransport out of Prague.
There are tales of lone refugees being taken in by Welsh families – some with kind and charitable intentions, and others with more nefarious aims – as well as collective efforts to rescue and house refugees, such as the Czechoslovak State School and the hachsharot at Llandough and Gwrych Castles.

Fearless
Hammel displays a truly impressive knowledge of Europe in the 1930s and 40s. She ably paints the social, political and economic complexities of the period, leaving us in no doubt that the British government prioritised sanctuary for the wealthy – those who could afford to invest in 'special economic areas' and whose arrival in Britain would prove a net gain rather than a financial burden.
The survival of many Jewish refugees was not down to altruism on the part of the government; rather it was largely thanks to the diligent and fearless work of various committees and charitable organisations, of brave rescuers and kind individuals willing to sponsor or host individuals.
It is difficult for the reader not to draw parallels to situations in recent history, which is why Hammel closes the book with a final chapter drawing apt comparisons between the historic and modern treatment of refugees.

Encyclopaedic
In the 1930s there were numerous ways to arrive in Britain as a refugee – economic migrant, travelling artist, child refugee, worker or servant – and Hammel documents many of these journeys in her book.
This almost encyclopaedic historical knowledge of the period, its governmental policies, refugee organisations and career opportunities (or limitations) for Jewish refugees is both paradoxically the book's strength and its weakness.
Even as an avid reader of historical books, so much of the information contained within Finding Refuge was new to me. For example, I knew that for many adult Jewish refugees the only hope of sanctuary in Britain was a work permit.
What I did not know was that these work permits acted as more a form of indentured servitude, and those granted one were effectively tied to a single household and were often forced to endure difficult conditions and live apart from their surviving family members.
Through individually recounted experiences we witness the machinery of wartime British bureaucracy at work, as well as both the best and worst of British society – saviours and abusers, sanctuary and detainment are presented side-by-side.
The wealth of detail regarding governmental policy, Jewish organisations, residential schools, permits, Pioneer Corps, hachshara and interment camps show Hammel to be exceptionally knowledgeable regarding this period of history.
The downside of such a breadth of knowledge is that the 'voice' of many of the refugees is often lost in the sheer volume of factual information, and whole decades and tragedies are condensed into a single line of text.
The most engaging chapters, for me personally, were those where the voices of individual refugees were most audible – such as Harry Weinberger and Renate Collins – and there were many instances where I found myself noting down names with the intention of further researching their remarkable stories.
Sanctuary
Many chapters were worthy of a book in their own right. The creation of the hachshara (Jewish agricultural training centre) based in Gwrych Castle near Abergele made fascinating reading – two hundred teenagers dumped in an almost derelict castle with dust 'inches thick' on the floor and left to carve out a sanctuary for themselves in a building with no conveniences or even basic amenities. What could possibly go wrong?
Perhaps because my family have farmed land near Abergele for generations, but this particular chapter really gripped me and left me wanting to know more about life in the hachshara.
It's possible that my great-grandparents and my Nain may have met or even employed some of the refugees based at the castle – but the story of the hachshara is not one I recall ever seeing in any local history books or articles (it only merits half a line on the castle's official website).
Compelling
Many of the stories told were compelling and left me wanting to know more – whereas others could have been omitted altogether. This is not me dismissing individual experiences as less interesting or important.
I feel that they could have been omitted as there was not enough meat to clad the bones of the narrative, or (as in the earlier chapters featuring Josef Herman or Edith Tudor-Hart) because their time in Wales was a brief sojourn in a much larger journey which has been more extensively documented elsewhere.
Catharsis
Dry as the facts sometimes were, I appreciated that Hammel did not take a historian's liberty of making assumptions about her subjects.
There is very little conjecture here. Her spare, matter-of-fact prose, which I initially was not keen on, made its necessity obvious as I sped through the chapters.
The subjects of Finding Refuge represent approximately 2,000 individuals (Hammel's own estimation) who escaped mainland Europe and came to Wales; but one's mind turns inevitably to the six million left behind who were murdered by the Nazis.
Virtually every chapter ends with a sentence describing how an entire family or even Jewish community died in a concentration camp. Even those who came to Wales, survived and put down roots here did not escape death.
Grief seems to have been their perpetual companion, and one can only hope that the experience of recounting their history and that of their families would have offered some catharsis for survivors.
My one major qualm with the book is the blurb which proclaims, 'The stories are harrowing and sad, but also funny and entertaining'.
Hammel's unemotional writing style and focus on socio-political matters avoids placing this book in the 'harrowing' category. It moves too briskly for heartbreak. Neither did I find it 'funny or entertaining'.
Rather, I found Finding Refuge to be a gently moving, engaging, thoughtful and though-provoking book which illuminates a little-examined corner of history. Hammel's immense respect for her subjects and their journeys shines through.
Finding Refuge by Andrea Hammel is published by Honno. It is available from all good bookshops.
---
Support our Nation today
For the price of a cup of coffee a month you can help us create an independent, not-for-profit, national news service for the people of Wales, by the people of Wales.