Culture
Review: From Hollywood to Wrexham by Peter Read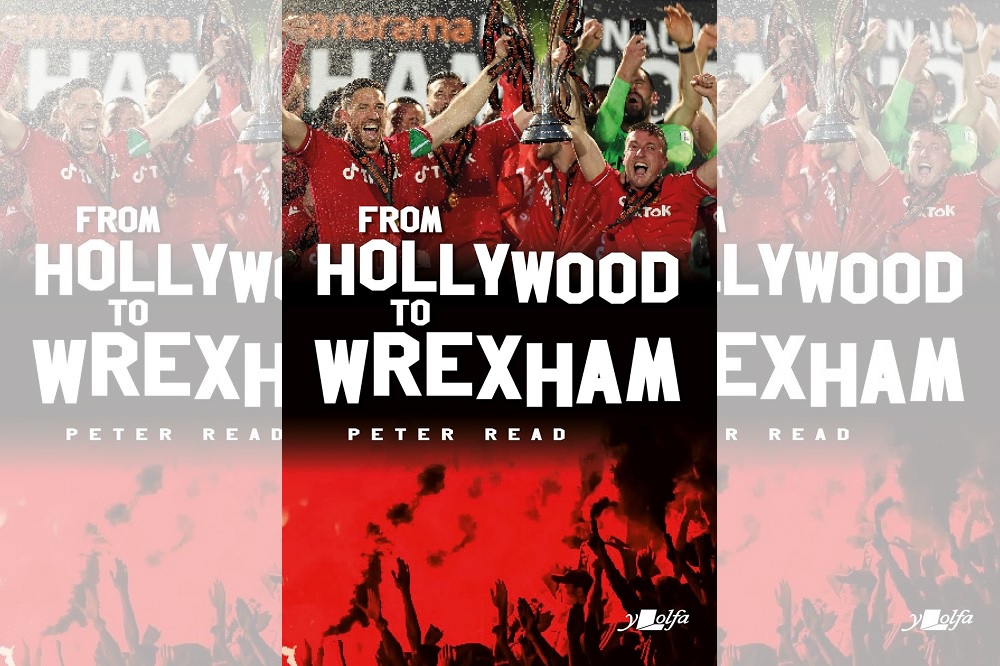 Leon Barton
Part diary of the past few seasons, part Fever Pitch-style football fan memoir, part primer/guide for Wrexham's new North American fanbase (there's even a table explaining the different meanings of words like hooker, bum and hoooter on each side of the pond) Peter Read's From Hollywood to Wrexham is a book without form. Almost inevitably, some sections work better than others. 
As with any Wrexham-related book in the Rob/Ryan age, credentials will have to be established to head off accusations of bandwagon jumping from the get go. This is exactly how From Hollywood to Wrexham starts of course. Which is fine, Read knows it has to be done and at least his story is more unusual than most. 
Growing up in the village of Rhosllanerchrugog, Read's father was a devoted member of the Plymouth Brethren Christian Church, an organisation that didn't believe in mixing with unbelievers. So his Dad wouldn't take him to games despite a passion for football taking hold at a very young age. As a result a neighbour – Mr. Gibson –  who worked in a local shop, started taking him eventually.
Read's vivid description of the 'awe-inspiring' atmosphere he experienced when he finally got to The Racecourse in the 1961-2 season is intoxicating. You can almost smell the cigar smoke and hear the incessant whirring of wooden rattles.
When, later on in the book, he describes his father imitating Newcastle United great Hughie Gallagher by doing shimmies in the kitchen, 'the happiness the memories brought was tinged with disappointment, as I remember that when I was young he was no longer interested in football'. It's a genuinely melancholic moment.

Gresford
Read does the family-related stuff expertly. To this end, the sixth chapter 'Who's been climbing the slag heap?' is the stand out. He uses the erection of a HOLLYWOOD-style WREXHAM sign on the Bersham slag heap in August 2021 to expand on his own family's mining history.
His father, Grandfather and two of his uncles all walked from County Durham to north Wales in the 1930s to find work (his father's four other siblings all settled in the Wrexham area too eventually).
The youngest, Lloyd, died alongside 265 others in the Gresford colliery disaster of 1934. Understandably, Read finds 'it difficult to romanticise about pits and slag heaps', so the sign stunts are something he's uncomfortable with.
 The chapter mixes the personal with the political, covering close to a century in just four and a half pages. It's surefooted, deeply moving, and straight to the point. 
Read also doesn't mince words when it comes to former Wrexham boss Dean Keates. I'm on the same page here as I think Keates was extremely lucky to get a second shot as boss after jumping ship for Walsall with just a few games of the 2017-18 season left to play.
Following their sackings in 2021, Read questions the club statement thanking Dean, Andy and Karl (Davies and Darlington, his assistants) which ended by stating they 'will always be welcome at the club' by simply asking 'will they?'.
Punchy
I just wish more of the book had been as punchy. 
Instead Read reaches for punchlines, something that only serves to highlight that comedy is far from his strongest suite. References to 'the Pope opening a chain of nightclubs in Rome' or looking 'like an actor auditioning for a part as Billy Bunter attempting to ascend the Eiger' feels like clumsy non-sequiturs rather than amusing asides.  
The book also would have benefitted from some judicious fact checking, as it's littered with minor factual errors. A few examples being 'The opening game of our life in non-league saw us thrash Stevenage Borough 5-1' (it was 5-0), that Wrexham were relegated from the third tier in 2002-3 (it was 2001-2) and the European Cup Winners Cup is 'now called the UEFA Cup' (it's not, the competition was discontinued in 1999). And that's just Chapter 1.
I realise not everyone is such a stickler in these matters but when you notice these things the cumulative effect is frustrating. It shows a lack of care, as if the book was being rushed out as soon as possible after promotion. Would it really have hurt to delay the release by a week or so to get it fact-checked?
Opinions
It's also a shame that, having mentioned the increasing number of women and children now attending games, the section 'A few fans tell it as it is' only gathers opinions from men that are roughly Read's age.
The author's defence of 'if I tried to cover every sector of fan I fear we would need at least ten books' rings hollow. Surely canvassing a few opinions from women and youngsters wouldn't have been difficult, and would have added some depth, variety and humour ('kids say the darndest things' and all that).
In terms of both content and style, this is a book of highs and lows, rough and smooth, frustration and elation. In this sense, I suppose it does a pretty good job of summing up life as a Wrexham fan.
From Hollywood to Wrexham by Peter Read is published by Y Lolfa. It is available from all good bookshops.
---
Support our Nation today
For the price of a cup of coffee a month you can help us create an independent, not-for-profit, national news service for the people of Wales, by the people of Wales.