Culture
Review: Gay Aliens and Queer Folk – How Russell T Davies Changed TV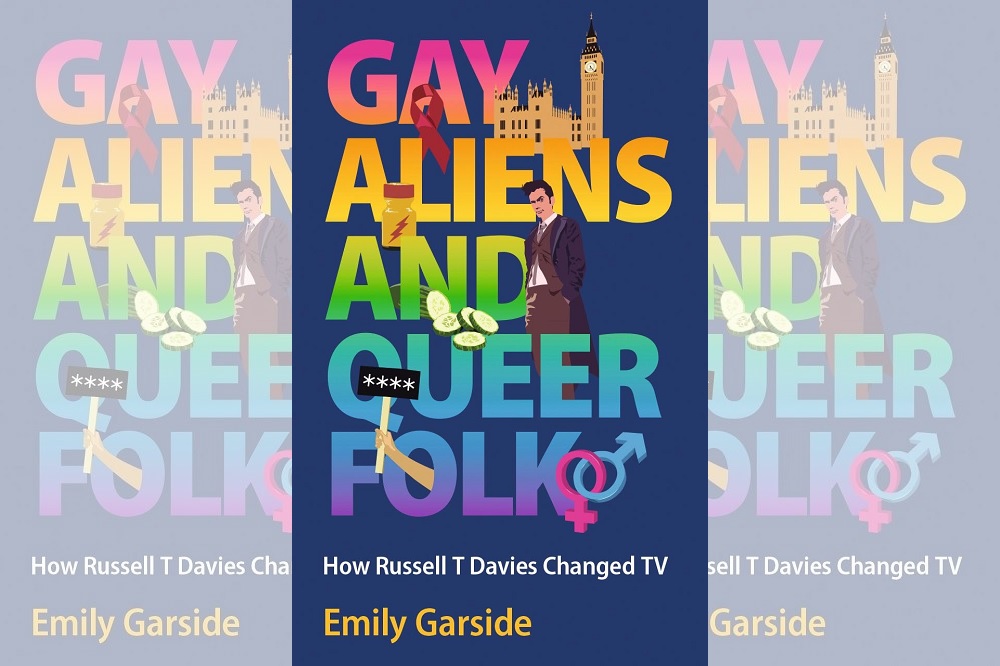 Sarah Tanburn
Gay Aliens and Queer Folk is a bonanza for fans of Swansea-born writer and broadcaster Russell T Davies. Emily Garside has obviously had a lot of fun reading the many interviews, studying the books and watching hours of Davies's enormous output.
She has a serious objective, though: to show that social acceptance of people in LGBTQ+ communities has been significantly enhanced by Davies' work.
I confess upfront to not being quite such a nerd – a word she adopts with pride – as Garside. I've watched my share of Doctor Who, and every part of It's a Sin, bits of Queer as Folk and all of A Very English Scandal: Davies has given me, like many others, enormous entertainment and much food for thought over the decades.
I am also old enough to remember the start of the AIDS epidemic, protests against Section 28 and more besides. Age is a relevant consideration: Garside spells out how much the resurgent Dr Who or the flamboyant joy of Manchester's Canal Street meant to her growing up in the educational wastelands created by homophobic legislation or the echoing grief of the epidemic.
Estrangement
Garside intelligently highlights certain aspects of life in our communities which Davies has amplified and illustrated, such as the 'chosen family'. Many in the LGBTQ+ communities have experienced family estrangement – whether temporary or permanent.
'Finding your tribe' has been especially important, whether through the bar life of cities, the explosive growth of the internet, or shared passions. (I know at least one couple who came together over decoding the diaries of Anne Lister, better known to millions as Gentleman Jack, brought to the screen by Sally Wainwright, another great chronicler of our history.)
Her study traces Davies' use of those chosen families and their importance over decades. The gay men at the heart of the Thorpe affair relied on their intimates and friends for far more than private emotional support; indeed Pontypool MP Leo Abse (mentioned by Garside) went on to move the private member's bill which led to the decriminalisation of homosexuality in England and Wales.
Tolerance
She makes a strong case, too, for the importance of representation of minorities leading to normalisation and tolerance within a diverse society. This seems evidently true, and not only of the LGBTQ+ communities. It has been at the heart of many other developments in drama (TV or otherwise), even while intense debates remain about, for example, the range and nature of ethnic minority representation.
Garside suggests that, thanks to Davies, we are reaching a point where if you do not like one drama about a gay character, say, you can always go and watch another one. This was certainly not always true.
At the same time, we are seeing far more characters who are (so to speak) incidentally from the LGBTQ+ communities, for whom that is not the central point of their presence on screen: Garside highlights Davies' contribution to making this normalisation and acceptance possible.

Impact
Davies has an enormous fanbase, and has gone far beyond the impact normally available to a screen writer. He has used his talent and hard work to bring about real change and there is remarkably little scholarly critique of his work.
Nonetheless there has been a persistent concern that he does not always tell lesbian stories; this issue is somewhat elided by Garside in her paramount interest in the dramas about gay men, the single 'queer' umbrella she gives to diverse experience and her correct insistence that no single drama can tell all the stories.
It's A Sin is a powerful and necessary historical retelling of the trauma and realities of the epidemic. All the same, it undeniably omits the role of many lesbians – as health care workers, as buddies and friends, and as mourners who also saw our communities and families devastated. Davies has since released a scene which did show this history, but it was cut from the series as aired.
Garside is keen to extol Davies' presentation of women as complex, funny and flawed characters in their own right, but she is, in my view, overly charitable about such erasure of lesbian experience by her hero.
Giants
Age matters, as I've said, particularly for that self-styled 'lost generation' who grew up without a Doctor (Who) of their own. Such a well-grounded study, however, might give more prominence to some of the previous representation of LGBTQ+ communities and characters, those giants on whose shoulders Davies stands.
Garside makes the point that such historical representations are important, even if 'today' (whenever 'today' might be) we would represent those figures differently or use alternative language.
To give examples, Oranges  Are Not the Only Fruit (1989) and Portrait of a Marriage (1990) or the film Born in Flames (1983) exemplify some of the tropes Davies has since developed.
Further back, radio-series Round the Horne (1965-68) put Polari into the living room and was a major early contribution to a particular representation of gay life. The show incidentally offers a neat link: Jon Pertwee, the Third Doctor, starred alongside Ken Horne and Kenneth Williams.
Prejudice
Understanding history matters to some of the other arguments Garside makes to support her analysis of Davies' contribution. She suggests, for example, that Stuart (Queer as Folk) coming up to 30 in 1999, was too young to have seen the worst of the epidemic.
Yet the epidemic's ravages and prejudice were at their worst just a few years before: in 1994-95, King's College Hospital in London was seeing one AIDS death every working day, an horrific statistic. Stuart would certainly have been sexually active by then, so Davies (and Garside) do not need to imagine that Stuart does not know what has been happening.
She is on much surer ground when she argues that Stuart illustrates one response to the trauma of the time, – to enjoy life to the utmost amidst the horrors.
These points do not deny the enormous impact Davies' has had reflecting and shaping the experiences of LGBTQ+ communities in this country over the last thirty-plus years. He has not been alone in that work but we would be much poorer without him.
Garside's exhaustive and energetic study is an important contribution to understanding the difference he has made and will be an enjoyable read for fans and scholars alike.
Gay Aliens and Queer Folk: How Russell T Davies Changed TV by Emily Garside is published by Calon and is available from all good bookshops.
---
Support our Nation today
For the price of a cup of coffee a month you can help us create an independent, not-for-profit, national news service for the people of Wales, by the people of Wales.