Culture
Review: Harold Wilson – The Winner by Nick Thomas-Symonds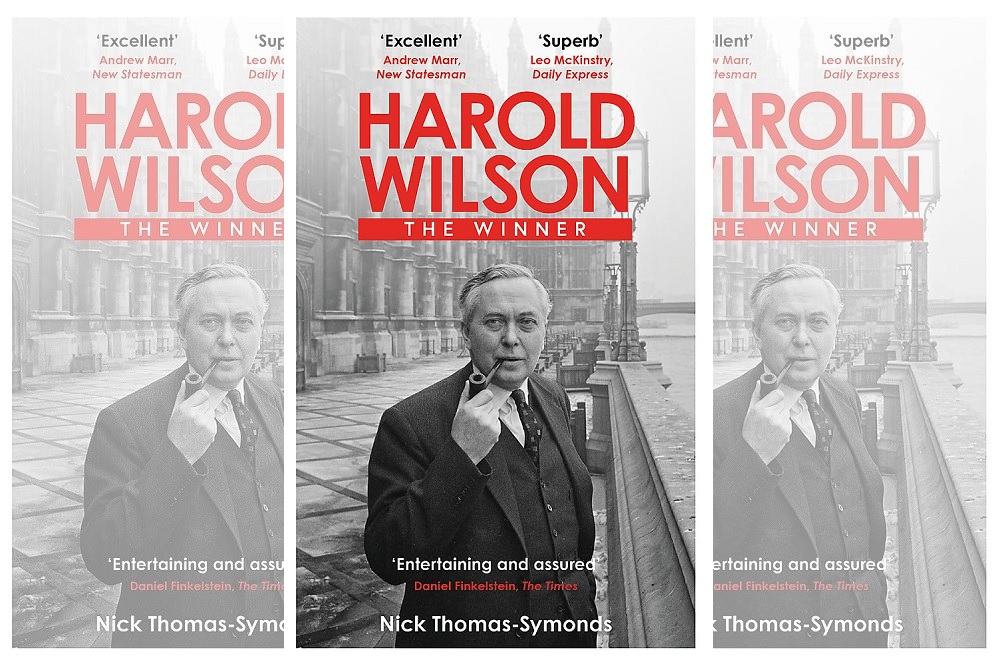 Adam Somerset
The past does not stand still. "Wilson's decline in public esteem since retirement has been precipitate in the extreme." That was Kenneth O Morgan's first sentiment in his collection "Labour People".
Writing in 1987 he continued "Since Harold Wilson's stock has plummeted so sharply, one can only suppose it will one day register an upward movement. It is likely, indeed probable, that historians will take a more charitable and compassionate view of his career and achievements."
A historian of a later generation has done just that. Nick Thomas-Symonds is forty-six years younger than Morgan, who since 2000 has been Baron Morgan. Thomas-Symonds, Member for Torfaen since 2015 and on the Shadow Front Bench, has written a succinct and admiring account of Labour's third Prime Minister. The interval of time has allowed a perspective that differs from the view in the period after Wilson's retirement.
"Unlike many Labour leaders, he was a naturally relaxed performer who enjoyed meeting people" wrote a commentator. A civil servant wrote of his "astonishing resiliency and good nature." Thomas-Symonds locates early on the political influences in his Yorkshire upbringing.
Community was powerful, Wilson describing his background as an "intense feeling of family loyalty…reinforced in my younger days by regular chapel-going and a sense of community which found expression in various community associations."
The Congregationalists were defined by autonomy but with a low hierarchy. The childhood had its hazards. After catching typhoid from a glass of milk he spent thirteen weeks in an isolation hospital. He was a natural scholar. In the era of Hugh Dalton and Douglas Jay G D H Cole was the more powerful intellectual influence.
Wilson followed the Labour mainstream in adhering to a libertarian rather than Marxist version of socialism. Kenneth O Morgan described his views as those of a radical liberal of the Lloyd George kind, appropriate for the Welsh milieu of Jesus College.

Intellectual
Wilson's intellectual gifts were profound. At Oxford his was the top mark in the finals of politics, philosophy and economics. He was a lecturer at the age of twenty-one. Working with Beveridge he was at home with the gathering of large volumes of data.
In the wartime civil service and then government office he was a master of numerical detail. After stepping down the numbers were impressive. He had chaired 472 cabinets and answered more than 12000 parliamentary questions. Mrs Thatcher in her first days as Leader said "he was a master of Commons repartee and I usually scored nothing better than a draw against him in the House."
His capacity for work was huge. Over an average weekend he would consider more than 500 documents and submissions. While working for Shinwell as his PPS he would teach at University College Oxford on Saturday and a Sunday. In office he had a flair that caught Attlee's attention. The post-war house-building programme was stymied by materials shortages. On his own initiative Wilson sought to source timber from Canada.
The book is rich in the detail of what is now an era of history. He had as his own PPS Tom Cook, not just an MP but "an electrician adept at removing the covert listening devices the soviets used on visiting overseas politicians". While the Minister in Moscow was in tough negotiation with Mikoyan, Cook was busy removing bugs including one under the hotel bath.
It is difficult now to appreciate the extent to which Northern Ireland dominated public life. The book recalls the Birmingham bombings which killed 21 and injured 182. 33 were killed in Dublin and Monaghan a few months later. That period ended with the collapse of government in Belfast and the imposition of direct rule from Westminster on 17th July 1974.
Other currents of the age course through the narrative. On the international stage there is a reminder of his firmness over Vietnam. "Johnson", writes Thomas-Symonds, "felt betrayed by Wilson over Vietnam and was bitter towards him." At home industrial discord was perpetual. Docks in Liverpool, Birkenhead, London were closed due to strikes. A rail strike was averted, Michael Foot granting a 29.8% increase.
Race was a growing issue and reached a head with the landmark case of the Bristol bus company. The management blamed its white-employment only rule on the Transport and General Workers Union. Wilson did not back the local branch. The government responded with the Race Relations Act of November 1968.
On the nature of the party Kenneth O Morgan wrote that "fraternity has seldom been the most obvious characteristic of the Labour Party." Thomas-Symonds recalls that Arthur Deakin, Will Lawther and Tom Williamson differed only in their feelings of hatred towards Bevan. That animosity came with control over two million votes at conference.
Crisp, clear narrative
At 500 pages "Harold Wilson" is a crisp, clear narrative. This means a certain pace. The great social reforms are covered in summary. The result of the 1959 election was a disappointment. The book omits an episode on tax policy. On 1st October 1959 a journalist had picked up a handout about purchase tax. Morgan Phillips did not want to concede to an error on the part of Transport House and said its reduction was a party commitment. In the 1990s there was much comment about being on-message, the discipline enforced by Morrison's grand-son. The opposite is very much worse and damaging.
Thomas-Symonds writes not from a university office but as an intended member of a future government. His book is going to be read for points of light it may cast on the current party. Bevin was against Morrison becoming Leader. Thomas-Symonds writes that Bevin was "convinced that rather than the personal, charismatic leadership of Macdonald, the party needed someone like Attlee who would hold a team together."
He is complimentary about a fellow MP of Wales. Of Callaghan he writes  "in contrast to George Brown an even temperament, fine political judgement, and a strategic mind."
He makes mention of the Brecon and Radnor constituency. In the 1964 election Labour's share of the vote was 58%. In 2019 it was 9%.  Labour and the Conservatives have both elevated the role of the membership in the selection of the leader in recent times. Wilson, says his biographer, held "the first prerequisite is the assertion of the central position of the Parliamentary Labour Party."
Revealingly, late in the book, Thomas-Symonds writes that Labour's four-time winner of general elections "believed passionately in protecting, and enhancing, the rights of minorities, but he knew that, to win elections, he had to focus on issues that affected the everyday lives of millions."
As a small epitaph Wilson was a 31-year old at the Board of Trade. The film critic David Robinson wrote a generation later that "he was responsible for measures which probably saved British films from total extinction."
Harold Wilson, the Winner by Nick Thomas-Symonds is published by Weidenfeld & Nicolson and available in all good bookshops.
---
Support our Nation today
For the price of a cup of coffee a month you can help us create an independent, not-for-profit, national news service for the people of Wales, by the people of Wales.