Culture
Review: Letters from Wales by Sam Adams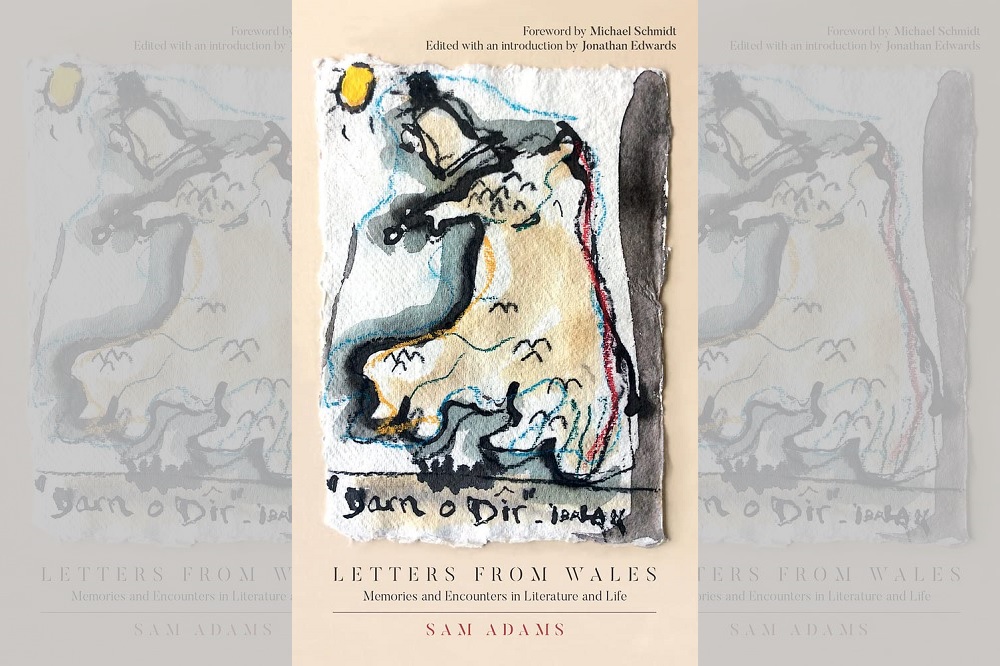 Jon Gower
This gargantuan doorstopper of a volume, weighing in at almost 800 pages, is described by the author as one to dip into, not read from beginning to end. That said, if you do read it end to end it is never anything other than unflaggingly interesting and informative.
This is helped by the fact that the book's editor, Jonathan Edwards, has judiciously arranged the material into three broad sections, namely 'On Writers,' 'On Wales' and 'On the Literary Scene.'
Based on Sam Adams' regular flow of contributions to one of the UK's most prestigious poetry magazines, PN Review the letters offer a chatty, supremely well-informed flow of news, analysis and sometimes colour pieces.
So there are reports about literary prizes or poetic appointments along with bright vignettes of fellow poets such as Gillian Clarke, Leslie Norris, Rhian Edwards and Sheenagh Pugh.
These are often grouped together as duos and trios, allowing Adams to write about the interplay between their work.
One poet gets more attention than the others, namely Roland Mathias and that simply because he and Adams were bosom friends.
In that sense the letters which mention him, or are sometimes almost entirely about him, chronicle their relationship from the first time Adams encountered Mathias' verse and their evolving and deepening friendship which started at the end of the 1960s.
Work ethic
They jointly edited The Collected Stories of Geraint Goodwin while Adams wrote a monograph about his friend's work, as well as editing Mathias' Collected Poems and Collected Short Stories.
The letters note the strong work ethic which drove Mathias to write so much and so well and still find time to edit, preach and much, much more.
But it is when Adams writes about Mathias' poetry that you properly see the high regard in which he was held, and how appreciative Adams was of his poetic gifts.
Here he is writing about a late volume, A Field at Vallorcines, a book he felt deserved the wide audience that Mathias long argued was the due of fellow writers from Wales:
His voice rings true in every poem in the book: the texture of the language (a rough tweed that conveys the physicality of sense impressions and the knotted complexities of a scrupulous concern for truth), the actorly command of dramatic utterance, the numinous landscapes, the self-questioning, the sudden tenderness – are all essentially his.

Literary sleuthing
Another writer who gets a little bit extra limelight in 'Letters from Wales' is an oddity but one who became a bit of grail for Adams.
It was Mathias who put him on to Thomas Jeffery Llewelyn Prichard – a pretty much unknown writer who penned a novel in 1828 called 'The Adventures and Vagaries of Twm Shôn Catti' – suggesting he should do a little literary sleuthing. This reaped its rewards, helping flesh out the life of an obscure author.
A fascinating if frustrating subject, Pritchard wore a false nose after losing his natural one in a fencing match and died when, as the death certificate put it of burns 'caused by his clothes taking fire in his bedroom.'
And there is a good deal of writing about Adams' native Gilfach Goch, including an evocative letter about childhood. This recalls a time when the author was just three years of age, when he followed other kids on their way to school.
'They drew me from our front garden, past the corner and the familiar shops, over the First World War bailey bridge with its many criss-crossing bars, where railway engines hauling coal wagons ran underneath, gushing clouds of white smoky vapour through rusted gaps at the foot of the corrugated sheets that stopped you falling onto the track, up the hill called Coronation Road and another short steeper pitch to the schools, infants' and girls' one side of an unsurfaced road, boys' the other. I came home at dinnertime, with the other children, saying, "I'm not going there again. They make you lie down like a lot of old cows."'
Commentary
Even the most dedicated student of Wales and Welsh culture will discover much of interest in these multiple missives.
Such as the fact that Richard Llewellyn's novel How Green Was My Valley outsold John Steinbeck's The Grapes of Wrath in the United States in 1940, shifting an astonishing 176,280 copies, and that before the film of the book made it even more popular.
Or the fact that Foyles, the famous London bookshop, used to have its own Welsh department which 'issued its own publications under the imprint "Gwasg Foyle."'
The epistles gathered herein range widely, covering events in Welsh politics and offering a brisk commentary on them.
Writing about 'Education and Politics' in November 2003, Adams suggests that the 'ship of state is steered from Westminster; the best the Assembly can do is rearrange the seating on its own part of the deck.'
Twenty years on, it's moot to ask if what is now called Y Senedd has any more control nowadays over the good ship Cymru?
Adams, writing in 1999 says he looks to elected representatives 'to set us an example of principle and common sense and so often they don't.'
Enormous contribution
The final section sheds light into many corners of literary life. We read about the London literary editor who, after a little bit more hospitality that was prudent, admitted that review copies bearing a Welsh postmark were consigned unopened to the bin.
We are reminded of attempts to bring an end to the arm's length principle of funding the arts and of the many other attacks on the Arts Council.
We have comparisons of very different festivals, such as the Eisteddfod and Hay, accounts of book collecting and book theft, news about literary magazines and their editors and so much more.
This is a huge book which serves to demonstrate the no less enormous contribution made by Sam Adams to Welsh literary life and to the business of telling folk the other side of the border and indeed across the world not only of our existence, but also of the Welsh persistence in making poetry and art, of making conversations and bringing out books.
Throughout all this, Adams is consistently the most amiable and urbane of companions, illuminating and entertaining as he intelligently surveys the world of letters from a Welsh perspective, a country where poets' names and works are the property of the common people…' and where 'poetry has always received an affective response from the whole community.'
Letters from Wales: Memories and Encounters in Literature and Life by Sam Adams is out in hardback through Parthian Books (£20). It is available from all good bookshops.
---
Support our Nation today
For the price of a cup of coffee a month you can help us create an independent, not-for-profit, national news service for the people of Wales, by the people of Wales.