Culture
Review: Local Fires by Joshua Jones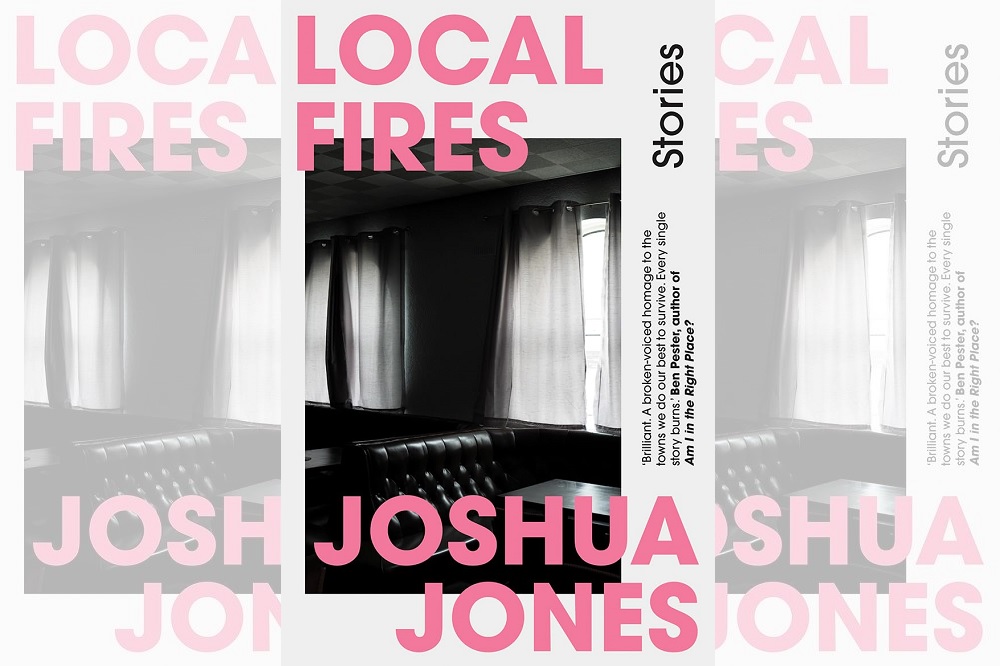 Rachel Trezise
Local Fires opens with a two-part story about a woman about to get married for the fourth time, this somewhat unflattering image of her presented on the morning of the wedding: 'She lies with her open mouth inches from a small pool of purple vomit, baring arse to the candelabra.'
Later, when the nuptials have been completed, her new husband makes a promise which he cannot keep. From, 'Right en, wife! Am finishing this pint, then am taking you upstairs forra a shag!' to '… passed out, fully clothed… belly protrud[ing] from him like a barrel, his frame still wrapped in its wedding attire.'
Awake and alone, Angie gets to considering the best day of her life, realising it wasn't any of her weddings but a trip to see Rodin's The Age of Bronze at the V&A with her teenage daughter. And when a fart from her new husband disrupts her train of thought she doesn't get out of the bed to run for the hills, her marriage to him still thankfully unconsummated; she gently undresses him then '… reaches down, kisses him on the cheek.'
Why she continues to numb her existence with so much alcohol, reality TV and empty marriages is never fully broached, leaving the reader—despite Jones' fine prose— with a hulking sense of hopelessness, the only moment of celebration Angie's seemingly greatest triumph when, after an ex-mother-in-law's second husband's refusal to allow children to attend an earlier wedding made her feel as though something was missing, she vowed to never again have a childless wedding.
Struggle
In 'Opportunity Street' one recovering alcoholic/firework shop owner rages at the audacity of another recovering alcoholic and his decision to open a second firework shop in the town.
It's difficult to empathise with his frustrations when his fantasies of violence border on farce: 'How quickly could he kill Gary before someone pulled them apart? He saw a film the other night where the main guy killed someone with a pencil. I could do that, Jimmy had thought. He could smash Gary's head into one of the glass display cabinets, force a rocket down his throat and light it…' but the depiction of the continual struggle to stay sober sounds authentic: 'Jimmy seized two flutes, one of apple juice and one of lemonade, to simulate cider, a trick he'd picked up from others attempting sobriety.'

Llanelli 
Flashes of Dylan Thomas glint in the Old Garbo-esque 'Half Moon, New Year,' a snapshot of Llanelli night-life on a cold 31st of December; residents of varying ages cheering as fireworks go off on the telly, and forget the words to Auld Lang Syne.
'The girls, in their skirts and makeup, flirt with the boys, squeeze up to them for warmth and a packet of crisps. The boys in return don't mind. They roll cigarettes for the girls—who don't want to smoke, not really, but maybe it'll warm them from the inside—asking them how the hell can they roll with those massive fake nails?'
Needing to be warmed up from the inside is an affliction that most of the characters in this collection share; their lack of self-belief, aspiration and motivation giving rise to an inertia that sees them perpetually repeating their destructive behaviour patterns.
Here, Thomas' toasted beer is replaced with cocaine poured from baggies, his journalistic ambition with an almost expectant ritualistic violence.
'I can't be fucked with this, Danny. I'm done. Go home, will you?' is all the narrator can say when forced yet again to deal with his friend's mindless barbarity.
Kindness
Jones' writing is at its best when he gets a chance to deep-dive into his characters. The weight of neurodivergence is made plain in 'How Would Clive Owen Feel?' a story, (part monologue) about a boy getting an autism diagnosis.
In 'Who Are You Calling Kim Woodburn?' a domineering cafe-owner who looks much like Kim Woodburn but daren't let anyone admit it, discloses her inner kindness on mention of her Polish employees: 'I know Maria and Martyna sneak food into their bags. Sausages that are turning, stale bread and overripe tomatoes. I never say anything. I know how it is.'
In 'Johnny Radio' Johnny, an endearing dementia-sufferer with 'feet that never left Wales,' earnestly searches for the beloved radio he takes with him to bed every night. Only the reader knows that he's listening to it the entire time.
On balance a varied but uneven collection shimmering with a potential that doesn't quite manage to defeat an overarching state of stasis.
Local Fires by Joshua Jones is published by Parthian. It is available from all good bookshops.
---
Support our Nation today
For the price of a cup of coffee a month you can help us create an independent, not-for-profit, national news service for the people of Wales, by the people of Wales.