Culture
Review: Miss Cross and Other Stories by Norman Schwenk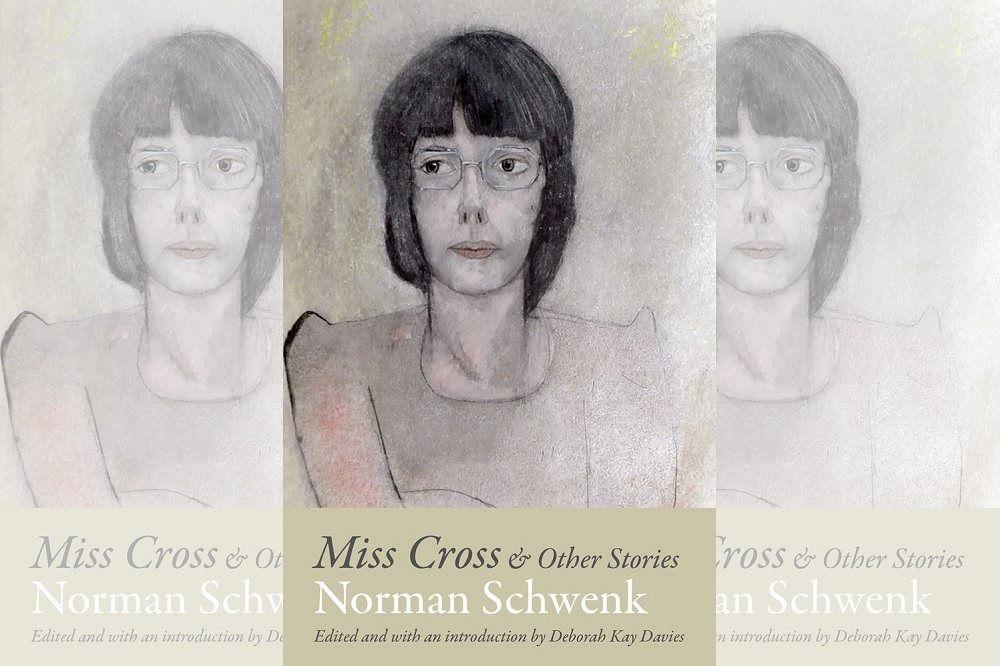 Anthony Shapland
Published earlier this year, Miss Cross and Other Stories was timed for Norman Schwenk's 88th. This edition marks that birthday, but sadly, also the passing of the author. Posthumously launched, it is edited by his partner and fellow writer Deborah Kay Davies, who has included a moving and insightful introduction.
With that in mind, I feel a certain weight, as a reviewer. I'm keen to write a response that is sensitive as well as sincere. Deborah's words set a perfect tone for me, for the book, and the times we are in – life is crazy, but hang on in there.
Short story collections are never easy to construct. Their pace is different to the longer cause-and-consequence plotlines of novels. To reproduce that format in miniature would drag the reader again and again over narrative arc after arc.
The structure differs, characters must arrive, fully formed, scenes set with minimal description. Schwenk punctuates this text with succinct, distilled observations to guide the attentive reader. Short stories must be taut, economical, but unhurried and separate.
And in between each, the outbreath is important.
When one story ends, our minds – like feet at the end of a travelator – are propelled forward. If we stumble, if we look up for a moment to establish where we are, then we trip without attention into the first paragraph of the new page. The patterning of the book, the sequencing, delivers us from one story to the next. Each accumulates, growing an idea as we progress. They bring us to understand the way of thinking that the writer is holding gently until we arrive.
Schwenk offers a thematic thread that hops from animal to animal. Some stories verge on allegory, where the natural world mirrors a human situation; some are anthropomorphic; elsewhere we pivot around an animal that is largely mute and often he looks at the squeamishness of intimate, stifling animal-human relationships. Levels of discomfort dip and rise, but nothing is as you might expect.

Decorous and ridiculous
In the story that gives the book it's title, dead dogs pile up: Miss Cross's family pet, Pat's small white poodle, Gelert the faithful hound. Finally, the unfortunate animal is identified as Bandy, poor little sod. The viscera of mashed fur, the stink of bin juice, the schoolchild's snot-sleeve. These details drop us into the hysteria of the scene as Schwenk steers, wobbling between decorous and ridiculous as the world of Miss Cross falls apart over something that had recently been a dog.
As I read I realised all of the animals are domestic – or if not domestic, they are owned, kept, bred or farmed. Rarely are they obedient or subservient. Beasts crawl, strut and scamper through this book, all of them needed by people, not needing people.
Any wildness meets a grizzly end. The disembowelled fox, the poisoned cockroaches, the wild-bird wife who is supplanted by domestic-cat husband. A canary is a surprise as a wild thing to Flo in Perry, among the leaves and flowers but immediately she understands why people coveted canaries, wanting to keep them in cages. The bird is her lovetoken and she – in hope of reward – returns it to it's jailor.
If animals are a motif, then it is ownership and possessiveness that colours all the interactions. I thought of the difference between the Anglo use of mine to mark possession, and the Welsh structures that place an object, an animal, an illness with us, a temporary pairing. As I read, oddness grew around the idea of keeping animals, the ownership of another living thing.
The oddness seeps into the bond between couples, the ownership of marriage. In Fred the story unfolds, for us and the dog who waits patiently for his walk. A couple are not together, one side of the bed empty. Because of death? An affair? Denial? Dementia? Each revelation is carefully drawn, and our assumptions shame us. A complicated relationship grows in intensity, in depth and in pathos.
Catman is given similar treatment, a house-full that moves and breathes cat – the wallpaper was made of green eyes – but holds the most amazing thing, peace. It is here that Schwenk throws in the first of the slippages between animal and human, one reincarnated in place of the other. Most of the world needed to believe in some form of life after death. 
Desire and sex
Though his characters are largely straight in their desires, anthropomorphism is a familiar gay world coda; it's bewilderingly alive with pigs, cubs and pups, chicken, foxes, bears and otters and wolves and cougars. The categories are largely disconnected from status but communicate – in a necessarily hidden way – how someone looks, where they fit in a huge and varied community, and what they like to do. It was a fast-learning curve, coming out.
Schwenk is straightforward about the awkwardness of desire and sex and the salt-slicked reality of sexual bodies. He doesn't swerve away from transgressions. A cat sparks marital jealousy and disgust – and revenge; a guffawing farmhand, he's not much, cock in hand, in the same field as a marauding fox; or the hapless cheat, who can barely string words together, caught out by a rat who writes him off the page. Here, humans are also animal, and appetite isn't constrained by convention.
There is only one story that feels misjudged, anachronistic. Who's There? felt like it belonged in another collection, the build-up is good, but in conclusion the characters fall down, borrowed and caricatured. A cat walks through the final paragraphs, as if to stitch it in, to make it fit, but this is an exception.
Many of the stories find tension between fidelity and infidelity. The faithful hound, a devoted pet. A lover, a fuck, a cuckold. Devotion and its opposite, betrayal. But betrayal isn't presented as deceit, Schwenk shows it to us directly, almost asking: well, what did you think would happen?
His final story, My Dog Can Talk is narrated first person. A perfect opener – Softly all of the urinals flushed and the little blue cakes danced in the water – and I am standing next to him, shaking drips, patiently listening while he tells this succinct anecdote. And it feels so completely his voice.
Miss Cross and Other Stories by Norman Schwenk is published by Parthian and is available from all good bookshops.
---
Support our Nation today
For the price of a cup of coffee a month you can help us create an independent, not-for-profit, national news service for the people of Wales, by the people of Wales.