Culture
Review: Pub Life by Peter Roberts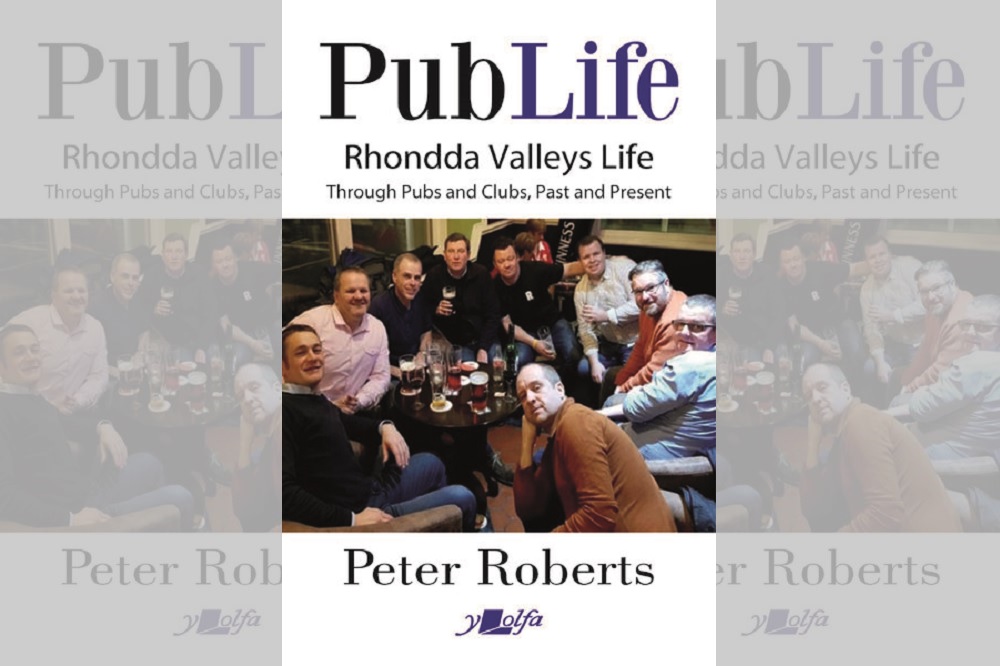 John Geraint
In late Victorian times, the insatiable demand for Rhondda steam coal – scientifically proven by the Admiralty, no less, to be the Empire's best – fired up in these twin valleys a cauldron, a true melting-pot.
The Black Diamond attracted tens of thousands of newcomers from hugely diverse backgrounds and directions. But they came together so rapidly, and with such force and purpose, that their experiences fused almost instantly, coalescing into a municipality with a single overarching culture, a culture you can encapsulate in two words: 'community' and 'solidarity'.
Humanity's hum
Rhondda people stood together and looked out for each other. And in their struggle to fashion a fairer world, where the wealth they created would be shared more equitably, public spaces played a crucial role, echoing daily with argument and discussion.
Those spaces were inherently egalitarian. Halls and chapels, cafés, clubs and miners' institutes, indeed the pavements of the terraced streets and burgeoning shopping centres themselves, all were resonant with what Gwyn Thomas, that chronicler of Rhondda life at its most colourful and surreal, liked to call 'the hum of humanity'.
What really mattered in each of them was not how rich you were, nor how well-bred, but how you behaved and expressed yourself. In the Rhondda, wit and argument trump wealth and ancestry all day long. All night long too. And this was supremely true of the interiors of our public houses.
Thirst
Rhondda's inns, bars and hostelries were, of course, useful for purely physiological reasons, slaking the thirst of those who laboured underground to dig the coal out. But in this burgeoning industrial metropolis, they were necessary for social refreshment too. A safety valve and a sounding board, they helped lubricate the bonds that held this society together.
And the pubs themselves were often at the heart of the debate about what kind of society this should be. Read Clive Selwood's magisterial 'Rhondda Valley Public Houses, their early history, checks and licensees' and you'll encounter not just a wealth of authoritative historical detail and numismatic expertise, but also a real sense of what pubs meant in this emerging 'American Wales'.

In 'Pub Life', Peter Roberts's purpose is quite different, and, naturally, he strikes a very different tone. It's more like walking into a bar and finding yourself welcomed into the company of a group of butties who're a few rounds into a good session.
They're 'pub fit' for drinking, as he puts it, men – women are almost wholly absent here – sharing stories about youthful pranks and soccer matches and all the times they've been 'worse for wear'.
The fellow feeling is palpable, warm and hugely enjoyable for what it is. This is a book that hums with humanity. Peter Roberts's research into the pubs' back-stories, as he willingly admits, is often no more than hearsay gleaned from neighbours over the back wall.
He rarely strays to periods 'before his time' (he's approaching fifty, it seems). So the historical detail is nuggety, and sometimes, frankly, nugatory.
Legendary landlord
It's not that Roberts fails to recognise the past significance of Rhondda's pubs and clubs: "They formed an integral part of the cement that held the communities of the Valleys towns together, helping to create a shared identity and strong bonds."
And he certainly knows how it goes nowadays, from 'gwli-guzzling' teenagers swigging from cans in Rhondda's back lanes, to the 'Man Caves' and elaborate garden bars which sprang up the length of the valley during lockdown.
But it's on nights out on licensed premises that Peter Roberts seems most at home, and where his tales are most telling. And the closer he is to his own patch – Treorchy, Pentre and Ton Pentre – the better.
He invites us to 'the disco in the Star Wars bar', upstairs at Pentre Labour Club. We meet Texas Pete 'shadow boxing in the toilets'. Then there's Colin, the 'legendary landlord', who, on Thursday nights, as that week's 'act' finishes up, calls for applause from the packed pub audience with the same words every time: "put your hands together for… the best artiste we have ever had".
But The Pentre, 'notorious for its Bank Holiday Bonanza', is now shut. It's not alone.
"Remarkably there were fourteen Pentre pubs [and a Brewery] open at one time, in a town that is not much longer than a mile! Of these, at the time of writing, there are currently only three remaining".
So this catalogue of Rhondda towns and their drinking dens – with the occasional diversion into stories of the famous and the infamous associated with any particular township – turns into a bald elegy for lost last orders. Take this not untypical sequence, listing Porth's licensed attractions:
"The New York pub is closed.
The Porth Wine bar is shut.
The Lodge was a popular pub, known locally as 'the Clodge'. Unfortunately, the building was demolished many years ago."
Drunks
Peter Roberts's expertise is that he's drunk the drinks, and drank with the drunks. He knows how ordinary people (ordinary men anyway) use pubs these days. Rhondda's bars are rarely now – as he recognises they once might have been – the 'universities of the working-class'. So often, it's just blokes 'talking shit'.
Culture is ordinary, says Raymond Williams. Well, this is culture at its most ordinary, and – almost despite itself – often most endearing.
The friends ("Messrs Morgan, Lewis, Morris, Davies, Davies and Roberts" or some combination of them) are pictured drinking at the Pentre Legion, celebrating Christmas in the Prince of Wales, showing off their 90s haircuts in the snug, or simply falling asleep at the table.
And the value of this people's remembrancing, as Gwyn Alf Williams might have put it, is that it has an authenticity that can enrich the national discourse in surprising ways, sparking other memories, and other ways of seeing the Wales we think we know so well.
Reading Peter Roberts's passing mention of a rare Rhondda pub appearance by 'Legendary Welsh punk rockers U Thant' prompted Rhys Mwyn to invite onto his Radio Cymru show the other night someone with her own memories of that time and place.
Kamalagita Hughes spoke to Rhys about the book, and the U Thant gig, and other visits by Welsh-language bands to the Rhondda, alongside homegrown English-language groups like Peruvian Hipsters.
And she spoke, at length, in a wonderfully expressive, unique and totally genuine patois, Rhondda learner's Welsh. Thanks ultimately to Peter Roberts, something unexpected and rather marvellous made itself manifest.
Read the book and – who knows? – something similar may happen for you.
'Pub Life: Rhondda Valleys Life through Pubs and Clubs, Past and Present' by Peter Roberts is published by Y Lolfa. It is available from all good bookshops.
---
Support our Nation today
For the price of a cup of coffee a month you can help us create an independent, not-for-profit, national news service for the people of Wales, by the people of Wales.