Culture
Review: Ray Howard-Jones – My Hand is the Voice of the Sea by David Moore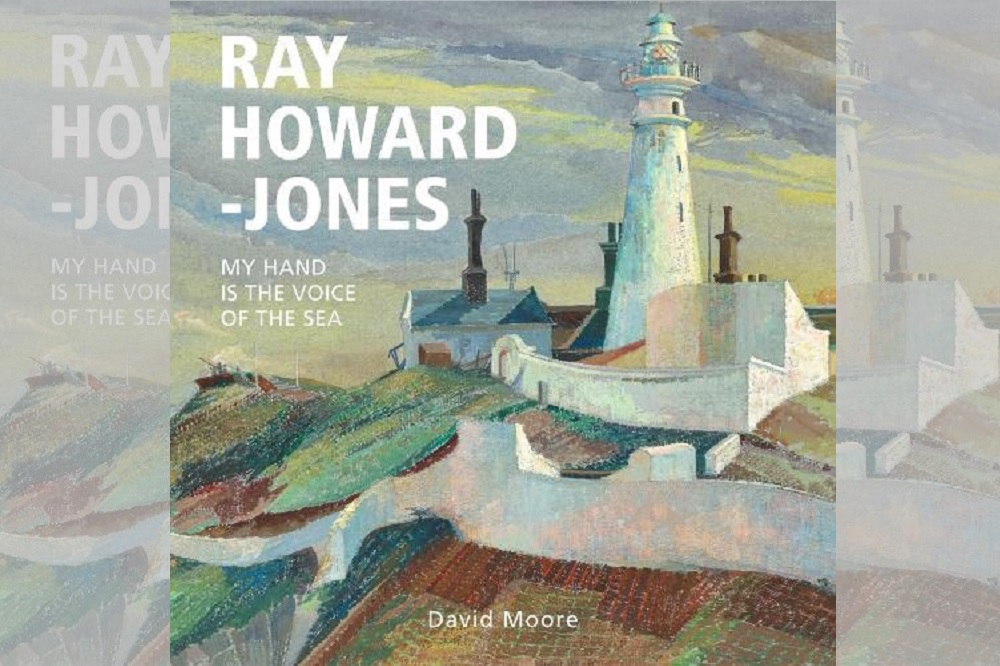 Jon Gower
Even as a child Ray Howard-Jones was deeply fascinated by colour. Arriving in the world in 1903 she was 'three weeks late with two teeth, a mass of gold curls and a will of her own.'
As a young girl she so delighted in the light that came through a domestic stained glass window that her parents gave her the nickname Sunbeam.
By the age of eight she was creating watercolour-illustrated stories, when she encountered 'the intense excitement of finding the subjects, the impact of their colour and moving, changing form.'
Divine energy
But there was another dimension to her world, a spiritual one. Even at a young age she noted how we are sometimes born 'trailing clouds of glory. At a very early age I became aware of this and the power that is within me to reach the Divine Energy, and transmit it…I want so passionately to be sincere, to show people the beautiful things.'
In large part she managed to fulfil that ambition, in a working life of generating beautiful things.
This extremely hard-working Christian mystic both recorded and celebrated nature in mosaics, watercolours and paintings.
Seemingly indefatigable, here was a woman who even in her eighties was 'feisty, focused, driven and unconventional' even tough she was also ill for much of her life, not to mention a chain of accidents which often enveloped her in pain.
Eat or paint
She studied at the Slade under the tutelary gaze of the likes of Philip Wilson Steer and Henry Tonks.
This was a time of student penury too, as Ray, who was then still called Rosemary recalled how she had to make the choice between buying food or buying paint when 'Paint always won – which did not help the health.'
This sense of single-minded purpose and determination permeated the whole of her life, and thus this book, a compulsive drive or propelling urge to explore the world fully and try to put it down in paint.

Seals and storms
Place was talismanic for her and nowhere more so perhaps than Skomer island and the nearby cliffscapes around Martins Haven and Marloes in Pembrokeshire.
She lived here for many years, capturing storms, seals and shearwaters and the rocky folds of the cliffscapes after moving with her husband to live on Skomer island in 1949.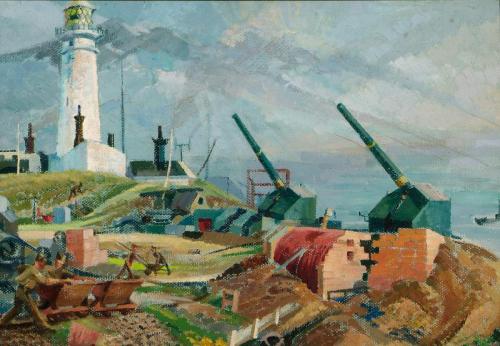 Wartime art
During the war years she volunteered her services as a war artist, becoming one of a handful of women charting the course of the Second World War. She detailed coastal defences such as the ack ack guns placed on Flat Holm island and the Gallipoli gun positioned on Steep Holm.
She also recorded preparations for the D-Day landings as ships in Glamorgan were made ready and US soldiers stationed in the county.
She also depicted the merchant navy's contribution but an accident on board a small British tramp steamer tore her right wrist, which would have implications for the rest of her life, when pain and depression were constant and troubling companions.
Productive life
David Moore has briskly sketched out a vivid and authoritative portrait of a remarkable artist and in so doing burnished Ray Howard-Jones' reputation at a time when it was already starting to fade.
He has also judiciously selected a huge range of work to illustrate such a rich and hugely productive life, with many distinct phases including a late period when Ray underlined the centrality of Christianity in her life by studying to be an oblate of the Benedictine order after coming into contact with the monks of Nashdon Abbey in Buckinghamshire.
He tells us not only about the artist but the poet too, and informs us about an intriguing friendship between Ray and another artist-poet of distinction, namely David Jones.
The diligent work and wide-ranging research on Moore's part has resulted in a book which is a veritable feast for the eye. It is so beautifully and intelligently designed, right down to the title pages.
Graffeg are to be saluted for establishing its Bird Eye Books imprint at a time when the appearance of art books of Welsh interest had been most infrequent.
Epiphany
Together with the author they have produced a lovely object as well as a bright biography of an artist who had a great deal of faith in her abilities and gifts.
Yet as Moore puts it, 'Despite great self-confidence her profound Christian faith ensured that, in her eyes, the work never fully lived up to the wonders of God's creation. '
That said, she did capture many wonders, her art often bordering on epiphany, as she painted incoming tides, storm-washed shores, steel works and and serene island landscapes.
Forever working, working, working, she drew puffins' bills and Basque fishing boats, of flickering clouds of Red Admiral butterflies, constantly putting the world around her down on paper and canvas with a steady eye and seemingly invincible determination to do so.
Ray Howard-Jones: My Hand is the Voice of the Sea by David Moore is published by Bird Eye Books and is available from all good bookshops.
---
Support our Nation today
For the price of a cup of coffee a month you can help us create an independent, not-for-profit, national news service for the people of Wales, by the people of Wales.